A Special Collections Research Center Exhibition
27 May – 16 September, 2005
E.S. Bird Library, 6th floor
Viewing Hours: Monday - Friday, 9 a.m. to 5 p.m.
Cartoonist, painter, lithographer, and muralist William Gropper was born on the Lower East Side of New York City into a working-class Jewish family that labored in the sweatshops of the garment industry. Like many of his peers–such as Philip Evergood, Joseph Hirsch, Louis Lozowick, and Anton Refregier–Gropper rebelled against the formal theories of art that were prevalent at the time. Preferring to depict the harsh reality of social injustices as they were played out in everyday life, Gropper became a defender of the working class. He was best known for his satirical portrayals of the elite and powerful and the effects of capitalism and war on American life.
Major exhibits of Gropper's work have been held throughout the United States and abroad in Paris, Rome, Moscow, Warsaw, Prague, Sofia, and Mexico City. Gropper received a Guggenheim Fellowship in the 1930s to travel to the Midwest and make studies for a series of paintings on the Dust Bowl. In 1944, he was awarded first prize for lithography in the Artists for Victory exhibition at the Metropolitan Museum of Art in New York. He was elected to the American Academy and Institute of Arts and Letters in 1968. His last major exhibition of drawings traveled throughout the U.S. in 1971 and 1972. He was a resident of Great Neck, New York, at the time of his death in 1977.

1. Cartoonists' Journal 1, no. 2 (1942): cover.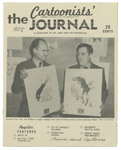 2. Typescript that contains Gropper's "general outline of my story and pictures," n.d.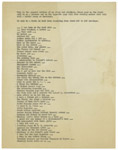 ---
Exhibition Catalogs
Gropper began exhibiting his artwork in the 1930s. He had his first one-man show at the ACA (American Contemporary Artists) Gallery in New York in 1936, and he continued to exhibit there throughout his career.
3. Exhibition catalog, Heritage Gallery, Los Angeles, 1968.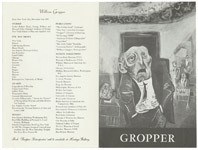 4. Exhibition catalog, A.C.A. Gallery, New York, 1936.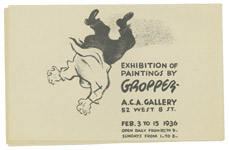 ---
Peer Honors
In 1944, friends and fellow artists held an honorary dinner for Gropper on the occasion of his forty-seventh birthday. Organized by Edward K. Barsky, M.D., chairman of the Joint Anti-Fascist Refugee Committee, the event was hosted by screenwriter and producer Edward Chodorov. Principal speakers included Norman Corwin, Frederick Myers, and Carl Sandburg. Tributes were given by Dean Dixon, Dorothy Parker, Henry Varnum Poor, Captain Orest Shevsov, and Margaret Lombardo Toledano. Among the sponsors were Louis Adamic, Aaron Copeland, Howard Fast, Rockwell Kent, Louis Lozowick, W. Somerset Maugham, Anton Refregier, Paul Robeson, Louis Slobodkin, and Moses Soyer. At the dinner, Gropper was presented with a scrapbook filled with birthday greetings from fellow artists, writers, labor rights workers, and others who appreciated his work.
5. Scrapbook presented to Gropper to honor him on his birthday dinner in 1944. The book is opened to an illustrated greeting from Cuban artist Mario Carreño.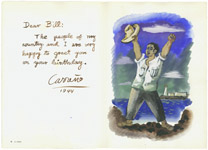 6. Birthday program in which "Edward Chodorov invites you to a dinner honoring William Gropper," Hotel Commodore, New York, 4 December 1944.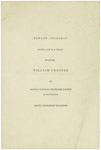 7. Birthday letter to Gropper from novelist and screenwriter Guy Endore, 4 December 1944.