SU Book Art: An Exhibition of Student Work
The Syracuse University Libraries' Department of Special Collections is pleased to announce its third biennial book arts exhibit.
This exhibition features work by students in three different Syracuse University classes: First year foundation students and advanced printmaking / book arts students from the College of Visual and Performing Arts, and students in the Humanistic Studies Program's "basic bookbinding" class. Also featured are the works of several graduates, often in collaborative efforts.
Works on exhibit range from the traditional fine press book and binding, to innovative, non-traditional, structures, which play an integral role in the storytelling process.
---
Two-Dimensional Problem Solving I and II (VPA-FND 15,116)
This freshman foundation course teaches basic two-dimensional skills, knowledge of visual language, and systems of organization, in addition to conceptual skills, experimentation, discovery, and idea generation.

In the assignment shown, students were asked depict the world around them, or an issue of interest cartographically. All projects completed Fall, 1999. Instructor, Gail Hoffman.

Kerry Anderson

Untitled: This "book" is a collection of maps, each of which describe a place that I have an emotional attachment to. While I have only lived in one of these places, Westford, MA, the others I have either visited once or many times. Each map is backed with same paper, but each is printed on a paper of different texture and color, and is folded in a different manner. Each folded map contains two items from the town, or region, that represent my experiences in that place. The collection is housed in a hand-stitched miniature backpack in keeping with the theme of my journeys, both physical and of self. Other items included include a shell, and a boarding pass.

Michael Baylis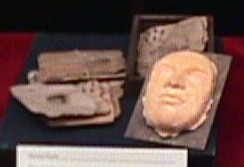 Who am I: One man's journey through his life. The journey takes place over a period of seven days. Each day's experiences affect the man's personality. In the end we come to find that each place he visits makes up points on a map. The map also acts as a self-portrait.

Jacqueline Belleau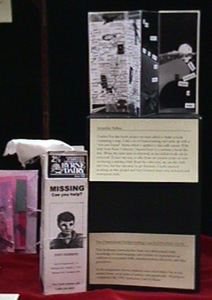 Untitled: For this book project we were asked to make a book containing a map. I did a lot of brainstorming and came up with a "lost and found" theme which I applied to this milk carton. With help from Peter Verheyen I learned how to construct a book like this. When the outer layer is removed, an accordion book can be removed. If read one way, it talks from the parents point-of-view on having a missing child. Read the other way, we see the child isn't lost, but has run away to get freedom. I really enjoyed working on this project and feel I learned many new technical and conceptual skills.

Carole Evans

Remembrance For A New Millennium: This is a visual summary of the history of our world and a message for the future. The roll-up map reinforces the themes that people have created problems, and that the consequences are somber. Birds are used as a metaphor to illustrate this having been used to help us understand important concepts throughout history.

Kristin Sjo-Gaber

Just Because It's a Cliche Doesn't Mean It's Not True: One man's soul-searching journey maps an experience through the use of word and images. In one night he considers the meaning of life, the cliche in truth, and the power of death. Using collage, I translate his words into visual metaphors.

Untitled: Where maps can be helpful, they are also a source of frustration. Trying to follow the complicated arrangement of lines and forms that create a map can drive a person mad. The construction of this book imitates this aggravating confusion. Unfolding each page, one will quickly learn that there is no order or reason to opening the book. When all the pages finally lay flat, the second concept can be read, this being that we map everything. From the aerial view of a graveyard, to the blueprint for a room, to life's journeys, we map out our lives in many ways. here, various images exemplify some aspects of life that we map.
---
Hand Paper Print/Book Workshop: VPA-PRT 552
Continued investigation in hand paper-making, simple bookbinding, and letterpress printing.

Instructor: Professor Don Cortese

Anna Blake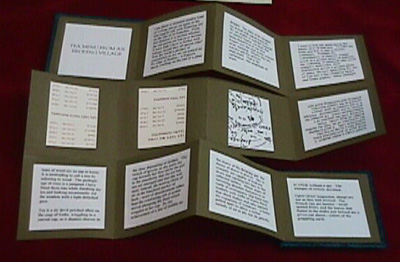 Tea Menu From An Eroding Village: Poem mounted on origami "maze" folded book allowing it to be read in different ways.

Jason Chin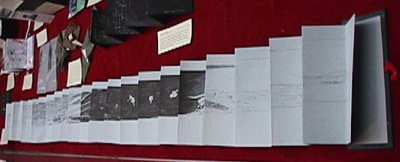 Jonah And The Whale: I chose to tell the story of Jonah and the Whale because I was interested in telling a story purely with images. I felt that this story is familiar to enough people that it would allow me to do this. I have always felt that, due to their dimensions, standard book formats limit the illustrations ability to capture the extreme expansiveness of the ocean. Using the accordion book format and a single image has allowed me create an unusually long book that hopefully conveys better the size of the sea. The book is designed to be viewed either page by page, or as a single image.

Kerry E. Corrigan

Artist's Book Jacob's Ladder. Silkscreen on wood.

Arielle Greenberg

The Bathes Mythologies Tarot: "The book project takes the 'religion' of literary theory one step further, using Roland Barthes' renowned collection of semiotic essays, Mythologies, as the source for a method of supernatural divination. I created the deck of tarot cards from Barthes' essays, embellishing the card faces with a postmodern mixture of illustrations based on clip art, passags from Barthes' writing, and occult symbols. The cards are backed in hand-marbled paper, and box hand-embroidered. The accompanying "instruction manual" indicates various "methodologies" for fortune-telling using the deck based on actual occult ritual, but with imaginary directives and charts I wrote informed by the fervor that both semiotics and New Age religions inspire."

Cartography: "I made this book from a prose poem I wrote last year. The content of the poem, which centers around a pair of lovers on an eternal road trip in New England, is reflected in the look of the book: the highway motif on the cover and centerfold, the black and yellow of asphalt, the blue of road maps. I illustrated the book with antique postcards and actual road maps from New England. The book is dedicated to my boyfriend, and this is indicated visually by the map of the border between New York (my home state) and Massachusetts (his home state), and the map of Cape Cod (his hometown) on the last page."

Keith Kaminski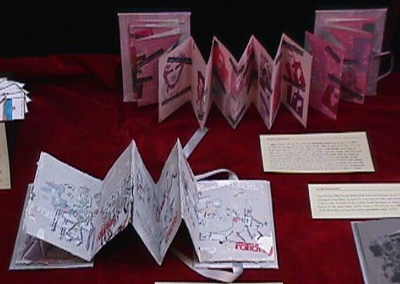 Faggots Make History Too: "I was thinking about how the sexuality of historical figures is not often dealt with in school if they are not heterosexual and how this affects queer individuals growing up. I did a lot of research and came up with a group of gay and bisexual men (and Teletubbies) who I admired and made this as a history book for myself of queer "heros." The cover is an image of the popular kimono style during the Han dynasty in China and relates to the story on the reverse side of the images, perhaps my favorite queer love story from history. It was constructed in the traditional accordion format and silkscreened in an edition of three." 1999.

Where Are All The Robots?: "This past semester, I became very interested in Monoprint and I wanted to do a one-of-a-kind book. Much of my work lately deals with themes of how my Childhood interest in science fiction has affected me now, and I also just like drawing robots. The paper is handmade paper made from old books about robots which I pulped and fused to Reeves BFK, and has pieces of the comics embedded in it. It was constructed in the traditional accordion format and silkscreened." 1999.

Superheroes: This book deals with how the heroes in my life have changed over time, as had my concept of who and what a hero is. I chose the format of the comic book because so many of my heros of the past came from comics. The book was silkscreened with drawing on top and sewn pamphlet style. 2000.

John Pusateri

The Myth of Justice: "Accordion book made in reaction to the shooting of Amadou Diallo. The absurd amount of times Diallo was shot at (41), and the number of times he was hit (19), was the model for the form of the book. The nineteen bullets that struck Diallo are indicated by red bullet holes, and the remaining 22 are black. Under each red bullet is the name of another minority whose life was taken away by police brutality."

Routine Habit & Addiction: "Tryptic accordion book that calls into question the lines and boundaries but between what many call seperate behaviors. I claim that aside from chemical addictions, routines, habits, and addictions are all the same, or can be. A behavior started as daily routine may easily become habit, and at what point and how easily can that habit become an addiction?"
---
Book Works by Graduates of the School of Visual and Performing Arts
These works represent the creative output of SU Alums both during their part in either the BFA or MFA program, and afterwards as artists working to establish their own presses.

Bird Press, Thorsten Dennerline (MFA, '97)

Feeding Pigeons: This book is a collaborative project which is intended to experiment with the relationship between text and image. The artist and writer worked simultaneously at different locations within an agreed upon format, allowing for a spontaneous approach to the creation of the work as neither was aware of what the other was doing.

Book of lithographs with a poem by Egil Dennerline. Printed on handmade paper by Kat Ran Press. Bound by the artist.. Limited edition of 11 copies. Published by Bird Press, 1996. Collection of Professor Don Cortese. More images of the text can be seen at the Bird Press Website and on the Book Arts Web.

Real Things People Said and I Didn't Know What to Say. The book is a selection of quotes which people really said and I just didn't know what to say. The book is a look into how I view people and is meant to be critical and homorous at the same time. 

Accordion book of nine copper plate etchings printed on Richard Da Bas handmade paper. copies. Each book has one of the copper plates inlaid into the cover. The text is printed using a type writer. Bound by Peter Verheyen.. Limited edition of 9. Published by Bird Press, 1997. Collection of Peter Verheyen. More images of the text can be seen at the Bird Press Website and on the Book Arts Web.

Twenty-six Words: An alphabet book with 26 lithographs. Bound by Peter Verheyen. Limited edition of 10 copies. Published by Bird Press, 1998. Collection of the Syracuse University Libraries. More images of the text can be seen at the Bird Press Website and on the Book Arts Web.

Kat Ran Press, Michael Russem (BFA, '97)

Match In A Bottle. Poems by Tracey Knapp (BFA,'98), "smoke drawings" by Kurt Gohde (MFA, '98). Bound by Winifred Bixler. Limited edition of 50 copies. Published by Kat Ran Press , North Andover, Mass. 1997. Collection of the Syracuse University Libraries.

Skinny This. Poem by Jocelyn Webb with drawings by Michael Russem (BFA, '97). Printed on Japanese paper and bound in bee's-waxed and walnut-dyed paper over boards by Jocelyn Webb. Limited edition of 50 copies. Published by the Sierras Press, 1999. Collection of the Syracuse University Libraries.

A Year of Smoke. Poem by Robin Barber, "smoke drawing" by Kurt Gohde. Bound by David Bourbeau. Limited edition of 10 copies. Limited edition of 35 copies in this binding. Published by Kat Ran Press , North Andover, Mass. 1999. Collection of the Syracuse University Libraries.

Akiyo Ogura (BFA, '97)

How To Wear A Rainbow: Silkscreen and pop-up constructions with boards covered in old denim jeans. Collection of Peter Verheyen.
---
Basic Bookbinding: HSC 050 (Humanistic Studies Center)
Students in this ongoing 7 week course bound two "fine binding" exhibition catalogs in the traditional German case-binding technique. Books were covered in "pastepapers" made by the students. For the remainder of the class students will work on their own projects Instructor: Peter D. Verheyen, Conservator, Syracuse University Libraries.

Students:

Carol Ceraldi

Cathy Gibbons

Kit Hefner

Maija Jones

 Karen Smith-Collins

Robert Weldert