Grant Auditorium
Special Collections Research Center
Page featured image content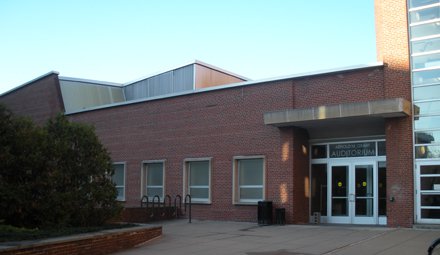 Page main body content
Groundbreaking: September 1964
Construction Completed: August 1966
Architects: Lorimer Rich and Associates
Contractor: R.A. Culotti Construction Co., Inc.
Location: Connected to the south side of Ernest I. White Hall
Cost: $1.4 million
Funding: $800,000 donation from Arthur M. Grant
Named for: Arthur M. Grant, Class of 1927 and Law College class of 1929, member of Board of Trustees
Dedicated: April 28, 1967
Dedication Speakers: US Supreme Court Justices Tom C. Clark and Abe Fortas
Materials: Red brick, limestone trim
Renovated: 1998
Notes: The 3 story building opened with a 400-seat capacity auditorium, 2 lecture halls, 17 offices and a Faculty Law Library. The lobby held a sculpture by Joseph Kiselewski of the Biblical figure Moses as "The Lawgiver."