Collection inventory
---
---
Belfer Wire Recordings Collection
A description of the collection at Syracuse University
Finding aid created by: MRC
Date: 20 Jun 2011

---
Overview of the Collection

Title:
Belfer Wire Recordings Collection
Dates:
1945-1954
Quantity:
30 items.
Abstract:
Collection consists of noncommercial home recordings of varied content (spoken word, vocal music or instrumental music) on Fidelitone, Echo, Webcor and Webster wire.
Language:
English
Repository:
Special Collections Research Center,
Syracuse University Libraries
222 Waverly Avenue
Syracuse, NY 13244-2010
https://library.syracuse.edu/special-collections-research-center
---
Biographical History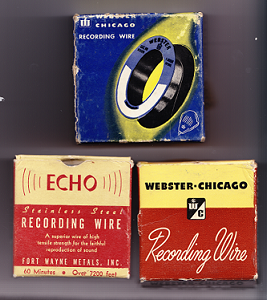 A wire recording is a type of analog audio storage medium in which the recording is made onto thin steel or stainless steel wire. The steel wire is pulled rapidly over a recording head to place a magnetic signal on the wire. The wire can then later be played back to retrieve the magnetic signal on the wire. The first wire recorder was developed in the 1890s, and wire recorders for law/office dictation and telephone recording were made almost continuously by various companies through the 1920s and 1930s. These devices were sold as home recording technologies after World War II, marketed for home entertainment or as an inexpensive substitute for commercial office dictation recorders. The use of these home wire recording devices peaked between 1946 and 1954.
---
Scope and Contents of the Collection
The Belfer Wire Recordings Collection consists of 30 recordings of varied content (spoken word, vocal music or instrumental music) on Fidelitone, Echo, Webcor and Webster wire.
---
Arrangement of the Collection
No particular order.
---
Restrictions
Access Restrictions:
The majority of our archival and manuscript collections are housed offsite and require advanced notice for retrieval. Researchers are encouraged to contact us in advance concerning the collection material they wish to access for their research.
Access to recordings requires advance notice for production of a use copy.
Use Restrictions:
Written permission must be obtained from SCRC and all relevant rights holders before publishing quotations, excerpts or images from any materials in this collection.
---
Subject Headings
Subjects
Personal recordings.

Genres and Forms
Sound recordings.
Wire recordings.

Administrative Information
Preferred Citation
Preferred citation for this material is as follows:
Belfer Wire Recordings Collection,
Special Collections Research Center,
Syracuse University Libraries
Acquisition Information
Unknown.
---
Table of Contents
Wire recordings
---
Inventory
Wire recordings
Box 1
Miscellaneous (30 items)
---