Collection inventory
---
---
Lorenzo Collection
An inventory of the collection at Syracuse University
Finding aid created by: HLA / PHM
Date: Jan 1964

Revision history:

23 Sep 2008
converted to EAD (MRC)
19 Feb 2013
map of Lincklaen farm added to inventory (MBD)
30 Jan 2017
added Forman to subject headings (MRC)
---
Overview of the Collection

Title:
Lorenzo Collection
Dates:
1771-1956
Quantity:
8.0 linear feet, 20 reels microfilm
Abstract:
Correspondence, legal documents, financial records, and memorabilia concerning the Holland Land Company, Colonel John Lincklaen, Jonathan Denise Ledyard, Helen Ledyard Lincklaen, Jane Strawbridge Ledyard, other Ledyard and Lincklaen family members, and Lorenzo mansion in Cazenovia. Photocopies and microfilm only, no originals.
Language:
English
Repository:
Special Collections Research Center,
Syracuse University Libraries
222 Waverly Avenue
Syracuse, NY 13244-2010
https://library.syracuse.edu/special-collections-research-center
---
Biographical History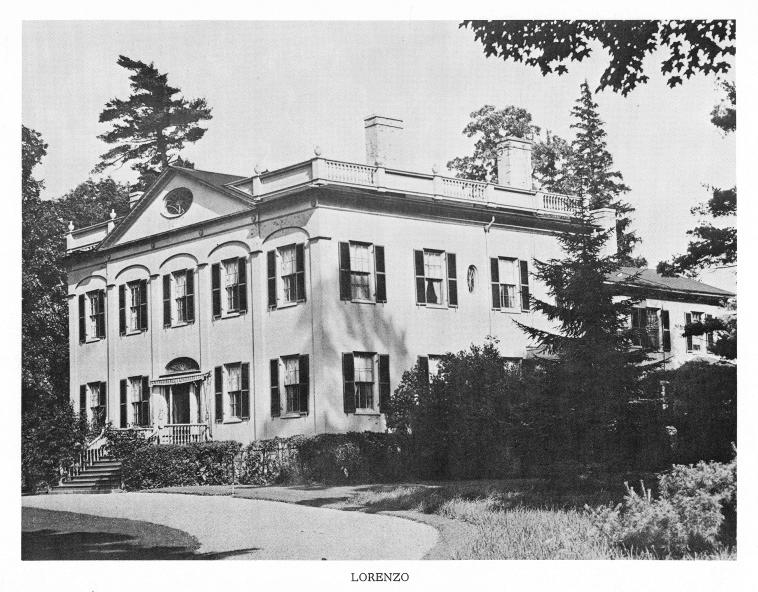 In 1792, Colonel John Lincklaen, who was an agent for the Holland Land Company, came to central New York to see some of the company tracts of land. The present township of Cazenovia was included in that particular tract of land. Colonel Lincklaen made a temporary encampment at the foot of Cazenovia Lake and fell in love with the surrounding woods and valleys. A village was founded by Lincklaen on this spot and in 1807 he built the distinguished federal mansion pictured on the following page. He and his wife, the former Helen Ledyard of Aurora, had no children, but they adopted Mrs. Lincklaen's brother, Jonathan Denise Ledyard and made him their heir. After the death of Colonel Lincklaen, Jonathan Ledyard took over the management of the Holland Land Company's affairs and eventually purchased their interests and property. Jonathan married Miss Jane Strawbridge of Philadelphia and their eldest son was named Lincklaen Ledyard. In an attempt to perpetuate the name of the family benefactor, he had his name legally reversed to Ledyard Lincklaen, but his only child was a daughter, Helen Lincklaen, who married Charles S. Fairchild, the secretary of the treasury under President Grover Cleveland. On the death of Mrs. Fairchild in 1931, Lorenzo was willed to her cousin, Mrs. Eliphalet Remington who died in 1953, leaving it to her brother, George S. Ledyard, the present occupant with his son, John Ledyard.
---
Scope and Contents of the Collection
Note: Note: This collection consists entirely of photopies and microfilm. It contains no originals.
Lorenzo has remained in the possession of the Lincklaen/Ledyard family to the present day. Each generation of occupants used the various offices, vaults, files, and particularly attics for storage of family possessions and records. The documents enumerated in the Lorenzo Collection are the sum total of what has been preserved in Lorenzo since 1807 and represent almost two hundred years of family history. Quite naturally the thoughts and actions of the individuals characterize the preserved documents, but in an unusual fashion, the mansion Lorenzo has added its own peculiar stamp to the letters, diaries, and ledgers. Lorenzo has been the symbol of the family, its focal point, and its essence. All of the papers are related to it in one way or another and could be used by the diligent historian to fashion a "social, cultural, political, and economic history of Lorenzo in Cazenovia." As a recognition of its importance, Lorenzo has been honored by having the collection of documents named for it.
The families most strongly represented in the collection are:
Fairchild
Fitzhugh
Forman
Krumbhaar
Ledyard
Lincklaen
Remington
Seymour
Stebbins
Strawbridge
The collection is divided into thirteen series.
Holland Land Company Records contains company papers and the papers of four individuals: Theophile Cazenove, Arthur Cazenove, J. M. and Raoul de Cazenove.
John and Helen Lincklaen contains land, legal, and business papers as well as correspondence for John Linklaen and his wife, Helen Ledyard Linklaen.
Ledyard predecessors of John D. Ledyard contains personal and business papers of three Ledyard men, namely: John Ledyard of Hartford, John Ledyard the Traveller, and Benjamin Ledyard (father of John D. Ledyard)
John D. and Jane S. Ledyard contains the personal and business papers of John Denise Ledyard and his wife, Jane Strawbridge Ledyard. Also of interest are a few items of correspondence from Gerrit Smith, Samuel Morse, and Henry Ten Eyck.
The Sons of John D. Ledyard contains the personal and business papers of the four sons of Jonathan Denise Ledyard and their wives, namely: Lincklaen Ledyard and his wife Helen Seymour Ledyard; George Strawbridge Ledyard and his wife Anne Smith Ledyard; Fitzhugh Ledyard; and Lambertus Wolters Ledyard.
The Children of George S. Ledyard contains personal and business papers for Geroge Strawbridge Ledyard's three sons and one daughter, namely: John Denise Ledyard, Richard Fitzhugh Ledyard, Mary Fitzhugh Ledyard, and George S. Ledyard, Jr.
Samuel and Glen Ledyard contains the personal and business papers of John D. Ledyard's brother Samuel, and Samuel's son Glen Cuyler Ledyard.
M. R. Ledyard, Murray Ledyard contains both personal and business papers for these two men.
Allied and associated families includes personal and business papers of members of families related to or associated with the main Lorenzo family. Surnames represented are Breeze, Childs, Fairchild, Fitzhugh, Forman, Freneau, Krumbhaar, Remington, Seymour, Stebbins, Strawbridge, and Wolters.
Genealogies contains genealogies of various Lorenzo families. Surnames represented include Ledyard, Forman, Strawbridge, Gilpin, and Parker. The Strawbridge genealogy goes back to the 13th century. There is also research material on the name "Ledyard."
Ledyard miscellanea includes a cookbook, inventories, land surveys, and assorted other material from Ledyard family members.
Miscellaneous papers consists of assorted land and financial papers (bills, receipts, ledgers, title abstracts, land surveys, etc). Included here is a history of Cazenovia and documents relating to the Cherry Valley Turnpike.
Microfilm materials include personal diaries, travel accounts, letterbooks, farm ledgers, office diaries, and Holland Land Company records. This microfilming and photocopying project was sponsored by Syracuse University Library in cooperation with the late Dr. Albert B. Corey and the Division of Archives and History of the University of the State of New York. We regret that Dr. Corey did not live to see completion of this venture in which he was deeply concerned. Above all, a special note of thanks is extended for the generosity and courtesy of Messrs. George S. and John Ledyard. They permitted copying of these historically valuable papers and assisted in the sorting and identification of the documents. This finding aid could not have been constructed without their helpful advice, and the scholarly world is deeply in their debt.
---
Arrangement of the Collection
All series except microfilm are arranged alphabetically.
---
Restrictions
Access Restrictions:
The majority of our archival and manuscript collections are housed offsite and require advanced notice for retrieval. Researchers are encouraged to contact us in advance concerning the collection material they wish to access for their research.
Use Restrictions:
Written permission must be obtained from SCRC and all relevant rights holders before publishing quotations, excerpts or images from any materials in this collection.
---
Subject Headings
Persons
Forman, Samuel S., 1763-1860.
Ledyard family.
Ledyard, Jane Strawbridge.
Ledyard, Jonathan Denise.
Lincklaen family.
Lincklaen, Helen Ledyard.
Lincklaen, John.
Smith, Gerrit, 1797-1874.
Ten Eyck, Henry B.

Corporate Bodies
Holland Land Company.
Lorenzo Mansion (Cazenovia, New York)

Subjects
Business records -- New York (State)
Family history.
Public land records -- New York (State)

Genres and Forms
Correspondence.
Diaries.
Genealogies (histories)
Indentures.
Land surveys.
Ledgers (account books)
Wills.

Administrative Information
Preferred Citation
Preferred citation for this material is as follows:
Lorenzo Collection,
Special Collections Research Center,
Syracuse University Libraries
Acquisition Information
Copies courtesy of Messrs. George S. Ledyard and John Ledyard.
---
Table of Contents
Holland Land Company
John and Helen Lincklaen
Ledyard predecessors
John D. and Jane S. Ledyard
Sons of John D. Ledyard
Children of George S. Ledyard
Samuel and Glen Ledyard
M. R. Ledyard, Murray Ledyard
Allied and associated families
Genealogies
Ledyard miscellaneous
Miscellaneous papers
Microfilm materials
---
Inventory
Holland Land Company
Company papers
Box 1
Powers of attorney 1799-1824 (5 items)
Box 1
Indentures and related land papers 1793-1831 (6 items)
Box 1
Miscellaneous documents undated (4 items)
Theophile Cazenove
Box 1
Indentures to John Lincklaen 1803 (2 items)
Arthur Cazenove
Box 1
Correspondence and related legal documents 1819-1830 (15 items)
J. M. and Raoul de Cazenove
Box 1
Correspondence 1875-1891 (9 items)
John and Helen Lincklaen
John Lincklaen
Land papers
Box 1
Indentures to John Lincklaen 1793-1797 (46 items)
Box 1
Indentures to John Lincklaen 1798-1804 (32 items)
Box 1
Indentures to John Lincklaen 1805-1818 (21 items)
Box 1
Indentures to John Lincklaen and Gerrit Boon from Simeon DeWitt 1797 (27 items)
Box 2
Indentures from John Lincklaen 1793-1797 (4 items)
Box 2
Indentures from John Lincklaen 1799-1804 (16 items)
Box 2
Indentures from John Lincklaen 1805-1818 (7 items)
Box 2
Miscellaneous indentures, related to J. Lincklaen but not to or from him (7 items)
Box 2
Surveys and maps (4 items)
Box 2
Quit claims 1802-1808 (2 items)
Box 2
Articles of agreement 1793-1820 (22 items)
Box 2
Miscellaneous deeds 1807-1809 (3 items)
Box 2
Miscellaneous land papers 1800-1819 (18 items)
Legal papers
Box 2
Powers of attorney to John Lincklaen 1790-1820 (14 items)
Box 2
List of debtors undated (1 item)
Box 2
Last will and testament 1820 (1 item)
Box 2
Estate papers 1818-1822 (3 items)
Box 2
Breach of Covenant: The Estate vs. Harvey and Underwood 1818-1830 (3 items)
Business papers
Box 3
Documents related to roads undated (5 items)
Box 3
Miscellaneous bills and receipts 1794-1821 (49 items)
Box 3
Documents and correspondence related to the construction and repair of the Madison County Courthouse 1810-1813 (45 items)
Box 3
Miscellaneous business papers 1807-1809 (3 items)
Box 3
Lorenzo Mansion papers 1808-1842 (3 items)
Box 3
Farm papers and accounts 1809-1817 (4 items)
Correspondence
Box 3
Correspondence 1803-1819 (12 items)
Box 3
To F. A. Van der Kemp 1795 (1 item)
Box 3
To S. Forman 1793 (1 item)
Box 3
To Holland Land Company 1798-1812 (10 items)
Box 3
From J. J. Van der Kemp 1809-1822 (11 items)
Box 3
From Paul Busti 1810-1815 (10 items)
Miscellaneous
Box 3
Meeting report undated (1 item)
Box 3
Militia clippings and correspondence 1802 (4 items)
Helen Ledyard Lincklaen (Mrs. John Lincklaen)
Land papers
Box 3
Deed 1804 (1 item)
Box 3
Indentures 1825-1836 (2 items)
Box 3
Transfer to the Holland Land Company undated (1 item)
Estate papers
Box 3
Release on the John Lincklaen estate 1836 (1 item)
Box 3
Wills and codicils, and related papers 1840-1849 (4 items)
Box 3
Obituary 1847 (1 item)
Ledyard predecessors
John Ledyard of Hartford
Box 3
Last will and testament 1771 (1 item)
John Ledyard, the traveller
Box 3
Diary and papers 1773-1788 (1 item)
Box 3
Correspondence related the diary 1921-1927 (3 items)
Benjamin Ledyard
Correspondence
Box 3
Incoming correspondence 1794-1804 (2 items)
Box 3
Outgoing correspondence 1793-1804 (5 items)
Financial papers
Box 3
Promissory notes 1792-1809 (5 items)
Box 3
Webster account 1798-1806 (1 item)
Box 3
Miscellaneous papers 1790-1804 (7 items)
Land papers
Box 3
Indentures 1796-1803 (10 items)
Box 3
Miscellaneous land papers 1801-1803 (7 items)
Miscellaneous
Box 3
Slave and servant indentures 1784-1797 (6 items)
Box 3
Note relating to his family and a picture (1 item)
John D. and Jane S. Ledyard
Jonathan Denise Ledyard
Correspondence
Box 4
Incoming correspondence 1820-1829
Box 4
Incoming correspondence 1830-1849
Box 4
Incoming correspondence 1850-1868
Box 4
Incoming correspondence 1869-1874
Box 4
Incoming correspondence from J. J. Van der Kemp 1821-1853 (92 items)
Box 4
Incoming correspondence from Cazenove family 1823, 1836 (2 items)
Box 4
Incoming correspondence from Gerrit Smith 1825-1865 (4 items)
Box 4
Incoming correspondence from L. Mappa 1822-1859 (10 items)
Box 4
Incoming correspondence from Henry Ten Eyck 1826 (2 items)
Box 4
Incoming correspondence from Samuel Morse 1827 (1 item)
Box 4
Incoming correspondence from Samuel Forman 1836-1848 (32 items)
Box 4
Incoming correspondence from James Seymour 1828 (2 items)
Box 4
Incoming correspondence from Charles Stebbins 1828-1848 (3 items)
Box 4
Incoming correspondence from William H. Seward 1839-1840 (5 items)
Box 4
Incoming correspondence from John A. Dix 1842 (1 item)
Box 4
Incoming correspondence from Sophia Ledyard 1868-1874 (4 items)
Box 4
Incoming correspondence from George S. Ledyard 1842 (1 item)
Box 4
Incoming correspondence relating to Wisconsin land purchases 1862-1895 (16 items)
Box 5
Outgoing correspondence 1838-1871 (48 items)
Box 5
Letterbook 1853-1855 (2 items)
Box 5
Outgoing correspondence to Ledyard Lincklaen 1848 (1 item)
Box 5
Outgoing correspondence to Samuel Forman 1845-1848 (8 items)
Box 5
Outgoing correspondence to J. J. Van der Kemp 1827-1855 (2 items)
Box 5
Outgoing correspondence to J. C. Wolters 1841 (1 item)
Box 5
Outgoing correspondence to Helen Krumbhaar 1865 (1 item)
Box 5
Outgoing correspondence to H. C. S. Lincklaen 1860 (1 item)
Box 5
Outgoing correspondence to Sophia Ledyard 1856-1865 (4 items)
Box 5
Outgoing correspondence to Charles Stebbins 1848 (1 item)
Box 5
Outgoing correspondence related to Cazenovia lake 1849-1861 (11 items)
Box 5
Diary 1840 (1 item)
Land papers
Box 6
Indentures to Jonathan Denise Ledyard 1820-1835 (22 items)
Box 6
Indentures to Jonathan Denise Ledyard 1836-1867 (52 items)
Box 6
Mortgage papers 1835-1872 (22 items)
Box 6
Article of agreement 1835-1873 (61 items)
Box 6
Deeds, quit-claims, warranty deeds, conveyances 1858-1862 (7 items)
Box 6
Leases 1842-1871 (8 items)
Box 6
U. S. Land Certificate and related papers 1843 (5 items)
Box 6
Bonds 1828-1857 (3 items)
Box 6
Indentures from Jonathan Denise Ledyard 1822-1872 (17 items)
Box 6
Powers of attorney 1821-1824 (4 items)
Box 6
Land accounts 1860-1864 (3 items)
Box 6
Land papers and financial papers related to the village pier and fountain 1854-1860 (19 items)
Box 7
Papers related to Indiana land purchases 1821-1855 (4 items)
Box 7
Papers related to the Chicago wharf lot 1856 (14 items)
Box 7
Papers related to Wisconsin land purchases 1862-1879 (4 items)
Box 7
Miscellaneous land papers 1822-1858 (23 items)
Box 7
Papers related to Railroad leases and purchases 1870 (5 items)
Financial papers
Box 7
Miscellaneous accounts 1850-1870 (11 items)
Box 7
Miscellaneous bills and receipts 1819-1870 (174items)
Box 7
Tax and assessment papers 1863-1865 (3 items)
Box 7
Stocks and bonds 1840-1866 (5 items)
Box 7
Papers related to "Lorenzo" 1825-1826 (15 items)
Box 7
Promissory notes 1838-1865 (22 items)
Box 7
Alexander Krumbhaar accounts 1842 (1 item)
Miscellaneous papers
Box 8
Business papers 1833-1873 (5 items)
Box 8
Farm papers 1856-1863 (133 items)
Box 8
Papers and documents related to his dispute with Henry Ten Eyck 1856-1860 (7 items)
Box 8
Legal papers 1829-1850 (3 items)
Box 8
Duplicate office file undated (1 item)
Estate papers
Box 8
Appraisal and inventory 1874 (5 items)
Box 8
Legal and financial papers 1875-1889 (8 items)
Box 8
Last will and testaments 1837-1838 (3 items)
Box 8
Letters of condolence 1874 (53 items)
Box 8
Obituary and clippings 1874 (2 items)
Box 8
Estate correspondence 1878 (1 item)
Box 8
Estate land papers 1874-1886 (27 items)
Jane Strawbridge Ledyard (Mrs. Jonathan Denise Ledyard)
Correspondence
Box 8
Correspondence 1819-1851 (3 items)
Box 8
Incoming correspondence from Helen Strawbridge 1804-1807 (7 items)
Box 8
Incoming correspondence from Thomas Gilpin 1852 (3 items)
Miscellaneous
Box 8
Newspaper notice of her death 1855 (1 item)
Sons of John D. Ledyard
Lincklaen Ledyard (his name was later reversed by an act of the legislature)
Correspondence
Box 9
Incoming correspondence 1845-1861 (6 items)
Box 9
Outgoing correspondence 1848-1858 (15 items)
Box 9
Correspondence with Henry Krumbhaar 1861-1864 (2 items)
Box 9
Correspondence with George S. Ledyard 1841-1855 (2 items)
Box 9
Correspondence with Samuel Forman 1846-1847 (7 items)
Box 9
Correspondence with Cazenove 1813-1816
Box 9
Correspondence related to the Barge canal 1849-1862 (14 items)
Miscellaneous
Box 9
Indentures 1845-1847 (2 items)
Box 9
Land papers undated (1 item)
Box 9
Financial papers 1863 (3 items)
Box 9
Legal contracts 1847-1850 (2 items)
Box 9
Papers related to the Barge canal 1847-1852 (5 items)
Helen Seymour Ledyard (Mrs. Lincklaen Ledyard)
Correspondence
Box 9
Incoming correspondence 1870-1893 (3 items)
Box 9
Leases to the Syracuse, Ontario and New York Railway 1882- (3 Items)
George Strawbridge Ledyard
Correspondence
Box 9
Incoming correspondence 1839-1859 (35 items)
Box 9
Incoming correspondence 1860-1891 (172 items)
Box 9
Incoming correspondence from Horatio Seymour 1870-1880 (4 items)
Box 9
Incoming correspondence from Bragg, Conlay and Company 1852-1854 (24 items)
Box 9
Outgoing correspondence 1852-1890 (17 items)
Box 9
Outgoing correspondence to Bragg, Conley and Company 1852-1853 (3 items)
Box 9
Outgoing correspondence to Lincklaen Ledyard 1846 (1 item)
Land papers
Box 10
Indentures to George Strawbridge Ledyard 1862-1885 (9 items)
Box 10
Indentures from George Strawbridge Ledyard 1872-1888 (10 items)
Box 10
Mortgage papers 1879-1890 (11 items)
Box 10
Deeds and title papers 1879-1891 (7 items)
Box 10
Survey 1876 (1 item)
Financial papers
Box 10
Miscellaneous bills and receipts 1852-1890 (296items)
Box 10
Promissory notes 1863-1889 (6 items)
Box 10
Stock certificates 1870-1872 (2 items)
Box 10
Account books 1882 (2 items)
Miscellaneous papers
Box 10
Partnership papers 1870 (4 items)
Box 10
Papers related to the Cazenovia Public Library 1890 (2 items)
Box 10
Invitations undated
Box 10
Papers related to the European trip 1883-1886 (101 items)
Box 10
Bills and receipts related to the European trip 1884-1886 (170 items)
Box 10
Brigade order 1854 (1 item)
Estate papers
Box 11
Estate account book 1890-1891 (1 item)
Box 11
Land papers 1891-1892 (2 items)
Box 11
Insurance papers 1890-1891 (2 items)
Box 11
Obituary 1890 (1 item)
Anne Smith Fitzhugh Ledyard (Mrs. George S. Ledyard)
Correspondence
Box 11
Incoming correspondence 1880-1892 (9 items)
Box 11
Letters of condolence upon the death of her husband (125 items)
Lambertus Wolters Ledyard
Correspondence
Box 11
Incoming correspondence 1863-1894 (42 items)
Box 11
Outgoing correspondence 1862-1890 (5 items)
Miscellaneous
Box 11
Land papers 1878-1898 (4 items)
Box 11
Miscellaneous papers 1864-1871 (5 items)
Children of George S. Ledyard
John Denise Ledyard
Box 11
Incoming correspondence 1890 (1 item)
Richard Fitzhugh Ledyard
Box 11
Correspondence 1884-1891 (8 items)
Mary Fitzhugh Ledyard
Correspondence
Box 11
Outgoing correspondence to Helle 1885-1886 (13 items)
Box 11
Outgoing correspondence to mother 1889 (1 item)
George Strawbridge Ledyard, Jr.
Correspondence
Box 11
Outgoing correspondence to his family 1888-1889 (8 items)
Box 11
Incoming letters from his father 1884-1888 (4 items)
Samuel and Glen Ledyard
Samuel Ledyard
Correspondence
Box 11
Outgoing correspondence to his brother Jonathan Denise Ledyard 1824-1847 (7 items)
Box 11
Correspondence with his daughter Helen Ann L. L. Krumbhaar 1847 (2 items)
Financial papers
Box 11
Miscellaneous financial papers undated (4 items)
Box 11
Ledger 1822 (1 item)
Glen Cuyler Ledyard
Box 11
Note undated (1 item)
M. R. Ledyard, Murray Ledyard
M. R. Ledyard
Box 11
Correspondence 1884 (1 item)
Murray Ledyard
Box 11
Correspondence 1907 (1 item)
Allied and associated families
Breeze, Mrs. Helen Burrows
Box 12
Autobiographical sketch 1860 (1 item)
Childs, Perry G.
Box 12
Correspondence and papers 1810-1854 (6 items)
Fairchild, Charles S.
Correspondence
Box 12
Correspondence 1889-1917 (11 items)
Box 12
Correspondence with George D. Krumbhaar 1867-1894 (11 items)
Legal papers
Box 12
Papers related to the school district controversy 1914-1916 (9 items)
Box 12
Last will and testament and codicils 1920-1923 (1 item)
Miscellaneous
Box 12
Printed articles and reports 1875-1914 (4 items)
Box 12
Newspaper clippings on his career and his death (88 Items)
Fairchild, Helen Ledyard
Correspondence
Box 12
Correspondence 1880-1888 (7 items)
Box 12
Correspondence and papers related to her book on Francis Adrian Van der Kemp 1903-1904 (102 items)
Box 12
Correspondence and papers related to the family cemeteries in Cazenovia and Aurora 1924-1925 (18 items)
Box 12
Correspondence and papers related to property at Cazenovia Lake, Chittenango Falls and the Village Park 1921-1929 (38 items)
Box 12
Miscellaneous legal correspondence and papers 1917-1930 (12 items)
Box 12
Correspondence and papers related to the Woman suffrage movement 1910-1914 (11 items)
Miscellaneous
Box 12
Will and estate papers 1929-1931 (2 items)
Box 12
Printed materials related to the Woman suffrage movement 1894-1915 (21 items)
Fitzhugh, Mary Anne
Box 13
Miscellaneous documents 1872-1882 (2 items)
Fitzhugh, Richard P.
Box 13
Legal papers 1835-1856 (12 items)
Miscellaneous
Box 13
Correspondence 1855 (1 item)
Box 13
Financial papers 1843-1845 (10 items)
Forman, Jonathan
Box 13
Revolutionary War papers 1777-1783 (17 items)
Forman, Samuel
Correspondence
Box 13
Letterbook 1796-1799 (19 items)
Box 13
Correspondence with John Lincklaen (13 items)
Box 13
Miscellaneous correspondence 1788-1807 (19 items)
Business papers
Box 13
Business agreements and related papers 1776-1802 (40 items)
Box 13
Post office account 1799-1802 (34 items)
Miscellaneous
Box 13
Indentures and related land documents 1787-1822 (15 items)
Box 13
Autobiography, memoirs (5 items)
Box 13
Military papers 1793-1802 (32 items)
Freneau, Eleanor Forman
Box 13
Correspondence 1793-1795 (2 Items)
Krumbhaar, Helen Ledyard
Correspondence
Box 14
Correspondence 1833-1872 (11 items)
Box 14
Correspondence with Alexander Krumbhaar 1840 (6 items)
Box 14
Correspondence related to her marriage settlement 1842-1843 (9 items)
Legal papers
Box 14
Documents related to the marriage settlement 1840-1842 (4 items)
Box 14
Miscellaneous legal papers 1840-1866 (2 items)
Box 14
Accounts 1843-1871 (1 item)
Estate papers
Box 14
Last will and testament and related documents 1868-1873 (11 items)
Box 14
Correspondence related to the settlement of the estate 1872-1873 (28 items)
Box 14
Estate receipts 1873 (12 items)
Krumbhaar, Lewis
Box 14
Correspondence with Jonathan D. Ledyard 1842-1843 (5 items)
Krumbhaar, George D.
Box 14
Correspondence with Helen L. Fairchild relating to "Lorenzo" (11 items)
Remington, Eliphalet
Box 14
Papers relating to his Will 1937 (1 item)
Box 14
Obituary notices 1938 (7 items)
Remington, Jane Ledyard (Mrs. Eliphalet Remington)
Box 14
Correspondence related to the purchase of the New Jersey lots 1900-1905 (17 items)
Box 14
Miscellaneous correspondence 1892-1938 (4 items)
Box 14
Maps of the New Jersey lots (2 items)
Seymour, Helen Ledyard (Mrs. John Forman Seymour)
Box 14
Will and related paper undated (2 items)
Box 14
Estate papers 1881-1883 (10 items)
Seymour, Horatio Jr.
Box 14
Correspondence 1906 (2 items)
Box 14
Article entitled "Narrow Gauge Rail-roads" (1 item)
Stebbins, Charles S.
Box 14
Correspondence 1847-1877 (8 Items)
Box 14
Legal and estate papers 1852-1890 (7 Items)
Stebbins, Charles S. Jr.
Box 14
Correspondence 1891 (2 Items)
Stebbins, Margaret D.
Box 14
Correspondence 1927 (1 Item)
Strawbridge, John II
Box 14
Correspondence 1789-1793 (4 items)
Box 14
Eulogy 1793 (1 item)
Strawbridge, Hannah Evans (Mrs. John Strawbridge)
Box 14
Correspondence 1794 (1 item)
Strawbridge, George (son of John Strawbridge II)
Box 14
Correspondence undated (1 item)
Box 14
Tax papers 1820-1821 (1 item)
Box 14
Autobiography undated (1 item)
Strawbridge, Joseph (son of John Strawbridge II)
Box 14
Correspondence 1806-1807 (7 items)
Strawbridge, Stockton (son of John Strawbridge III and his first wife, Elizabeth Stockton)
Box 14
Correspondence 1834-1855 (3 items)
Strawbridge, James (brother of John Strawbridge II)
Box 14
Eulogy undated (1 item)
Box 14
Miscellaneous financial notes (2 items)
Wolters, Lambertus
Box 14
Land papers 1831-1832 (2 items)
Box 14
Will and estate papers 1840 (2 items)
Genealogies
Box 15
Correspondence related to and including family genealogy 1839-1880 (25 items)
Box 15
Ledyard genealogy 1700-1963 (7 items)
Box 15
Forman family genealogy c.1700- (5 items)
Box 15
Strawbridge genealogy including the Gilpin and Parker families 1206- (1 item)
Box 15
Background histories on the "Ledyard" name (3 items)
Ledyard miscellaneous
Box 15
Ledyard cookbook 1854 (1 item)
Box 15
Land Inventories 1847-1885 (1 item)
Box 15
Land sales accounts 1842-1884 (1 item)
Box 15
Photographs of Lorenzo and various members of the family (6 items)
Box 15
Miscellaneous newspaper clippings 1852 (3 items)
Box 15
Plan of Lorenzo (1 item)
Miscellaneous papers
Miscellaneous land papers
Box 16
Ledgers 1868-1874 (2 items)
Box 16
Indentures and related land papers 1787-1888 (64 items)
Box 16
Title abstracts 1827-1868 (4 items)
Box 16
Land surveys 1807-1927 (95 items)
Box 16
Miscellaneous powers of attorney 1824-1892 (2 items)
Map-Case 102
"A Map of Col. John Lincklaen's Farm (1814)" photocopies pasted on mounting board
Miscellaneous financial papers
Box 16
Bills and receipts 1794-1832 (50 items)
Box 16
Bonds 1836-1837 (3 items)
Box 16
Miscellaneous correspondence 1820-1898 (25 items)
Box 16
History of Cazenovia 1841 (1 item)
Box 16
Miscellaneous documents related to the Cherry Valley Turnpike 1803-1860 (3 items)
Box 16
Miscellaneous documents 1860-1956 (8 items)
Box 16
Rough Index to the bank folders (1 item)
Microfilm materials
Cabinet 5/3, Reel 1
Ledyard and Stebbins Mill Account Book 1851-1852
Cabinet 5/3, Reel 1
George Strawbridge Ledyard Travel Accounts 1884-1886
Cabinet 5/3, Reel 1
George Strawbridge Ledyard Personal Diaries 1873-1881
Cabinet 5/3, Reel 2
George Strawbridge Ledyard Personal Diaries 1883-1885
Cabinet 5/3, Reel 3
George Strawbridge Ledyard Journal of a visit to Cuba and Mexico in 1850
Cabinet 5/3, Reel 4
George Strawbridge Ledyard Journal of a visit to Chile and California in 1852
Cabinet 5/3, Reel 5
George Strawbridge Ledyard Ledger books 1874-1887
Cabinet 5/3, Reel 5
George Strawbridge Ledyard Account Books 1878-1897
Cabinet 5/3, Reel 6
Ledyard Family Letterbook 1871-1873
Cabinet 5/3, Reel 6
George Strawbridge Ledyard Letterbook 1873-1881
Cabinet 5/3, Reel 6
George Strawbridge Ledyard Letterbook 1886-1891
Cabinet 5/3, Reel 7
Holland Land Company Accounts of Land Sales and Census 1793-1804
Cabinet 5/3, Reel 7
John Lincklaen and Holland Land Company Patents 1793-1804
Cabinet 5/3, Reel 7
John Lincklaen Letterbook P 1805-1842
Cabinet 5/3, Reel 8
Ledyard Family Farm Account Books 1845-1864
Cabinet 5/3, Reel 8
Ledyard Family Farm Ledger Book #2 1872-1889
Cabinet 5/3, Reel 9
Register of Wisconsin Lands
Cabinet 5/3, Reel 10
Jonathan Denise and Jane Strawbridge Ledyard House and Office Diaries 1843-1855
Cabinet 5/3, Reel 10
Lambertus Wolters Ledyard House and Office Diary 1855-1857
Cabinet 5/3, Reel 10
George Strawbridge Ledyard and Lambertus Wolters Ledyard House and Office Diaries 1856-1872
Cabinet 5/3, Reel 10
George Strawbridge Ledyard House and Office Diaries 1872-1887
Cabinet 5/3, Reel 11
George Strawbridge Ledyard, Mary Fitzhugh Ledyard, and Anne Smith Fitzhugh Ledyard House and Office Diaries 1887-1895
Cabinet 5/3, Reel 12
Holland Land Company Day Books Cazenovia 1800-1839
Cabinet 5/3, Reel 13
Holland Land Company Day Books Cazenovia 1840-1865
Cabinet 5/3, Reel 14
Holland Land Company Day Books Cazenovia 1866-1897
Cabinet 5/3, Reel 14
Holland Land Company General Ledgers 1802-1806
Cabinet 5/3, Reel 15
Holland Land Company General Ledgers 1806-1839
Cabinet 5/3, Reel 16
Holland Land Company General Ledgers 1840-1871
Cabinet 5/3, Reel 17
Holland Land Company General Ledgers 1872-1897
Cabinet 5/3, Reel 17
Holland Land Company Rough Account Books 1811-1837
Cabinet 5/3, Reel 18
Holland Land Company Waste Books of Cash and Sales 1802-1806
Cabinet 5/3, Reel 18
Holland Land Company Cash Books 1823-1870
Cabinet 5/3, Reel 18
Holland Land Company Lists of Township Land Sales 1793-1814
Cabinet 5/3, Reel 18
Holland Land Company Land Map Books
Cabinet 5/3, Reel 18
Holland Land Company Land Account Books 1821-1837
Cabinet 5/3, Reel 19
Holland Land Company Land Account Books 1838-1884
Cabinet 5/3, Reel 19
Holland Land Company Bond and Mortgage Sales 1799-1808
Cabinet 5/3, Reel 19
Holland Land Company Township Sale Books for Brakels, DeRuyter and Number 1 Township
Cabinet 5/3, Reel 20
Holland Land Company Township Sale Books
Cabinet 5/3, Reel 20
Ledyard Woolen Mill Financial Books 1813-1816
---