[Click on images to enlarge]
Painters and Poets Together: The Folder Story
Painters Pay Tribute to Frank O'Hara
Continued Interest in the New York School
Painters and Poets Collaborate
---
Related Links:
Imagination: The 2006 Syracuse Symposium
"Meditations in an Emergency"
In 1956, Barney Rosset, the editor of Grove Press, asked Frank O'Hara to resubmit poems for publication by Grove.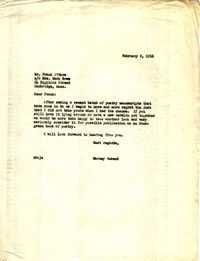 ---
A few days later, O'Hara wrote Grace Hartigan:
By the way, Barney Rosset has asked to see another manuscript of poems, isn't that nice? Could you send me up the ones I left at your house? I'm not sure I have several of them up here.

---
Rosset accepted O'Hara's poems, and as work went on, publication plans were made to include artwork as a frontispiece for a limited edition. Robert Goodnough was suggested, but O'Hara had his own idea:
Wouldn't it be more to the point to have some artist with whom I am more closely connected do this? The selection does seem important to the poems (if I'm not being too impressed by the French), and there are a few painters whose work has influenced the poems strongly, so shouldn't they at least be considered? I hope you will think of Grace Hartigan, anyway, and let me know what you think .... I do feel that Grace and I have a strong mutual influence on each other in our work.

---
O'Hara again recommended Hartigan to Rossett in this letter of 18 April 1956, and combined her inclusion in the Museum of Modern Art's collection with some sales strategy featuring the museum:
Grace is getting to be well known...and since she has two paintings in The Museum of Modern Art's collection and will be in their American painting show, I wonder if they could be approached about selling the book as a special thing at the Front Desk?

---
"Meditations in an Emergency" was published by Grove Press in 1957. A limited edition of fifteen signed copies had a frontispiece by Grace Hartigan.