The Killers
Rózsa commented on page 133 of his autobiography, A Double Life (1982), that he "was assigned to [Producer Mark Hellinger's] first picture [for Universal], The Killers, adapted from a short story by Ernest Hemingway. It was also the first film of a former circus acrobat named Burt Lancaster, and the first important American film of the German director Robert Siodmak. Hellinger was the kindest and most appreciative of men. We had little contact up to the time of recording the music—though I remember our meeting in his studio bungalow one morning and discussing my idea of using a short, distinctive musical motif to characterize [sic] the killers whenever they appeared—this later became world famous as the 'Dum-de-dum-dum' motto of the TV series Dragnet."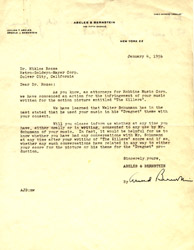 The final paragraph of this letter to Rózsa from his United States music publisher, Robbins Music Corporation, refers to Rózsa's claim that the Dragnet theme was the same as his motif from The Killers.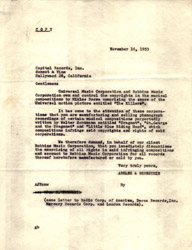 Robbins investigated Rózsa's claim, and a week later listed clear incidents of copyright infringement. The next month, Robbins ordered a number of record companies to stop using the Dragnet theme due to the copyright controversy.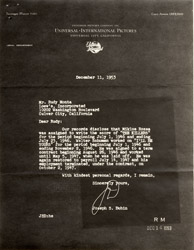 One of the elements of a plagiarism suit is proof that the second writer had the opportunity to hear the original composition. Rózsa recalled that Walter Schumann, who wrote the Dragnet music, had been working on the Universal Studios lot during the time the score for The Killers was composed. A check with Universal's records showed that he was right. Walter Schumann claimed that Rózsa told him he could use the motif. Rózsa was called to respond to this legal point.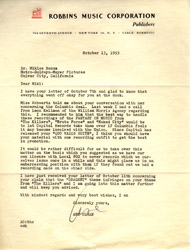 Settlement was reached in the fall of 1955, although details of the arrangement took years to enforce. Rózsa was awarded one-half the composer's fees for the use of his four notes.
The score of The Killers shows the rhythmic four-note pattern repeated many times.