2-D Exhibits
Details
Sarah Bender
My book for Gail Hoffman's 2-d class is called "Is it a question of time?". It is a series of unanswerable ( I think ) questions I had about time. The structure is an accordian with alternating colors of paper to symbolize the cycle of day and night which was used to tell time in the beginning. The cover is crinkled gold wrapping paper with dried leaves in the shape of a question mark. When I originally made the book, the first couple of leaves were alive, and then I used in between leaves that changed to dead leaves at the end of the question mark to show the effect of time, but I think they are all dead by now. The words and illustrations in my book are stamps and collage because that is what I enjoyed doing most last semester.The only non-question in my book can be found on the last page (time is everything). I think it is an answer to the title of the book, but it also raises another question which ends the book (why?).

---
Joel Bialek
This book was inspired by my interest in the different Special Forces units in our military, particularly in the airborne divisions. Jumping out of an airplane is something I've always wanted to do, so I decided to write a poem about the experience and what it might be like. The poem was successful, so I decided to base this book on the same theme. Both the poem and book are based on a particular type of jump, called a H.A.L.O., which stands for High- Altitude, Low-Opening. It is used by Special Forces troops that want to enter an area undetected. The team jumps from thirty thousand feet so that the delivery aircraft itself can't be seen or heard by anyone on the ground. The risky part about this type of jump is that the team doesn't open their parachutes until they're only two thousand feet above the ground. I took this risk into consideration and decided to write about the consequences of one's chute not opening as planned and what goes through one's mind when something like this happens.
The book materials include black matte board, Indian hand-made paper, actual parachute cord for the book binding, transparent sheets of various colors, and black and white photocopies for the main images. For the text, I ran the pieces of hand-made paper through a laser printer after laying everything out on my computer.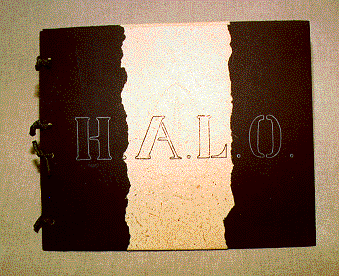 ---
Sarah Colburn
My book was inspired by the books we looked at in the Libraries' collection of illuminated manuscripts. The beauty of detail and design left me in awe, and I wanted to try it myself.I loved the idea of the illuminated manuscript, but I didn't like it how all that beauty was closed up in a book, so, I made my book a wall hanging, so it could be displayed in the home all the time. I wanted my theme to be something non-traditional, though. It attempts to talk about the role of Mother Nature in our lives and the secrets she holds.
The materials I used include fabric, plywood, paper, colored pencil, marker, and gold decorative pen.

---
Julie Crossman
Science fiction writer Arthur Clarke once wrote that he doesn't believe we will ever be able to travel to the farthest reaches of the universe, light years away, because of our inability to transcend time. But in reality, scientists have actually manipulated time in the laboratory. In a recent experiment at the European Centre for Nuclear Research, time was actually stretched or "warped" by boosting particles called muons close to the speed of light. The possibility that we can tinker with time stimulates the imagination.
In space, the faster an object travels, the more time becomes contorted. My book is a visual representation of a time warp. Each pattern is a slight distortion of the previous page - until finally, at the speed of light, time ceases to exist.
Time warp, however, is a psychological as well as a scientific phenomenon. Have you ever become so engrossed in something that an hour seemed like a minute? As Einstein discovered, time is purely relative. And each of us has our own unique way of weaving its threads.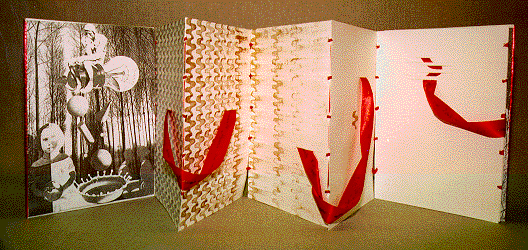 ---
Eileen Daly
I associate my memories with the seasons and months during which I experienced each event or particular feeling. This fits into an overall way of categorizing memories by season (each side of the box is one season) and month (each compartment with stack of pages). I see myself moving through time counter-clockwise on a square, as though it is a Monopoly board. (The top left corner section is February, the one below it is March, etc.) Memories pile up at each 'month' but are not in any specific order. I left them loosely tied togther in jumbled fragments, so that they can be taken out and examined individually, but collectively make up my memory. Each smaller book, representing each month of the year, can be added to as I experience more. The blank pieces in the center symbolize future memories, waiting to happen, be processed and then find their way into their own place in my book.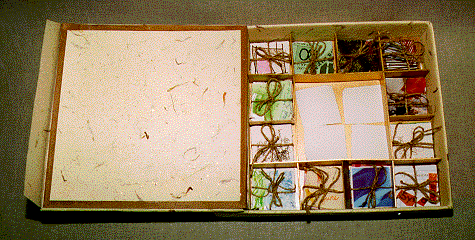 ---
Holly DeRosa
The concept of the assignment was time, so I took it a step further and incorporated the idea of the first entity on earth...light. Light is supposed to be the beginning of life. It has no beginning and end. The stream of light that I took a picture of looks like one decisive moment in time. In reality, it took about 10 seconds. Photography has the ability to trick the eye into believing that every thing took one moment.
The book took three weeks to put together and the content changed alot during that time. I had my friends model the shots of the hand and face.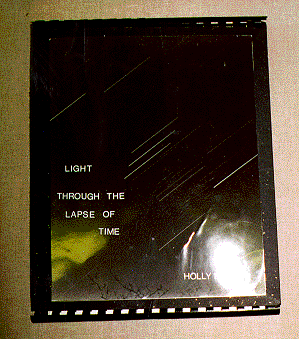 ---
Winslow Eaves

---
Kristin Jensen
The "book" is comprised of seven pages of glass with stream-of-conscious writing loosely based on the subject of time. Each "page" is made up of two 8x11 inch pieces of glass which are soldered together. In between the two pieces are shapes of paper that appear random when each page is viewed separately. However, when each page is in order within the structure of wood, the viewer can look down through the panes of glass and see the image of a face that is formed by the paper. The pages of glass are contained within an open cube of wood on which can be found the same press type letters that are on each page. Although it does not neccessarily look like a book, it conveys a narrative/feeling that many books do.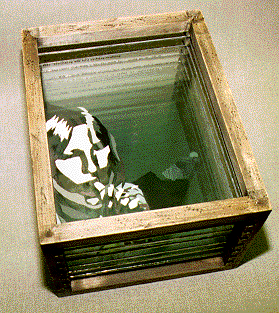 ---
Ben Jones
My book is a wooden covered book, bound in the traditional or earlier european style. The cover is wooden with metal inlay and has a leather binding. The book has no title, but if i were to give it one it would be "Hero". The book itself deals with the hero through the ages and also the true facelessness I feel a hero should have. The mask print and metal casting, hide the hero from reconition even in the pictures that were actual people. The drawings themselves were done in brown ink.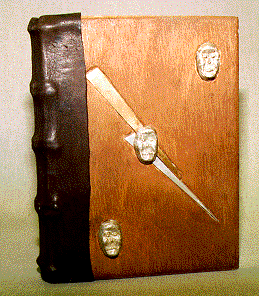 ---
Sarah Maxam
This is a book about memories: events in my life that have made a lasting impression on me, and have influenced my life in some way. Not only by reading my book do you get a close look into my life, but you also get to know me as a person. The assortment of these "stories" of my life have added to my personality and has shaped me into the person I am today. This idea relates to the puzzle I placed in the center of the book. Each piece is unique and interesting on its own, but it also fits together with the other pieces to make a whole. On one side of the puzzle, I have a collage of images of me while I was growing up, and on the other side, an image of me now. One piece is missing, to symbolize that my life is not complete. I still have a lot of living left to do; many more stories will be added and the person that I become will be effected by these events.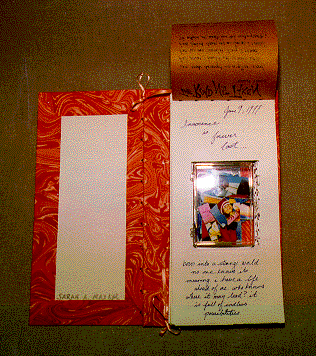 ---
Stephen Moverley
The cover of this book is made from masonite which has been spray painted black, and the front flaps come together to form a question mark. The pages are actually a single piece of paper which can be unfolded to reveal several feet of length. The images have been created with various inks.
This book deals with one of times primary effects, i.e., change, and in dealing with change, deals with ones need to question this change.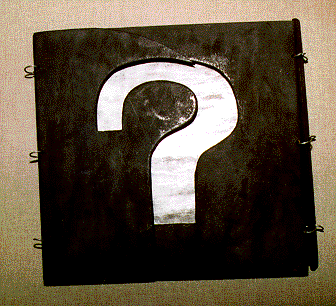 ---
Heather Neal
I began this assignment knowing that I would like to work with my own homemade paper to make the book completely by myself. I knew I wanted to illustrate every page in detail. I also wanted to incorporate metal on every page because I enjoy working with metal, and like how it looks next to handmade paper.
Illustrating the concept of time was difficult for me. I decided to illustrate ideas about time itself. I used simple statements and quotes which I thought presented an idea of time which everyone could relate to. I enjoyed the project alot since I want to illustrate books.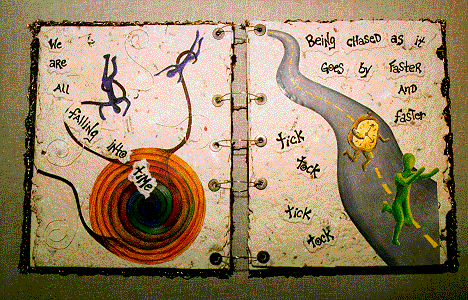 ---
Andrew Saluti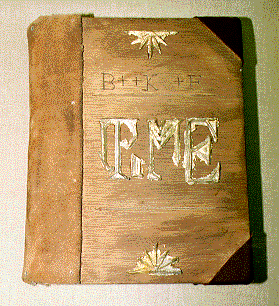 ---
Adam Schuman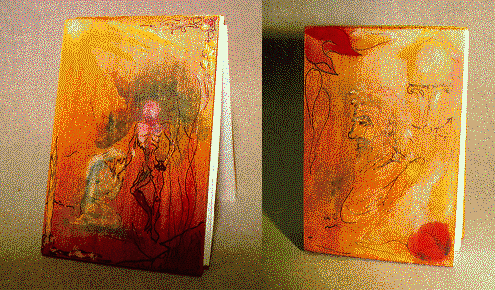 ---
Abe Wiley
When coming up with the idea for my book, I decided that I wanted to do something original. I would have loved to make a nice leather bound tome, but I decided against it. Over the summer my father inherited a house from one of our neighbors who had passed away with no living relatives. Next to this old house was an old barn that had fallen down during a storm. My father decided that the first thing he needed to do to this house was to clean up the pile of junk the barn had become. While helping my father clean it up we found these printing plates lying around. We also later discovered that Robert Deurward, the man who had owned the house, had used these printing plates to patch holes in his roof. When this project came around I knew right away what I wanted to do. I had my father cut the plates up into the right size and send them out. Earlier in the year we had been working with collage so I decided that I would take the plates and create collage type images on them with ink. The images I choose were from parts of the "freewrite" that we had to do one time.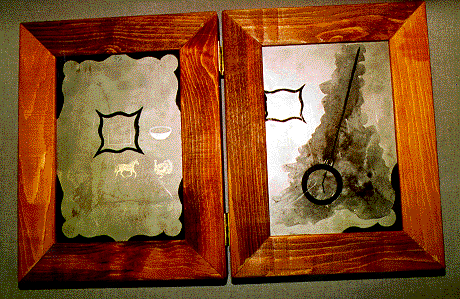 ---
Yvonne Wiktorowski
For my 2-D project, I decided to create a set a books dealing with simple everyday objects. My first book consists of a series of wrenches. I have taken pictures of different types of wrenches and collaged them into a accordian book. Though smaller, the second book was more challenging because I had to deal with the placement of certain objects. The materials I used in each book are similar. This is so the books can relate more than just in subject matter.
The subject matter of my second book is kitchen utensils. I used a print process to create the images of the utensils on the paper. The book itself is not bound. It is simply protected by two hard covers, and then tied with ribbon. When the book is opened, the viewer can freely pick up each print.
I found this assignment extremely enjoyable due to the fact that it is more personalized than our previous assignments. This project not only interested me , but kept me focused and opened me to personal discoveries.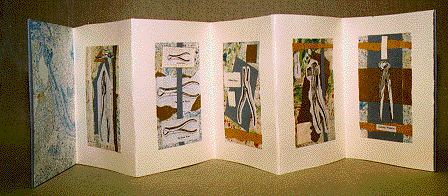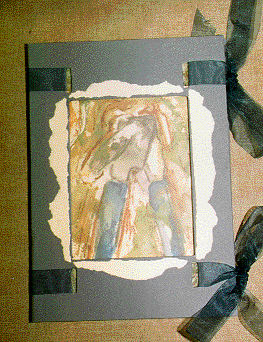 ---