75 Years of Benjamin Spock's Common Sense Parenting
2021 marks the 75th anniversary of the publication of the first edition of Benjamin Spock's Common Sense Book of Baby and Child Care.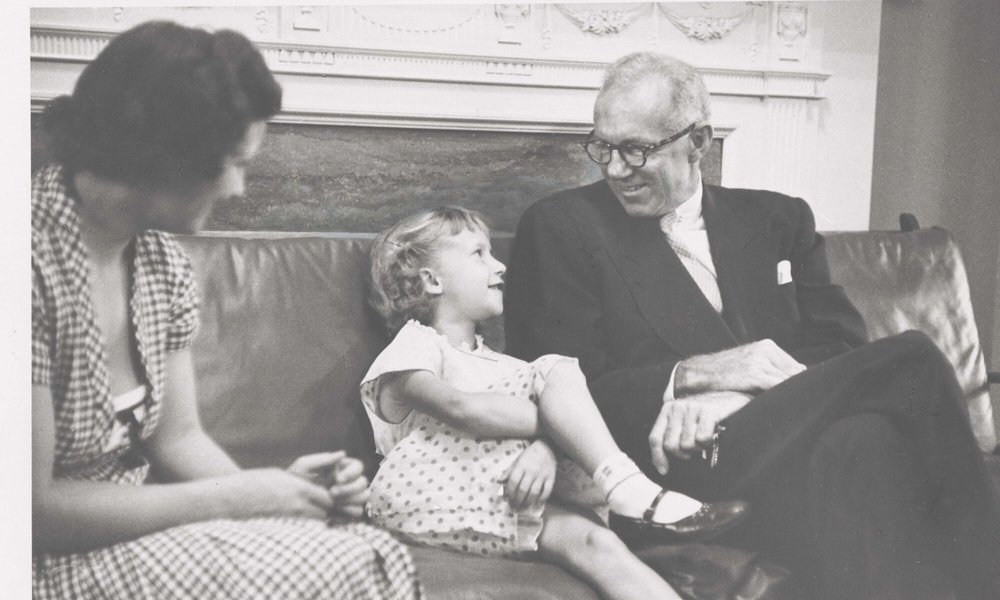 by Paul Barfoot, Library Technician
2021 marks the 75th anniversary of the publication of the first edition of Benjamin Spock's Common Sense Book of Baby and Child Care, published by Duell, Sloan and Pearce. Selling for 25 cents, the book's 500 or so pages were arranged by topic and age so that it could be used as a reference guide for parents. At a time when most baby books were written by authorities with the assumption that the reader needed to be taught how to be a parent, the book begins with Dr. Spock's now-famous advice to parents:
"Don't be awed by the experts. Trust your own common sense. Bringing up your child doesn't have to be complicated if you take it easy and rely on your instincts. The natural loving care that parents give their children is a hundred times more important than knowing how to make a diaper fit tightly or just when to start solid foods."
Benjamin Spock, Common Sense Book of Baby and Child Care
There was little thought at the time that the book would become so popular, but in its first six months, it sold more than 500,000 copies. The book's practical advice has become indispensable to millions. There have been 10 editions (the 10th edition was published in 2018) in 40 languages, each revised to fit the times, and total sales are now more than 50 million.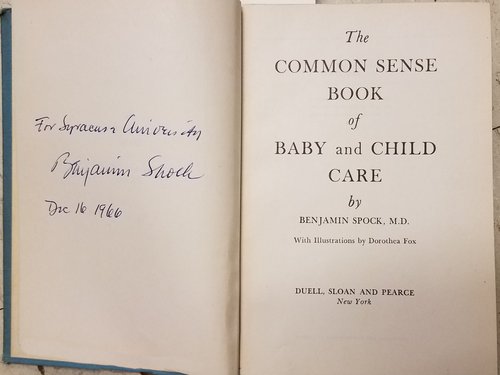 The inside cover of a first edition copy of The Common Sense Book of Baby and Child Care by Benjamin Spock. Dedicated "For Syracuse University. Benjamin Spock. Dec 16 1966." Rare books.
1946 was a pivotal year in the United States. World War II was over and years of economic turmoil were coming to an end. Even though there were still hardships, there was a general feeling of optimism and an openness to innovation.
GIs were returning from the war ready to start or resume their lives and families. The post-war baby boom had begun. It was a time of great anxiety for first-time parents.
The prevailing philosophy of child rearing had been a strict authoritarian approach that saw children as needing to be trained and disciplined into proper behavior. Parents were discouraged from showing too much affection to their children for fear of making them weak. 
Dr. Spock's Common Sense Book of Baby and Child Care was revolutionary. It took a different approach that fit the era of new possibilities and a move away from unquestioned expert authority. 
Benjamin Spock graduated first in his class at Columbia College of Physicians and Surgeons and begun private practice in New York in 1933.  He had also undergone training at the New York Psychoanalytic Society and completed a residency in psychoanalysis at the Payne Whitney Clinic. It was this combination of Freudian psychoanalysis and pediatrics that led Spock to search for a kind of preventative child psychology. His observation of adult psychotherapy to heal issues rooted in childhood trauma led him to consider the ways in which that trauma might be minimized in early childhood. In addition, his pediatric practice became a rich source of practical information. He kept extensive notes on the problems that parents experienced and how they dealt with them.
"As he conscientiously worked with the families in his practice, Spock noted that intelligent and concerned parents were often very anxious about doing the right thing for their children. He also noticed that the medical establishment paid little heed to these general concerns. He thought that if the knowledgeable parents in his practice, such as anthropologist Margaret Mead, worried about how to handle her child, the legions of parents who lacked her education and financial resources would certainly need help. Obviously, here was a fertile field for a person who wanted to influence lives in a positive manner."
Pickett, Robert S. "Benjamin Spock and the Spock Papers at Syracuse University." The Courier 22.2 (1987): 3-22.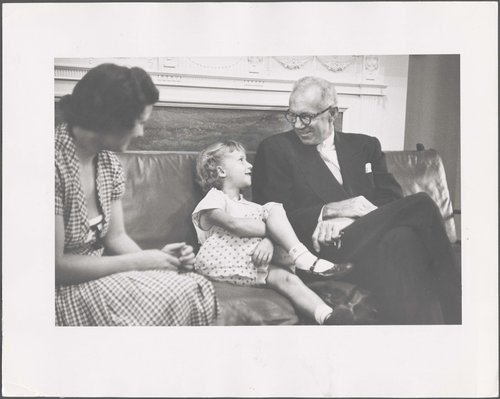 Spock talking with a patient at the health center. Benjamin Spock and Mary Morgan Papers.
In 1938, collaborating with Dr. Mabel Huschka of the New York Hospital and Department of Psychiatry of Cornell University Medical College, Spock had written a chapter titled, "The Psychological Aspects of Pediatric Practice," for Appleton Century's "Practitioners Library of Medicine and Surgery" (Volume XIII). This article was published separately for the New York State Committee on Mental Hygiene of the State Charities Aid Association [see Box 403 BSMMP]. The success of this article convinced Spock that there was an audience for his writing.
In 1943, Ben Spock and his wife, Jane, began compiling the meticulously kept notes from his practice and research into a practical guide for parents dealing with the day-to-day issues of having young children. It was a long slow process made more difficult by his time in the US Navy during the war, but by the end of the war, the book was ready and Pocket Books had agreed to publish it.
The Common Sense Book of Baby and Child Care, first published 75 years ago, was the right book at the right time. The combination of practical advice and encouragement spoke to the parents of the Baby Boom Generation in a way that parents in previous generations had not been addressed before and Benjamin Spock, through his commitment to social change, his training in both pediatrics and Freudian psychology, and his skill as a writer, was the right person at the right time to create it. The Benjamin Spock and Mary Morgan Papers at Syracuse University Department of Special Collections contains correspondence, writings and medical reference files that all tell the story of the creation of this book that had, and continues to have, a profound effect on modern culture.
The original Benjamin Spock Papers, as described by Robert S. Pickett in the Syracuse University Library Associates Courier Volume XXII, number 2 (Fall 1987), was about 150 linear feet of material. In subsequent years, Dr. Spock's widow, Mary Morgan, donated additional material about his career and her own. The Benjamin Spock and Mary Morgan Papers is now approximately twice the size of the original collection.
Mary Morgan (neé Wright) met Benjamin Spock in 1975 following his divorce from Jane (neé Cheney).  Mary "had been involved with the National Organization for Women (NOW) and the Equal Rights Amendment (ERA) campaign as well as the Transactional Analysis movement, among other issues. They married in 1976. They built a home near Rogers, Arkansas, but spent a great deal of time on their boats Turtle and Carapace, and later moved to the British Virgin Islands. For the last two decades of his life, in addition to being Benjamin Spock's constant companion, Mary helped him manage his career and health and encouraged his adoption of a macrobiotic diet and yoga." (Biographical History, Finding Aid, Benjamin Spock and Mary Morgan Papers)
She continues to be actively involved in overseeing his legacy.
A personal note: Getting to know Ben and Mary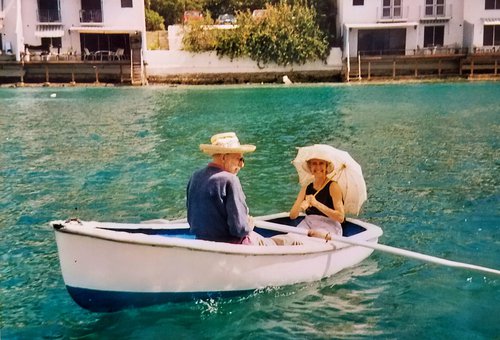 Photo of Ben and Mary in boat. Benjamin Spock and Mary Morgan Papers.
Processing someone's collection of personal papers is a journey. The destination, of course, is to make primary source material available to researchers by arranging and describing it in a meaningful way while still retaining as much of the original arrangement as possible and refraining from over-describing. The journey toward that goal can be an intensely personal, some might say intimate, walk with the person whose collection is being processed. Details of their lives and friendships and even romances are revealed. One becomes familiar with their style of expression and handwriting. Sometimes, honestly, I have ended up truly despising the person – and sometimes I have fallen in love.
Let me share with you some of my walk with Dr. Benjamin Spock and his wife Mary Morgan.
Like many of my generation, I was a Spock baby. Our parents used the Common Sense Book of Baby and Child Care as the go-to authority on parenting. In 1946, when the first edition was published, Dr. Spock's approach of advising parents to "…take it easy and rely on your instincts…" was considered radical, and I was one of the beneficiaries of that more relaxed upbringing.
But it was Dr. Spock's political activism that made him one of my heroes. In an era of "your friend the atom" and "Duck and Cover," he was one of the first to declare that nuclear weapons were a children's health issue. His opposition to war, in particular, Vietnam, fit with my own opinions and I have heard him speak at rallies many times. So, when I was given the opportunity to work on his papers, I was delighted.
Meeting and working with Dr. Spock's widow, Mary Morgan, not only helped me understand the man who was one of the most influential people of the 20th century, but became a warm personal connection as well.
I am grateful for the opportunity to have gotten to know Ben and Mary and for being able to take part in sharing their remarkable story.
---
The Benjamin Spock and Mary Morgan Papers (Benjamin Spock and Mary Morgan Papers, Special Collections Research Center, Syracuse University Libraries) are part of the Special Collections Research Center's manuscript collections.