Mower Faculty Commons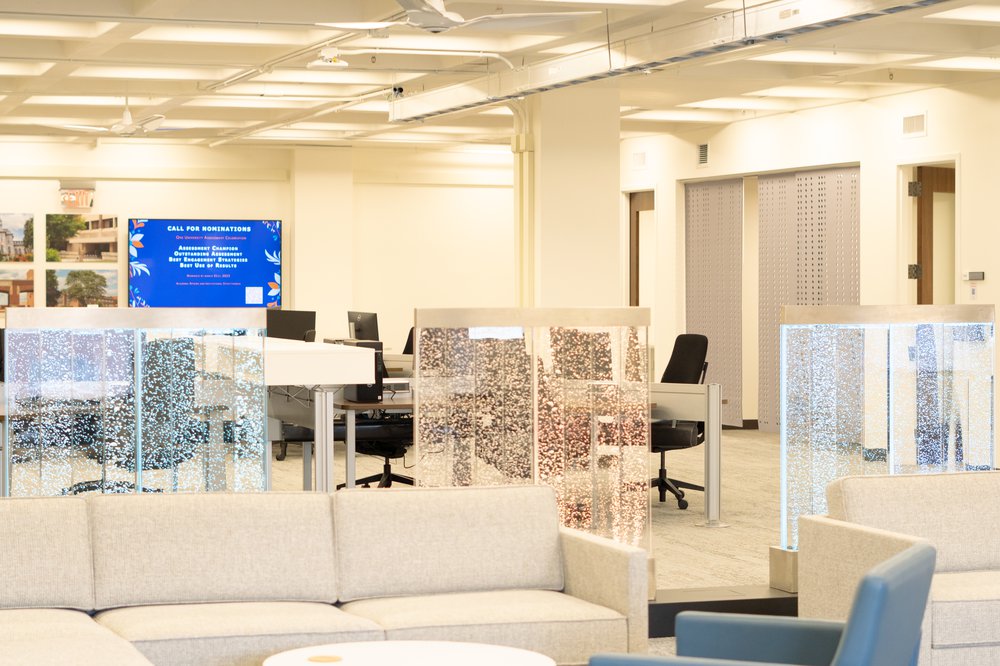 The Judith C. and Eric Mower Faculty Commons grew out of faculty feedback for a centrally located, welcoming meeting space that encourages cross-disciplinary collaboration. The 5,000 square foot space is available for gathering, meeting and working independently or with colleagues across campus.
The Mower Faculty Commons, located in Bird Library Room 548, is set up with a variety of seating for casual interactions or more structured meetings. There are individual workspaces, small gathering spaces, some soft seating and meeting rooms. It can be used for informal meetings, faculty training, video conferencing, research collaboration or any number of academic and research scenarios. Faculty can access the Mower Faculty Commons by swiping their RFID enabled Syracuse University ID card.
Who can use the space?
All Syracuse University designated faculty, including adjunct and emeriti, are invited to use the Mower Faculty Commons. Faculty members may invite post graduate student guests to attend a meeting with them in one of the rooms. Librarians may use the rooms to meet with or present to faculty. Note, however, that classes or meetings with students (aside from post graduate) should not be held in the Mower Faculty Commons. It is not available for use by SUNY-ESF faculty, graduate students, PhD candidates, or teaching assistants.
Accessing Faculty Commons
The Faculty Commons Room 548 is accessible by swiping your RFID enabled Syracuse University ID card. The RFID ID cards feature a picture of the Stadium and Hendricks Chapel. If you have an old ID card, you will need to update to a new RFID-enabled ID card via the online ID Card Services Issue/ Replacement Form. You will not be charged to replace an old or damaged card if you indicate such and turn the old card in. Card access is controlled by ID Services, not the Libraries.
Using Private Reservable Rooms
Faculty can reserve one of three video capture/conference rooms (capacity of up to three people) or one of three conference/meeting rooms (capacity ranging from 8 to 20 people) through a self-service room reservation system. The QR code posted outside each room can be scanned to complete the online reservation form (the link is available on library.syracuse.edu/faculty-commons/). When reserving the room online, select the desired space (availability noted in blue) and submit the selection until the summary screen appears.
Please be considerate of your fellow faculty members. Unlike other library meeting rooms, there is no key for use of the Faculty Commons meeting rooms. They will be unlocked. If there is high demand for meeting rooms, please limit your reservation to one three-hour slot per day. Please be courteous and vacate the room at the end of your reservation time, and please leave the room as you found it. For other Libraries meeting rooms, use the Libraries' Reserve a Room.
There are also three small meeting rooms that are available first come, first served (not reservable).
Technology
The Faculty Commons is equipped with technology such as workstations, printers and video-conferencing equipment. All technology, including private reservable rooms, is self-service. Instructions are provided online and in each room.
Faculty may bring their own laptops or devices to use at one of the five writing workstations, which are equipped with USB-C hub monitors for hookup.
There are five high-performance computer workstations with a widescreen monitor and equipped with specialized licensed software for modeling, engineering and other functions commonly available in University computer labs.
There is a color printer available for faculty use that is connected to the campus print management system and will require faculty to use their print quota or purchase funds.
Technology in the Private Reservable Rooms:
Individual video capture/conference rooms contain a USB webcam on a video tripod for live capture and recorded video, as well as a computer with a second monitor.
Conference/Meeting Room 548A (capacity 8 people) is equipped with a display, computer, wireless keyboard and mouse. This room provides video conferencing capabilities at a moderate quality level. (Technology instructions for Conference/Meeting Room 548A)
Conference/Meeting Room 548B (capacity of 12 people) has the same equipment as Room 548A. (Technology instructions for Conference/Meeting Room 548B)
Conference/Meeting Room 548C (capacity 20 people) has two cameras and two ceiling microphones for better quality audio and video. There are two displays that can be mirrored. There is also a wireless microphone for the presenter. (Technology instructions for Conference/Meeting Room 548C)
Kitchen Use
The small kitchen area in the Mower Faculty Commons includes light snacks, coffee, tea and water to help fuel faculty while using the space. Like the entire Mower Faculty Commons area, this space is self-service, so please keep the area tidy. If bringing outside food into the Faculty Commons, be mindful of food with strong or distinctive odors and dispose or take whatever is remaining.