A Perfect Recipe for Conservation
Diary entries and recipes probably written in the early 1880's.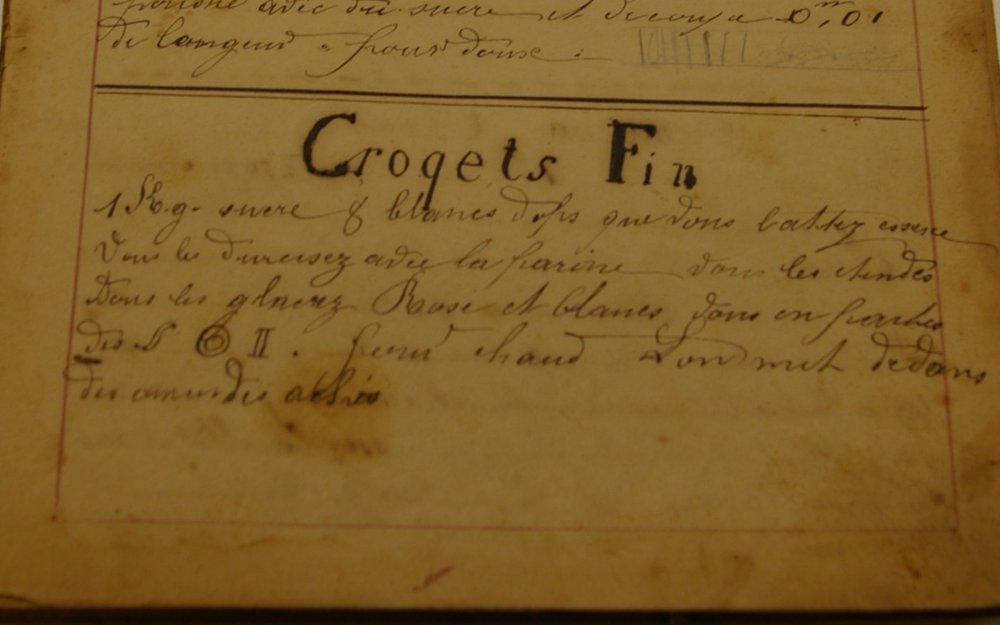 by David Stokoe, Associate Librarian, Conservator of Rare Books and Paper
In 2008, SCRC acquired a manuscript cookbook written in French and containing no named author or title. The contents were immediately identifiable as a mixture of diary entries and recipes probably written in the early 1880's.  The book came to be known as the "French Chef's Diary."
The book is part of the Kay Shaw Nelson Papers. This collection covers a variety of current and historical topics relating to food and travel. Per the collection's finding aid:
"Born in Hanover, New Hampshire, Ms. Nelson graduated from Syracuse University in 1948 with a degree in Russian studies and journalism. She worked as a reporter for several New Hampshire newspapers before taking a job as an intelligence officer for the CIA. Beginning in 1951, she and her husband Wayne, also a CIA intelligence officer, spent many years abroad in the Middle East, the Far East, Europe, Africa, North and South America, and the Caribbean. In 1997, she wrote an introduction entitled "How to go from spies to pies: Operation Gastronomy" for the best-selling cookbook, Spies, Black Ties, & Mango Pies: Stories and Recipes from CIA Families All Over the World. The author of numerous cookbooks and hundreds of articles in national publications, such as the Washington Post, Gourmet, Woman's Day, and Family Circle, she was also a newspaper columnist and culinary historian."
Kay Shaw Nelson Papers, Biographical History
There were multiple condition issues readily apparent on the first viewing of the cookbook, but fortunately, the text was written using water stable ink with only a few additional drawings using color pigments that can be extremely unstable in water or other aqueous based treatment solutions.
The cookbook was written on very acidic paper with no remaining binding structure other than some weak sewing securing the pages to two linen tapes across the spine. Many of the page corners and edges were broken off, and the paper was so fragile it was almost impossible to handle or read without causing more damage. The book was brought straight to the conservation lab for appraisal and possible treatment!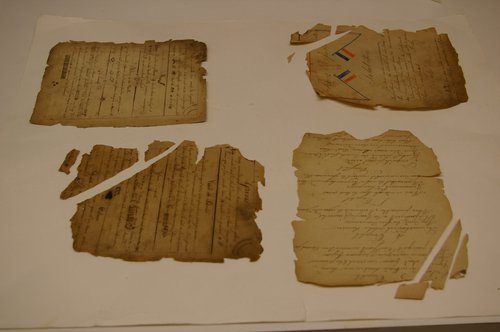 Detached and damaged pages. French Chef's Diary, Kay Shaw Nelson Papers.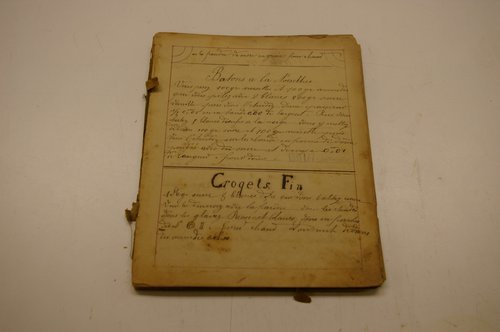 Text block sewn on 2 tapes. French Chef's Diary, Kay Shaw Nelson Papers.
In consultation with curators, it was decided to undertake a full conservation treatment of the book to ensure its long-term preservation and access.
The plan was to disassemble, dry clean, test inks and pigments, wash, deacidify, and repair the paper before rebinding the book in a sympathetic and protective style.
Testing the current condition and chemical makeup were the first steps on the road to recovery for this damaged book. pH tests were conducted to assess paper acidity levels, inks and pigments were tested for water fastness, and all fragments numbered lightly in pencil prior to disassembly.  Pigment testing revealed some water-solubility issues with the colored drawings, so those pages were de-acidified using an alcohol-based spray instead of a water-based treatment. Water immersion is more effective than alcohol-based spray at reducing paper acidity, so it is the preferred method of de-acidification. All text inks were stable in water, so they could be immersed without fear of fading or ink density loss.
Where possible, the paper was dry cleaned using soft brushes and vinyl erasers, fragile areas were not cleaned to avoid further damage. Once disassembled, the loose pages were interleaved between sheets of open weave spun polyester to support and protect them during the aqueous treatments of washing first in filtered water and then a deacidification solution to reduce the acid levels and deposit an alkaline buffer for future protection.  These processes also reduce surface dirt and staining, as well as rejuvenating the paper. The pages were dried between blotting paper sheets and reassessed for damage and weakness.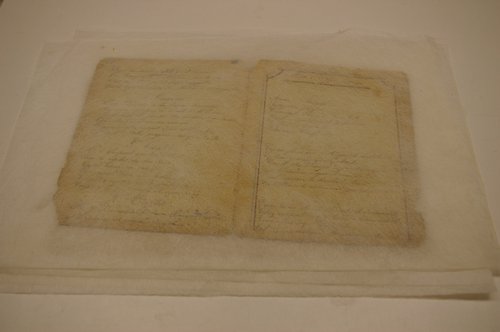 Pages interleaved with spun polyester support sheets prior to washing. French Chef's Diary. Kay Shaw Nelson Papers.
Although washed and de-acidified, the paper was still very fragile with many detached edges and corners. Repairs using lightweight Japanese tissue (JT) and wheat starch paste work very well but can cause stress and weakness around repaired areas. I decided to completely line all pages with Tenjugo Thin (3gsm), a very thin JT to give uniform support, and use a thicker JT for infilling missing edges, all done using a reversible wheat starch paste while each dampened page sits on a flexible plastic sheet over a light box to illuminate the work. The repaired pages were dried flat between release sheets and carefully trimmed, folded and collated.
JTs are ideal for this type of work for many reasons, chemically inert with long cellulose fibers, available in many colors and thicknesses, and flexible and durable. Wheat starch paste is reversible in water, chemically stable and has excellent adhesion properties when used with paper, cloth, parchment, vellum and leather.  
Once reassembled, endpapers were constructed and page gatherings (or signatures) were guarded with protective JT along the spine edge to separate the original paper from spine liner and adhesive, just in case the book is ever disbound again!  JT guards were also used inside the signatures to prevent sewing thread from damaging interior folds. Once the sewing was completed, all JT guards were carefully trimmed down to a minimum. Loose ephemeral paper documents were guarded onto JT stubs and sewn onto the front of the text block.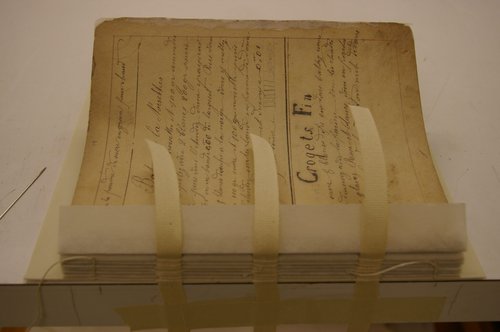 Signatures sewn on 3 linen tapes with JT separation guards. French Chef's Diary, Kay Shaw Nelson Papers.
The repaired and resewn text block was "case bound" (a very simple construction easily removed) in archival buckram book cloth with acid free boards and custom boxed using the libraries' bespoke box making equipment.
Full book conservation treatments are time consuming and intensive, so each book is assessed by various criteria including historic importance, collection relevance, life expectancy, chemical stability, uniqueness, academic value and many other factors.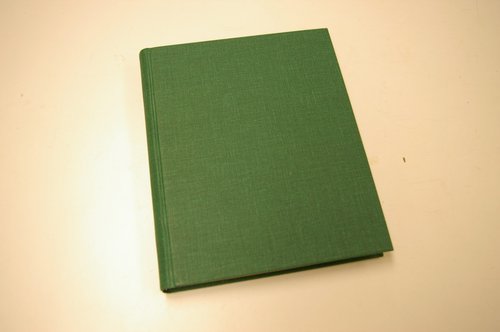 Case bound in archival buckram. French Chef's Diary, Kay Shaw Nelson Papers.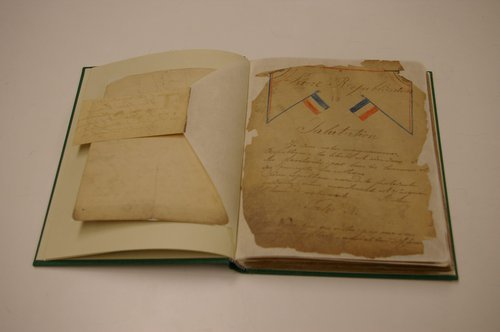 Binding showing title page with ephemeral items guarded on Japanese paper stubs. French Chef's Diary, Kay Shaw Nelson Papers.
The French Chef's Diary was selected for many of these reasons, but its fragility was the deciding factor from a conservator's viewpoint. As physical handling is the primary cause of deterioration, the book could not be consulted without immediately risking further damage to the brittle acidic paper.
The ethics of archive and library conservation dictate several criteria including reversibility of processes and minimally invasive repairs.   Unlike art treatments, library conservation work needs to allow public access while ensuring the item can withstand careful physical handling.
The French Chef's diary featured in this post is part of SCRC's Kay Shaw Nelson Papers (Kay Shaw Nelson Papers, Special Collections Research Center, Syracuse University Libraries), part of the Special Collections Research Center's manuscript collections.