Behind the Archives with Jim Meade
Celebrating American Archives Month by highlighting our own Libraries staff members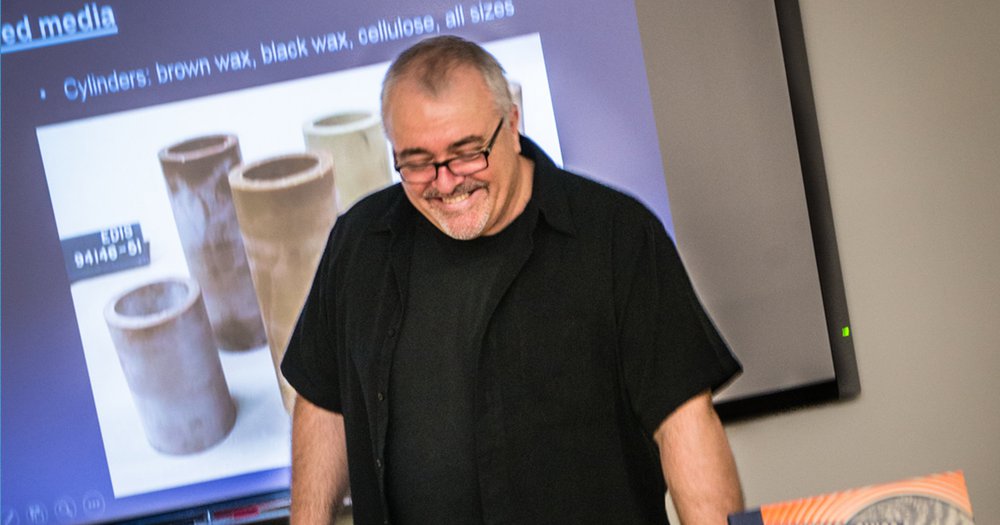 October is American Archives Month, celebrated by the U.S. National Archives to honor staff and demystify archival work. We're joining the celebration by highlighting our very own Libraries staff members, who through their roles, help make history available to you! We sat down with Jim Meade, Audio Preservation Engineer in the Belfer Audio Laboratory and Archive, who works to preserve and make available a wide variety of recorded sound.
Meet Jim Meade, Audio Preservation Engineer
Belfer Audio Laboratory and Archive, Special Collections Research Center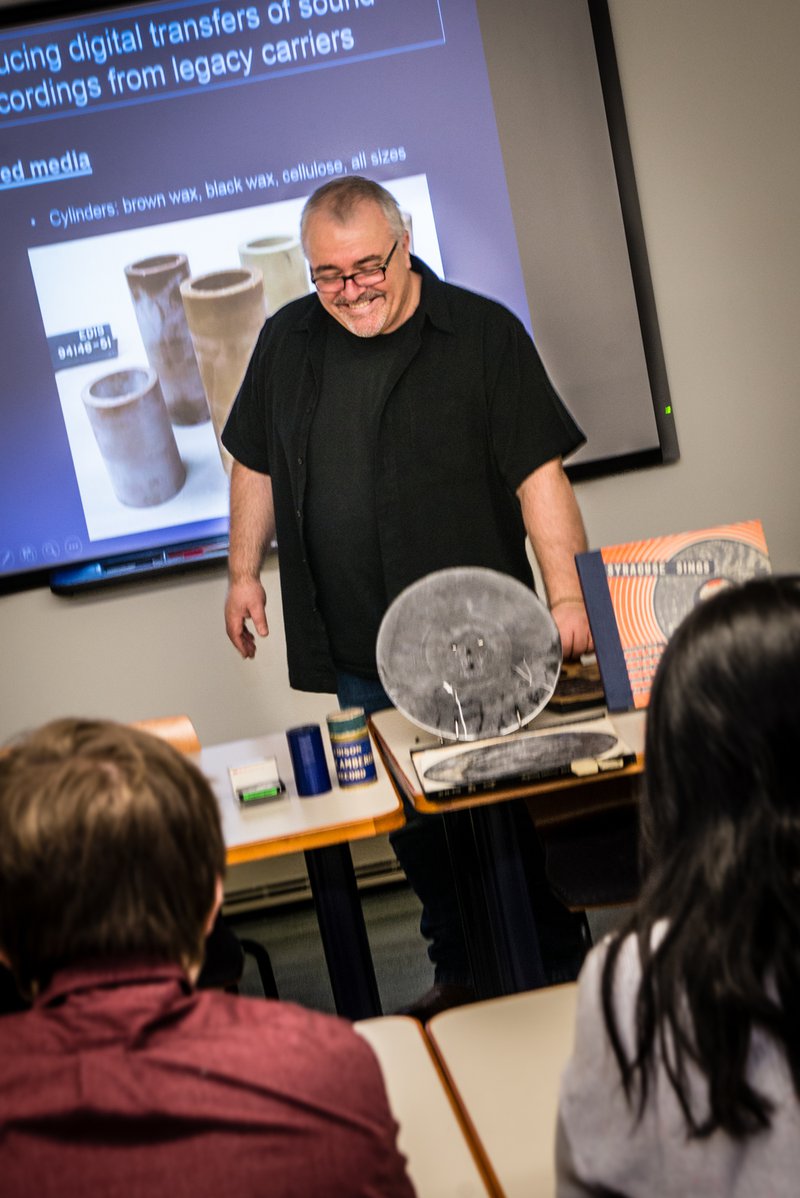 What do your typical responsibilities include?
"About 70% of my time is spent in digitization of obsolete sound recording formats for both preservation and access, including wax and celluloid cylinders, lacquer, shellac, and vinyl discs, wires, and cassette and open-reel magnetic audio tapes.
I also maintain audio equipment in appropriate operating condition in the Belfer preservation studio, recommending additions and repairs as needed.
I document best practices through the production, editing and post-production of video recordings and through photography, as needed.
Additionally, I demonstrate current archival practices and procedures to classes and visitors and provide research assistance to other Belfer and SCRC staff when appropriate."
How long have you worked at SU Libraries? What did you do prior?
"I have worked full time at SU for six years. Prior to that I worked as an audio engineer, providing location sound for film, TV and video production, as well as network news assignments from 2003 until 2016. Prior to that I worked for eight years as sales manager for Ireland's largest pro audio sales company, supplying audio equipment to professional recording studios, broadcasters and higher education institutions. I'm old, so I've had a lot of jobs!"
What made you want to enter this line of work?
"My move from production engineering into preservation engineering at Belfer came through a confluence of events and influences: my decision to enter a degree program at SU as a mature student, attendance at a lecture in Bird Library on audio preservation by a leading audio preservation practitioner from Library of Congress, and my subsequent introduction to Belfer, its amazing collections and its preservation mission. I fell in love with Belfer, its collections, mission and the high standard of audio engineering practiced here."
What are some of your favorite items or materials?
"Too many to list, but honorable mention goes to our 1901 disc recordings of French composer Cecile Chaminade, and our 1903 Bettini cylinder recording of Pope Leo XIII. More details on these can be found at these SCRC blog posts:"
What's your favorite thing about your job?
"Presenting to classes and other groups on the preservation work carried out at Belfer. The Belfer Audio Archive is one of the best kept secrets on campus, while also being one of the coolest places to visit. I also enjoy discovering recordings in the collections which may not have been listened to in decades (if ever!). There are so many fascinating unpublished research recordings, interviews, field recordings etc."
What's something most people would be surprised to hear about your job?
"Most would be surprised to learn that much of our work is time sensitive. Some of our collection materials are considered 'at-risk,' meaning that due to their chemical and physical composition, some of them have a limited shelf life, and must be digitized before the materials degrade beyond saving. Such recordings would include 19th century wax cylinders, nitro-cellulose discs (sometimes called 'acetates') and some types of analog tape."
What's something you'd like the general public to know about your work?
"Audio preservation is important work because recorded sound is a huge part of our cultural and historic heritage. In this digital age, we tend to think that everything is available on Youtube or Google. But the fact is that only 14% of the music recorded between 1888 and 1965 is available digitally. The other 86% of recorded sound history remains trapped on old records, tapes and cylinders and inaccessible in the digital domain."
Any fun facts about you, your interests, or your hobbies?
"I'm a total geek for evolutionary biology, physics (particle and Astro!), photographic art and history (though I'm definitely no photographer!). I have an eclectic taste in music, and I've been a guitarist since my teens. I have a small recording studio at home where I write and record very mediocre songs! Oh, and I drink beer."