Between the Pages: The Secret Lives of Library Patrons
Just as every book has a story to tell, every reader has their own unique narrative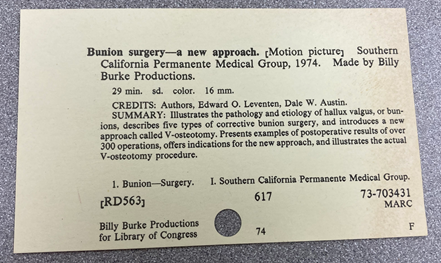 by Kaycie Romano, Preservation Assistant
Just as every book has a story to tell, every reader has their own unique narrative. Pull out a book from the vast library shelves and you're not only diving into the world created by words on a page, but in some cases the world of whoever read the book before you.
Employees of Syracuse University's Preservation Department have the pleasure of spending time with many books. Between cutting off their spines to gluing in loose pages, I enjoy getting to know the books we handle, and what may be inside of them. These remnants from past patrons give us a brief glimpse into their one-of-a-kind lives.

Book order form from publishing department found in library book.
First up is a book order form used by Professor John Heddaeus in 1892. Born in Germany in 1847, he became a Professor of Modern Languages at Syracuse University after a brief stint at a military academy in Sing Sing, NY.  He taught in Syracuse from 1892 to 1895 before moving to Yonkers, NY where he was a Unitarian Pastor at New Hope Church. According to this order slip, the publisher Heddaeus was purchasing from specialized in French and Veterinary books. Exactly what he bought is unknown, but one might be more useful for a Language Professor than the other.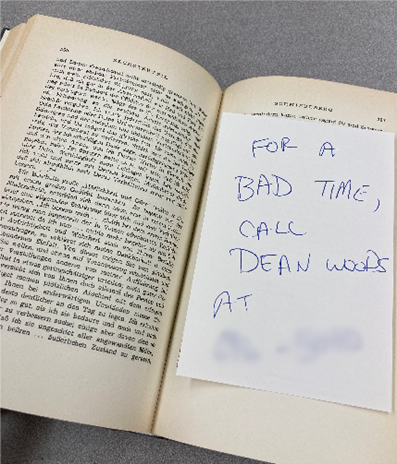 Handwritten "for a bad time" note found in library book.
The next book involves a disgruntled, yet humorous patron. The simple, white index card reads: "for a bad time, call Dean Woods," followed by a phone number. I could not find a record for a Syracuse Dean with the last name Woods, nor a professor named Dean Woods. There is still hope, however, that someone, somewhere, is named Dean Woods and is ready to supply a bad time to those in need.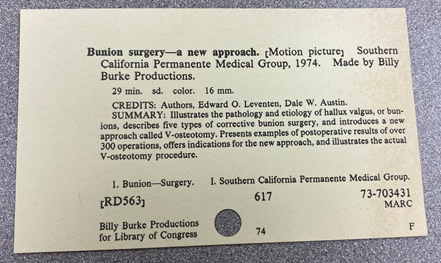 Card catalog for bunion surgery movie
Our next artifact is for those interested in the intersection of medicine and filmmaking. This motion picture advertises 29 whole minutes of 1974's newest approaches to bunion surgery, via Billy Burke Productions. For video and foot enthusiasts alike, this would be a real hit!

Bookmark for Ralph Stanley album
No book collection is complete without a good set of bookmarks, and this one is among the best. Grammy-award winners Ralph Stanley and T-Bone Burnett (the team behind the O Brother, Where Art Thou soundtrack,) adorn this bookmark that advertises their new album of "timeless music." And yes, the handsome fella in the cowboy hat is Ralph Stanley, though T-Bone Burnett isn't half bad either.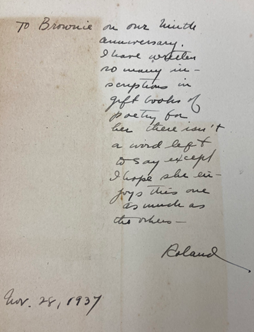 Note to Brownie from Roland
The last tale comes in the form of a note scrawled on the inside cover of a book. The note, written in 1934, reads: "To Brownie on our ninth anniversary. I have written so many inscriptions in gift books of poetry for her there isn't a word left to say except I hope she enjoys this one as much as the others – Roland." This note was written to the owner of the book, Bernice Brown Wolseley, namesake of the Wolseley Memorial Collection in the Upstate Medical University Health Science Library. Bernice was the first wife of Roland Wolseley, a Syracuse University journalism professor known for his groundbreaking study of the African American press.  It's safe to assume Bernice enjoyed this 1932 David Morton novel. In fact, she admired David Morton's work so much, she might have been the one to cut out his obituary from the New York Times and stick it between the pages of the same book after he passed away in 1957.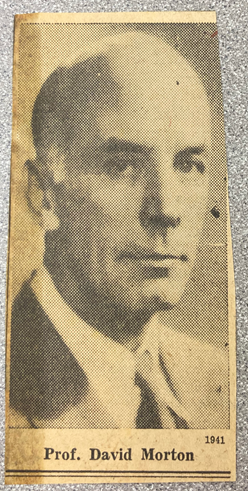 Photo of Prof. David Morton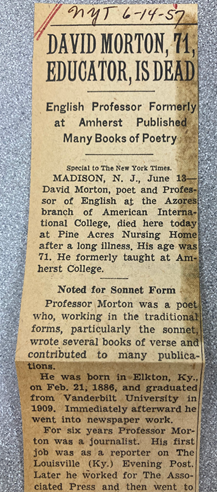 Obituary copy for Prof. David Morton
The scraps left behind by library patrons give us some insight into just who our readers are. They're people from all different backgrounds with a wide field of interests, from bunion surgeries to bookmarks of T-Bone Burnett. Though they all are unique, they all are connected through the books that line the shelves of Bird Library.
This blog post was written by Kaycie Romano, who worked during the summer of 2021 in the Preservation Department.  Kaycie is a sophomore student who is majoring in music education and is from Baldwinsville, NY.