Connecting through the Collections
Transcribing papers from the William Safire Papers and creating metadata for videos in the Inside Albany Records.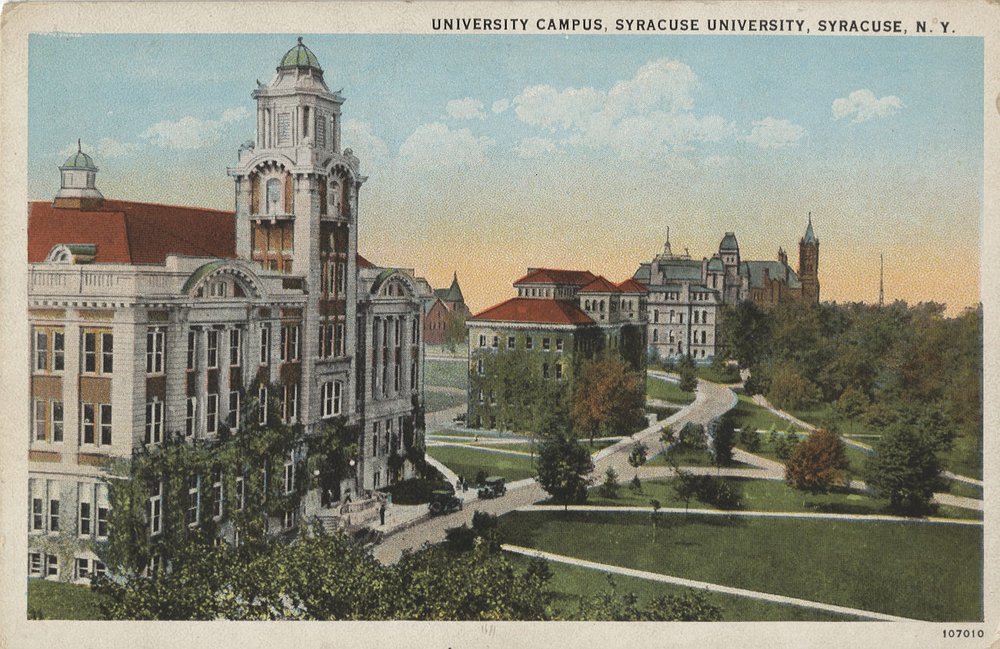 by Georgette Covasa, MLIS Student and SCRC Intern
Becoming involved with the environment around me is something I particularly enjoy as a student. The spaces you belong to and the places you visit outside of the classroom are just as critical to the university experience as the schoolwork itself. This engagement impacts how you feel about your school experience, your daily life, and how you balance your time. As an undergraduate student, the calmness of my campus, especially the university library, lessened the pressure of schoolwork and made me feel comfortable. When I was in London in 2018, I found myself immersed in the city life particularly because the university I attended was located in central London. In both places, learning about the local histories and being involved in the lifestyle of the environment helped connect me emotionally to the school. I felt as if I could really say I belonged. 
Now, as a remote student enrolled in a Master of Library and Information Science program at Syracuse University, I've found myself struggling to maintain that same connection to the university that I've previously had. While learning remotely has certain advantages, it is difficult to say I've felt part of a college community. After my classes, I log off and return to the daily life around me far removed from university life. While SU does a great job of providing immersive sessions, lectures, and other methods of involvement for students, the lack of physical presence in a school setting has impacted my experience as a Syracuse student. I had not taken the time to learn about Syracuse, or the state of New York, in order to familiarize myself with the environment that the university is in. This is not something I fully realized until I took on an internship with the Special Collections Research Center at Bird Library.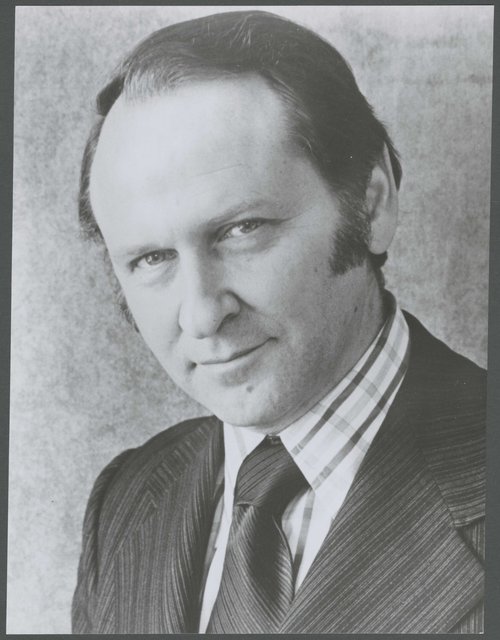 Photograph of William Safire. William Safire Papers.
Over the course of the past semester, I've been involved in transcribing papers from the William Safire Papers and creating metadata for videos in the Inside Albany Records. William Safire was an American author, journalist, columnist and presidential speechwriter (Fun fact: Safire is of Romanian descent, and I am Romanian, making it even more exciting that I got assigned to this specific project!). Most notably, he worked as a political columnist for The New York Times where he often provided political commentary. One of his commentary pieces on Bert Lance's alleged budgetary irregularities under Jimmy Carter in 1977 won him the Pulitzer Prize. Along with his political column, he also wrote a column called "On Language" that discussed popular etymology, new or unusual usages of words, and other language related topics. The Special Collections Research Center holds the manuscripts from both Safire's political works and his "On Language" column, along with copies of his letters to specific people, such as Ray Bradbury, Safire's interviews with various people in entertainment, and his personal notes. Safire is incredibly blunt and abrupt in his style of writing. As a transcriber, it is interesting to see what he decides to delete and cross out; his initial thoughts are often even more brusque. While his pieces often do not reveal much about New York State in regard to history, the experience of working through these resources helped me understand why Safire's work remains valuable and why SCRC might want such materials in their collections. Specifically, his strong identity as a "libertarian conservative" and support of the war in the Middle East, coupled with his unparalleled prose, persuades readers to think critically about the subjects at hand. Working through this collection helped me understand the importance of having a collection that showcases multiple political and cultural perspectives.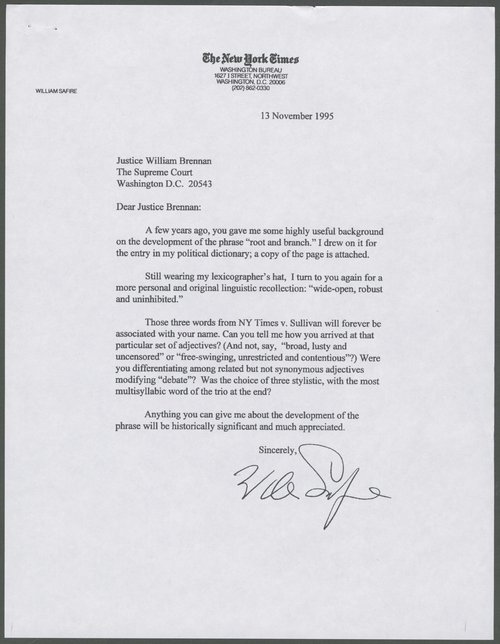 Letter, William Safire to Justice William Brennan, regarding the etymology of the phrase "wide-open, robust and uninhibited," coined in response to the NY Times v. Sullivan case. William Safire Papers.
Even more prominently, working on creating metadata for Inside Albany videos is what has allowed me to learn more about New York as a state, making me feel a little bit closer to the environment in which Syracuse is located. Inside Albany was a weekly half-hour public affairs television program that aired from 1975 to 2006. The program focused on contemporary events and issues of the New York State government and politics. Topics have included the budget related to higher education, environmental clean-ups, and the aftermath of the 2001 terrorist attack on the World Trade Center. For these videos, I am tasked with ensuring that a succinct description is created for the video, the people in the video are properly identified, and the subject matters are linked. All of this ensures that people who are performing searches will be able to find these videos or that searches can bring up Inside Albany videos when applicable. Deep attention must be paid in order for all of this data to be properly created, and I have come to understand much about the inner workings of New York through doing so. Though much has changed in New York since 2006, I am able to understand the timeline of events and present day occurrences much better through analysis of the Inside Albany videos.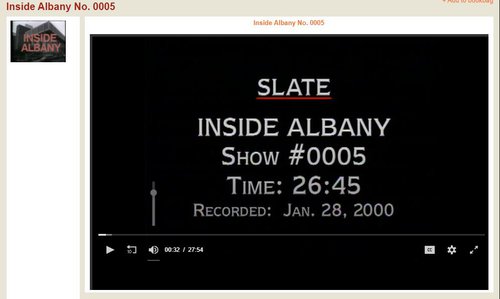 Opening credit card for Inside Albany No. 0005, Inside Albany Records.
With both of these projects, not only has the information in specific materials brought me further understanding of New York and Syracuse University, but the simple act of working on something for the university has made me feel more connected to the campus. Attending the university as a student is something incredibly beneficial for my career and personal growth, but being able to contribute and work for the university, interact with employees, and become involved in novel conversations has helped me build that emotional connection to the university where I am earning my degree. 
---
The William Safire Papers (William Safire Papers, Special Collections Research Center, Syracuse University Libraries) and the Inside Albany Records (Inside Albany Records, Special Collections Research Center, Syracuse University Libraries) are part of the Special Collections Research Center's manuscript collections.