Creating a New Library That Serves a Unique Audience in a Non-Traditional Library Space
Launch of the IVMF Digital Library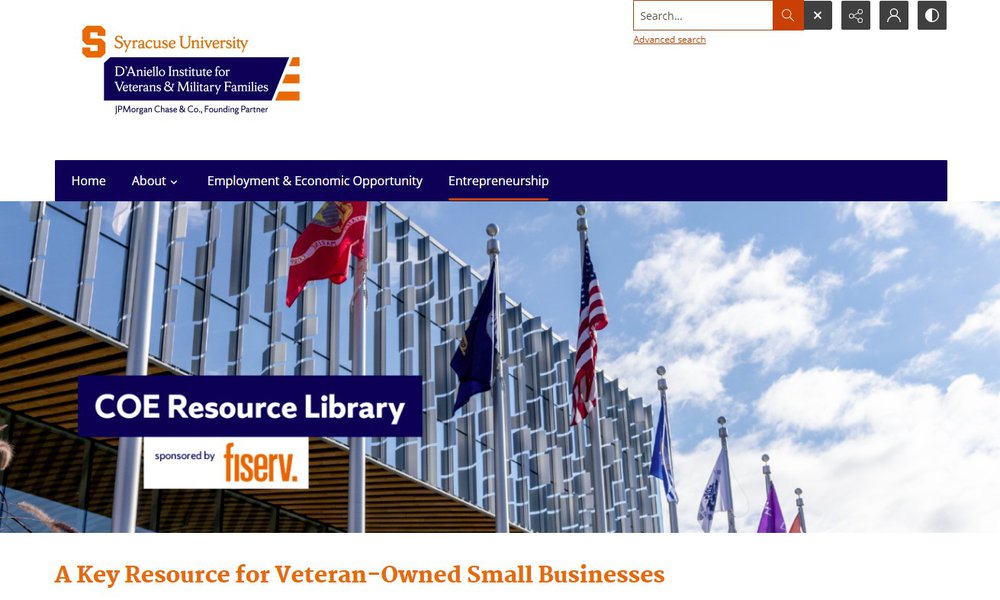 by Gigi Swinnerton and Déirdre Joyce, Department of Digital Stewardship
Syracuse University Libraries and the D'Aniello Institute for Veterans and Military Families (IVMF) at Syracuse University proudly announced the launch of the IVMF Digital Library. This new campus resource is the product of a unique cross-campus collaboration between the Libraries, IVMF, and the Syracuse University School of Information Studies (iSchool).
When the IVMF approached the digital library team at the Libraries' in January 2020, they were looking for a place to house their original research in an openly-accessible and sustainable way. The team recommended SURFACE, Syracuse University's open access institutional repository, as a starting place, where locally-produced content could be made available to potential end-users in a robust way. The sophisticated search engine optimization that is built into the SURFACE platform facilitated a more than 200% increase in researchers finding original research generated by the IVMF since 2011.
Over the course of two years, a team of iSchool students and members of the Libraries' SURFACE team created and applied descriptive metadata rules to both internally-created and externally-collected resources that would enhance the end-user experience, primarily military veterans and their families, as well as employers of veterans. In addition, they guided a newly emerging digital library on campus with best practices in librarianship and the stewardship of digital collections. They participated in conversations about collection development, user experience, and cultural competence that would inform and shape this important new research tool.
Seeking ways to organize and make information available is one of the many things that libraries (and librarians) do, so working with prospective librarians from the iSchool made this process especially rewarding. As the project matured, IVMF stakeholders recognized the benefit of not only being able to direct researchers toward their own, locally-produced content, but in sharing their broader research expertise by pointing users to externally-created content through a single, holistic portal. The question was: how could we do this?
In late 2021, with the Libraries' busily migrating its own digital library content to a new digital collections management tool, Quartex, the cross-organizational team working on the IVMF Digital Library found a viable solution. While originally acquired to organize and provide end-user access to the Libraries' own unique digital content, digital library team members realized that this new tool might also function as a viable research index that could support this unique project.
Within the new IVMF Digital Library, users can find materials for Veteran and Military Family Entrepreneurs (the Entrepreneurship section of the library) and materials for employers of veteran and military family talent (the Employment and Economic Opportunity section of the library). These collections have been carefully curated by the IVMF Research and Analytics team to support IVMF Programming and provide additional support to veterans and their families, researchers, policy makers, entrepreneurs, and employers. In addition to these curated collections, the IVMF Publications in "Our Publications" section host a variety of additional research topics such as Higher Education, Government and Community Services, Policy, and Military Families. For more information about what these contain, visit our research guide.