Frequently Asked Questions
The Department of Learning and Academic Engagement shares some frequently asked questions and answers to help students navigate Libraries and campus service and resources.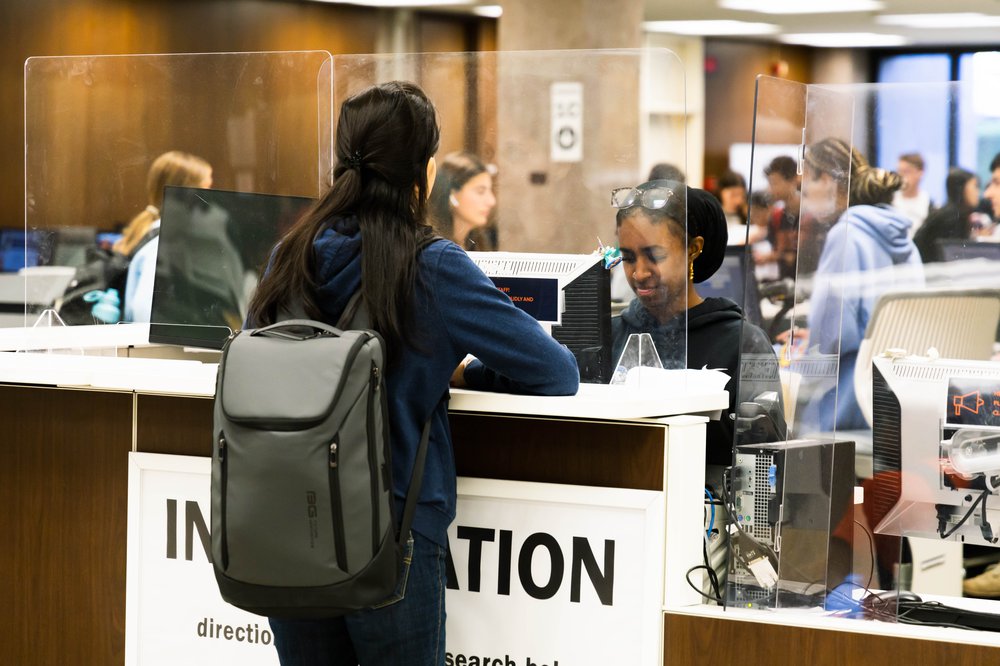 by Emil Westfall, Evening/Weekend Supervisor, Department of Learning and Academic Engagement
With the semester underway, the Libraries' Department of Learning and Academic Engagement shares some frequently asked questions and answers to help students navigate Libraries and campus service and resources.
Printing
Can I print wirelessly in the Libraries?
Yes! You can print wirelessly in Bird, Carnegie, and King + King Libraries. Instructions for printing from your laptop or other device can be found on the Answers printing page.
What are my printing options?
Bird Library offers printing in both black & white and color, letter (8.5'' x 11''), and tabloid (11'' x 17''), single and double-sided. We also offer plotter (poster) printing, which has a maximum width of 3' and 100' in length.
Carnegie Library offers printing on the 2nd Floor - Room 208, and 3rd Floor - directly above the 2nd Floor Check Out desk.
Additionally, the Architecture Reading Room offers printing on the 3rd Floor - in the study room past the service desk.
For printing costs as well as tips and tricks, please view this Answers page on Printing Tips.
Are guests allowed to print in the Libraries?
Non-affiliated patrons are allowed to print in the Libraries by creating a guest account through our online printing services platform.
What printing-related supplies do you offer?
Bird Library provides pencils, pens, staplers, tape, and scrap paper for notes. Other supplies such as envelopes, paper clips, lined notecards, packaging tape, and many more items may be purchased from the Campus Store located in Schine Student Center. In addition, some supplies such as Post-It notes may be purchased from a vending machine located on the Waverly side of the first floor of Bird Library.
Finding and Checking Out Books
How do I find books?
You can search for books using the Summon search tool on the Libraries' website home page. See this video on how to find a book at Syracuse University Libraries.
How do I check out books if I don't have my ID card?
Download the "GET Mobile App" and press "scan card". A barcode will populate that is scannable.
Where are fiction books located?
The Libraries do not have a "fiction section," but many of the fiction books in our collection are located on the 5th floor of Bird Library. You can search Summon for specific books or authors. In addition, there is a new leisure collection display on the first floor of Bird Library next to the Blackstone LaunchPad. There is also a "Little Free Bird" bookshelf where users can donate fiction books for other people to take for free.
How do I get a book that the library doesn't have?
Submit an Interlibrary Loan (ILL) request. ILL is a free service for all currently enrolled students as well as faculty and staff. You will need to fill out a basic contact form with important information related to the item you are requesting.
Where is my textbook?
Course Reserves – These items can be checked online through our catalog.
Bookstore – If we do not have a required textbook, it should be available for purchase through the Bookstore.
Accessing Resources from Off Campus
How do I read an article or eBook when I am off campus?
You will need to sign in with your NetID and password when you try to access resources from off campus. Please see the Connecting from Off Campus webpage.
Other Libraries Information
How can I reserve a study room?
Use the booking terminal next to Room 100, reserve a room online. Check out the website for more information on reservable individual study rooms.
What hours are the Libraries and Pages Café open?
The hours for the libraries can be found on the drop-down menu on the Libraries webpage. Here are the hours for Pages Café.

Do you offer services such as faxing and shredding?
Faxing is not available in the Libraries. If you would like to fax, or have documents shredded, laminated, or printed on specialty papers including resume stock, please visit off-campus resources such as a local UPS or FedEx store.
Campus Departments/Buildings
Where can I find specific buildings on campus?
Please see the interactive campus maps.
What is the difference between the Bookstore and the Libraries?
The Bookstore sells various items including textbooks. The Libraries lend various items free of charge and provide a variety of services, spaces and resources to support your research and studying.
Where is the nearest post office?
The closest United States Postal Service location can be found in the Marshall Square Mall at 720 University Ave.

What if I have more questions?
Please contact us any time! You can call, text, email, chat, or visit us in person at one of our service desks. Libraries staff are here to help you succeed at Syracuse University!