Hip Hop Hits 50!
As hip hop celebrates its 50th birthday, here's how the library can help you celebrate!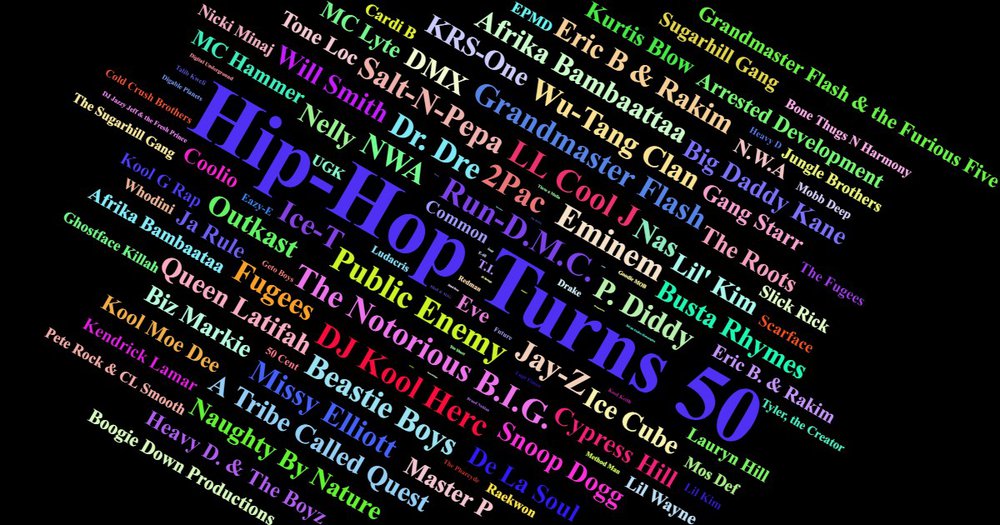 by Amanda DuBose, Music and Performing Arts Librarian
Fifty years ago this month, DJ Kool Herc, the Jamaican born New Yorker Clive Campbell, pioneered isolating the instrumental parts of hard funk music, such as that by James Brown, known as the "break" while giving comments to the crowd, like the dance hall "toasting" he had heard in Jamacia as a child. This "breakbeat" style of DJing became hip hop and his excitations eventually became rapping. His style was taken up by artists such as Grandmaster Flash and Afrika Bambaataa – and the rest is history. Hip hop has permeated American culture, creating unique styles of fashion, dance, book genres, tv, movies and even academia. So how to celebrate? Check out our library collections!
To learn more about the history and beginnings of hip hop, check out Hip Hop Family Tree or Yes Yes Y'all: the Experience Music Project Oral History of Hip-Hop's First Decade.
To experience it check out DJ Kool Herc's Turntables or our collection of hip-hop and rap on Alexander Street.
Want to know more about how hip-hop has influenced culture, art, fashion and even how we think about ourselves? Start with this search and chose your own adventure!
Speaking of your own adventures… looking for beats? Check out our Archival Sampling and Remixing Research Guide for new sources and tools. Make something kool? Tag it with #hiphopgoesOrange and we'll put together a playlist of Forever Orange Hits!
To provide feedback or suggest a title to add to the collection, please complete the Resource Feedback Form.