Inside SCRC: A Letter from Booker T. Washington
Washington's 1909 appeal aimed to improve operations at the Tuskegee Institute.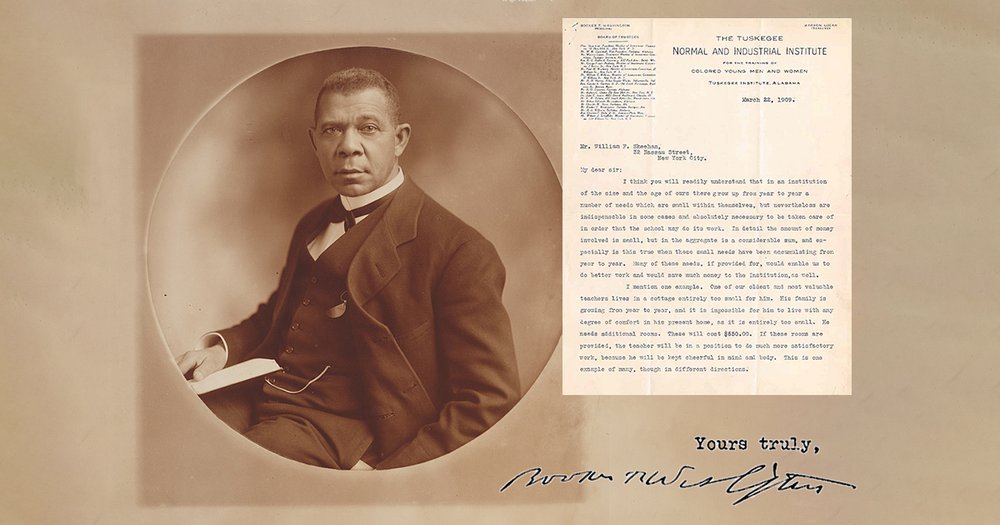 Amy McDonald, research and access services librarian in the Special Collections Research Center, was recently browsing the William F. Sheehan collection when she noticed something that stood out. A two-page letter, addressed to lawyer and politician William F. Sheehan, bore the letterhead of "The Tuskegee Normal and Industrial Institute for the training of Colored Young Men and Women." The letter was signed by Booker T. Washington, president and principal of the Tuskegee Institute.
Although the history of the connection between Washington and Sheehan is not detailed, the letter appears to be a fundraising letter, sent to a select but unknown number of supporters. See the letter and its transcript, including Washington's own signature, below.
The letter, dated March 22, 1909 on letterhead of the Tuskegee Institute, reads:
"My dear sir:
I think you will readily understand that in an institution of the size and the age of ours there grow up from year to year a number of needs which are small within themselves, but nevertheless are indispensable in some cases and absolutely necessary to be taken care of in order that the school may do its work. In detail the amount of money involved is small, but in the aggregate is a considerable sum, and especially is this true when these small needs have been accumulating from year to year. Many of these needs, if provided for, would enable us to do better work and would save much money to the Institution, as well.
I mention one example. One of our oldest and most valuable teachers lives in a cottage entirely too small for him. His family is growing from year to year, and it is impossible for him to live with any degree of comfort in his present home, as it is entirely too small. He needs additional rooms. These will cost $650.00. If these rooms are provided, the teacher will be in a position to do much more satisfactory work, because he will be kept cheerful in mind and body. This is one example of many, though in different directions.
We can use in these directions about $45,000 to great advantage. I thought that you might like to help us some. This I realize is not a very attractive form of giving, or investing money, and it is for this reason that I am confining this appeal to only a very few of our friends whom I thought would appreciate thoroughly the point I am emphasizing in this letter.
Aside from this matter, there is the constant need of money for current expenses. What would help us most at this time is a gift, whether large or small, that might be used either for current expenses or for these special needs at the discretion of the officers of the school, as we are anxious to close the school year free of debt. It is the policy of the Trustees not to use any of our permanent funds for any of these matters, and we hope to continue this policy.
For the present my address is care of the Fifth Avenue Bank, New York, or communications will reach me at any time at Tuskegee.
Yours truly, Booker T. Washington, Principal."