Katsushika Hokusai as Book Illustrator
Katsushika Hokusai (1760-1849) was a Japanese painter and ukiyo-e printmaker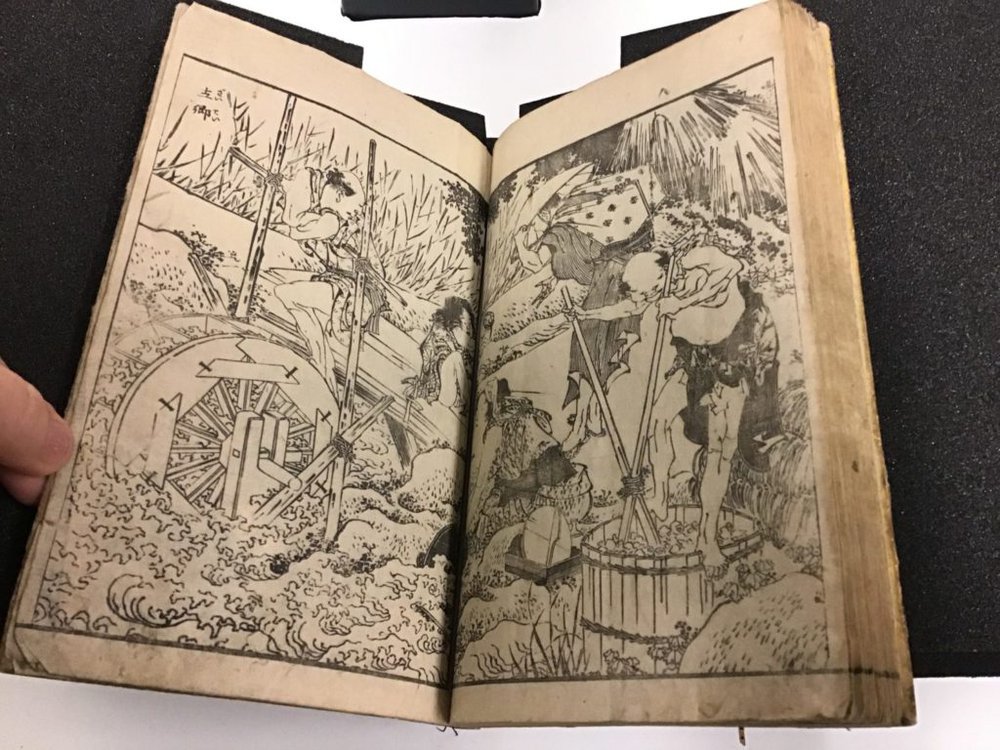 By Colleen Theisen, Chief Curator
Katsushika Hokusai (1760-1849) was a Japanese painter and ukiyo-e printmaker whose Great Wave off Kanagawa print (pictured above) from his series Thirty-six Views of Mt. Fuji (1829-1833) is one of the most recognizable Japanese works of art around the world. While Hokusai's paintings and full color prints are collected in art museums, Hokusai made many kinds of prints over the span of his career, including illustrated books.
Ukiyo-e, or "pictures of the floating world," refers to Japanese art that flourished from the 17th-19th centuries focused on the life in Edo's pleasure districts with themes such as beauty, poetry, nature, spirituality, love, and sex. Ukiyo-e artists were painters and woodblock printers, often working fluidly between the two forms. The paintings and prints would reference imagery, styles, techniques, and coloring in dialogue with the history of painting in China and Japan. Therefore, there is a complex relationship between painting, printmaking as fine art, and book illustration, which Julie Nelson Davis explains:
Other genres also employed the technology of woodblock reproduction, and, as was the case with painting, these designers participated in a larger visual and literary print culture. Indeed, the history of of ukiyo-e printed material is also derived from and participated in the history of the book in Japan" (Davis p. 6).
Around 1811, Hokusai changed his professional name to Taito to indicate that he began a new stage of his career making designs for illustrated books alongside other work. Hokusai's popular books, whether created for artists or for a lager public, were printed and reprinted throughout the nineteenth century:
"Under the name Taito, which Hokusai assumed in his fifties, he turned to illustrating books that detailed painting methods and served as guides for his many students and followers, as well as other artists and craft designers. Some of the manuals contain beautiful color printing that emulates painting while others are collections of small sketches that demonstrate different linear styles or samples of treatments of various subjects, such as birds seen from different angles" (Yonemura p. 2).
There are several examples of Hokusai's illustrated printed books and books from his apprentices here at the Special Collections Research Center that demonstrate a range of types. One example is Hokusai Gafu, (1800-1900? date unknown) with "gafu" indicating that it is dedicated to one artist, in this case, Hokusai's, work. Aside from a brief introduction, the rest of the book is entirely comprised of images that stretch across both pages, showing works that if they were printed in full color are essentially ukiyo-e prints. This is likely the earliest example of Hokusai's work in SCRC's collections, and likely the only one printed during the artist's lifetime.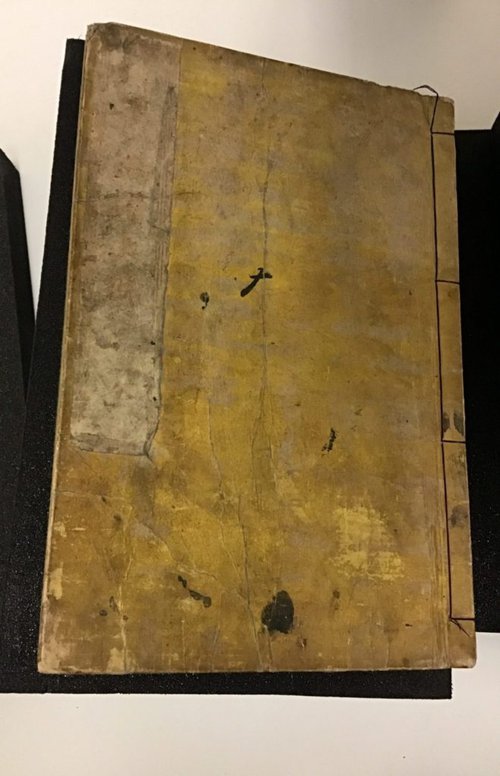 The cover of Hokusai Gafu, Katsushika Hokusai's artist album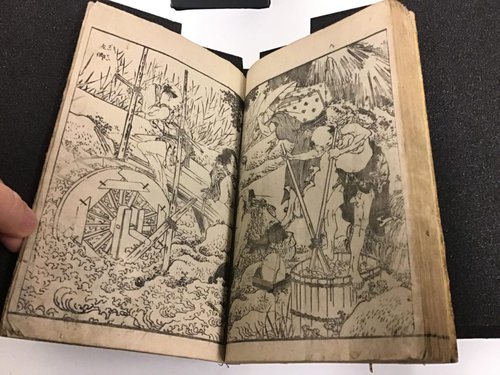 Interior pages from Hokusai Gafu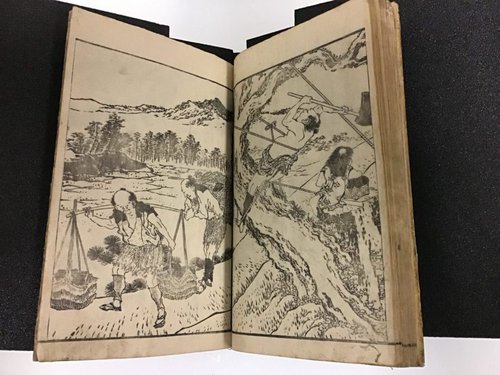 Additional interior pages from Hokusai Gafu
The example below, the first volume of a multi-volume work titled Shoshoku hinagata Hokusai zushiki (1882), is a much later book, published almost 30 years after the artist's death. It is a smaller, pocket-sized book in a horizontal format, presenting samples of his treatment of various themes. Unlike the full two-page spread images in the earlier gafu example, this book included up to four images on each small page, on many different subjects, maximizing the number of examples an interested fan of the arts could learn from in one handy book.
When an artist created images for illustrated books, the plates were cut by another artisan, and were printed by yet another. The publisher owned the images and could have them printed and reprinted from the same blocks. Therefore, it can be difficult to pin down a date for popular books that might continue to be reissued.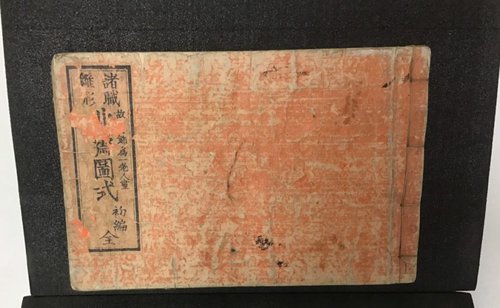 Shoshoku hinagata Hokusai zushiki (1882)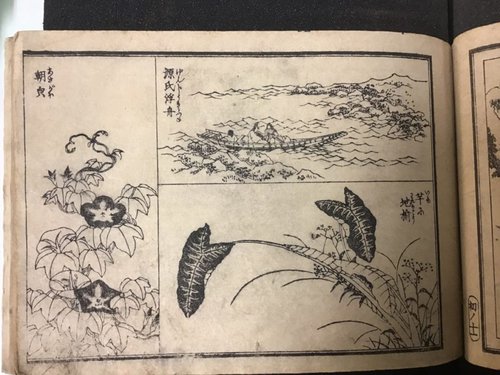 Interior pages of Shoshoku hinagata Hokusai zushiki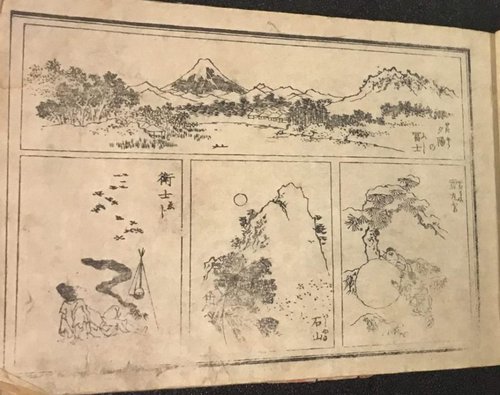 Interior pages of Shoshoku hinagata Hokusai zushiki
It was customary for pupils to take on a name similar to their master to continue to be associated with them and work in their style, so in 1819, Hokusai passed on the name Taito to his apprentice. Called a Banshoku zukō (1850), meaning Designs for All Artisans, this example from the new Taito is printed in two colors.
The volume includes a section of examples of single page images of samurai in action poses, as well as pages of designs for sword blades and guards formatted into collections of 2-3 examples per page.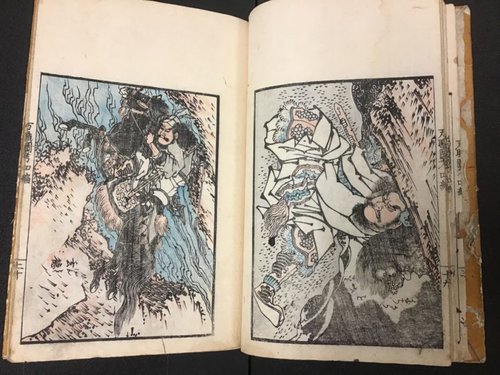 Banshoku zukō from 1850, printed in two colors and featuring images of samurai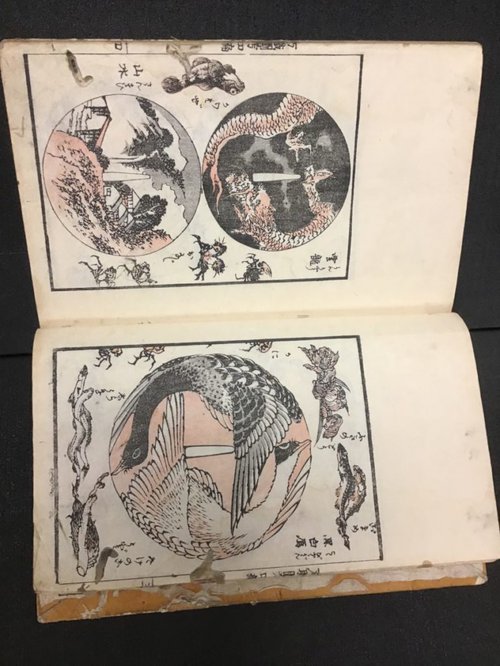 Banshoku zukō from 1850, printed in two colors and featuring decorative sword guards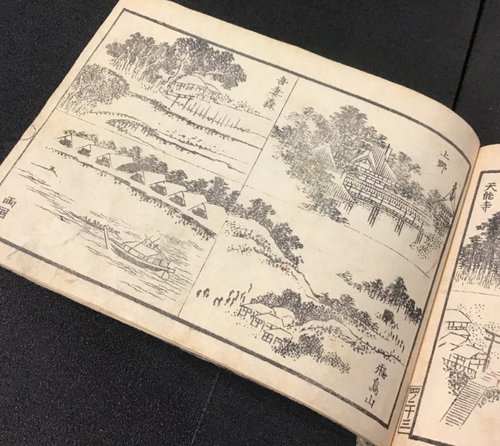 Kachō sansui saiga zushiki (1864)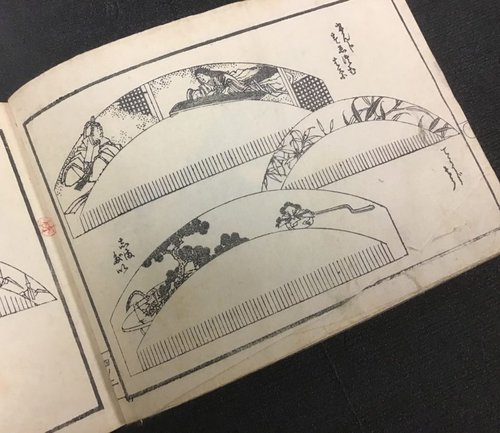 A page dedicated to designs for hair combs
A further example of work from another of Hokusai's pupils is a book titled Kachō sansui saiga zushiki (1864) by Katsushika Isai with pages laid out with multiple examples of landscapes and other painterly work as well as sections with examples for the design of everyday items like hair combs.
Though many who hear the name Hokusai think first of colorful prints hanging on art museum walls, many master printmakers in the 19th century, including Hokusai, were sharing their knowledge with their followers and a wider art-loving public through various types of illustrated books as well. Anyone with an interest in woodblock printing can find something new by making an appointment to examine these instructive works in the Special Collections Reading Room.
The four books, Hokusai Gafu (1800-1900), Shoshoku hinagata Hokusai zushiki (1882), Banshoku zukō (1850) and Kachō sansui saiga zushiki (1864) are part of our Ryukyu Collection (Special Collections Research Center, Syracuse University Libraries).
Works Cited:
The British Museum. "Katsushika Taito II." https://www.britishmuseum.org/, https://research.britishmuseum.org/research/search_the_collection_database/term_details.aspx?bioId=143539.
Davis, Julie N. Partners in Print: Artistic Collaboration and the Ukiyo-e Market. University of Hawaiʻi Press, Honolulu, 2015.
Yonemura, Anne. Hokusai. Smithsonian Books [and] HarperCollins, Scranton, PA, 2006.