Mend Journal Available on SURFACE
Mend Journal emphasizes personal narratives of people directly impacted by criminal justice system.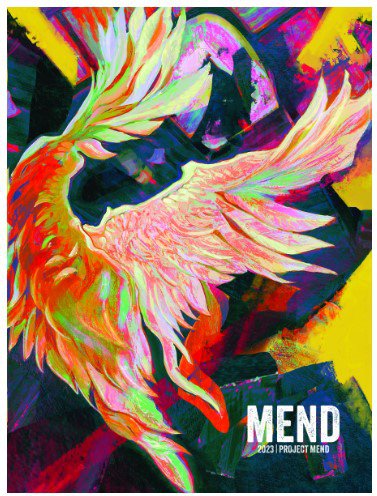 When Associate Professor Patrick W. Berry in the Writing and Rhetoric Department of The College of Arts and Sciences started a new journal titled "Mend," it was important to make it available to everyone. Patrick had been working to create Mend, an online and print publication that emphasizes the personal narratives of people who have been directly impacted by the criminal justice system. Mend educates the public about the incarceration system by featuring the creative work, both written and visual, of justice-impacted people. Equally important, it helps the people impacted and their families forge new identities and heal as writers, poets, artists, etc. For this reason, it was critical that the publication be accessible to all, without costs or barriers associated to the readers or contributors.
Patrick had worked with Dylan Mohr, Open Scholarship Librarian at Syracuse University Libraries, on another publication titled "Intertext," an open access journal showcasing undergraduate writing from Syracuse University's Department of Writing Studies, Rhetoric and Composition. Undergraduate students work with Patrick to edit and design this publication, which is hosted on SURFACE, Syracuse University's institutional repository. So, he discussed the possibility with Dylan of hosting Mend on SURFACE as well.
"For over a decade, I've worked with the library to have Intertext featured on SURFACE," said Patrick. "This experience helped me see the value of preserving this work in the library and making it available online to the public. I love that I can see how often the pieces have been downloaded and that this publication is circulating widely."
"Given this positive experience, I knew that SURFACE would be an excellent venue for Mend, which, like Intertext, is a print and online annual journal. We are receiving submissions from writers across the country who have been impacted by the criminal legal system, many of whom are incarcerated. To be part of a university library collection is an honor, and the fact that it is open source is crucial," continued Patrick. "Open access means that it can be read widely and used in teaching, too."
In July 2023, the vision for Mend became a reality with the launch of the inaugural issue. A celebration and reading was held at the Onondaga County Library. In its first two months hosted on SURFACE, Mend was downloaded 750 times.