Our Day Will Come: Black Pop Music in the Sixties
The African American Musicians Photograph Collection is a display of purchasing a collection with limited contextual information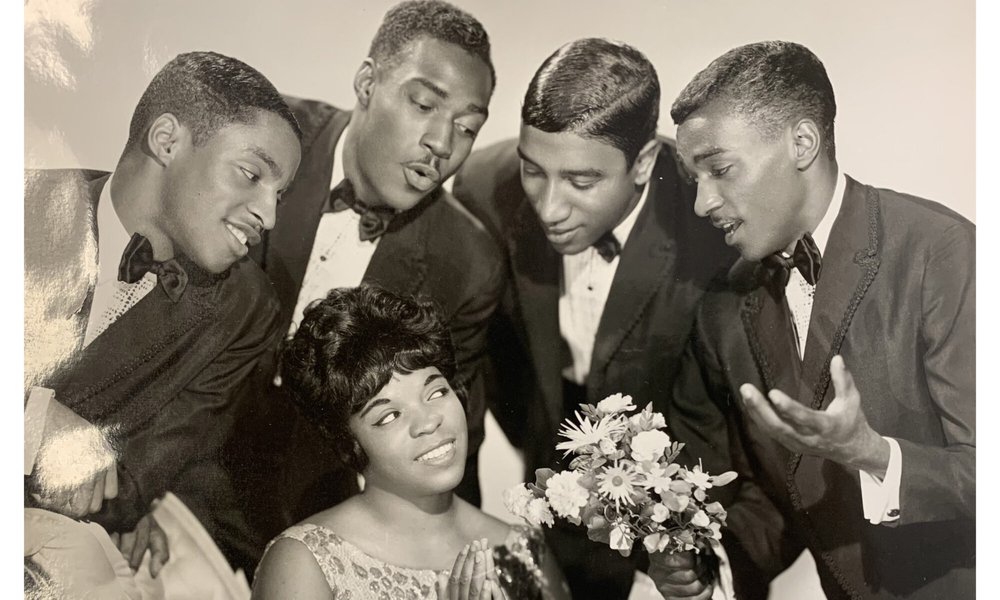 by Nora Ramsey, Reference Assistant
Working among the collections for most of my time at Syracuse University as a graduate student has given me many unique and interesting perspectives on libraries, archives, and the materials held within them. However, my time here has also made me aware of a gap in collecting focus. 
While applying for a second masters degree in musicology, I wanted to find a way to bridge my interests regarding music and epistemicide. Specifically, I am interested in how music is archived and the problems that occur when there is limited representation in collections. The African American Musicians Photograph Collection is a prime display of purchasing a collection with limited contextual information. The collection consists of professional portraits of Black musicians, performers and singers, who were primarily active during the 1950s and 1960s. It does not contain letters, personal reflections, or other information which could be used to further describe the artists. The collection includes notable performers such as The Wanderers, Ruby and the Romantics, and many more.
The Wanderers
Original members Ray Pollard (lead), Frank Joyner (tenor), Robert Yarbrough (baritone), and Sheppard "Shep" Grant (bass) began their career in 1952 as the Barons on 116th Street and Lenox Avenue in New York's Harlem. The group was known as The Larks for only a short time, and then changed to the Singing Wanderers after performing and winning at an Apollo amateur night show. With Pollard's vocal flexibility, the group found themselves signed to Savoy Records for the single "We Could Find Happiness" in 1954. 
Months later, the Singing Wanderers signed "Say Hey Willie Mays" and "The Wrong Party Again" with Decca for two opposite-sounding singles. To increase their exposure, Lee Majid, Savoy's A&R director, began booking the group with legendary singers such as Eartha Kitt and Ethel Merman. Despite not yet reaching the Billboard charts, the band appeared on the Ed Sullivan show several times.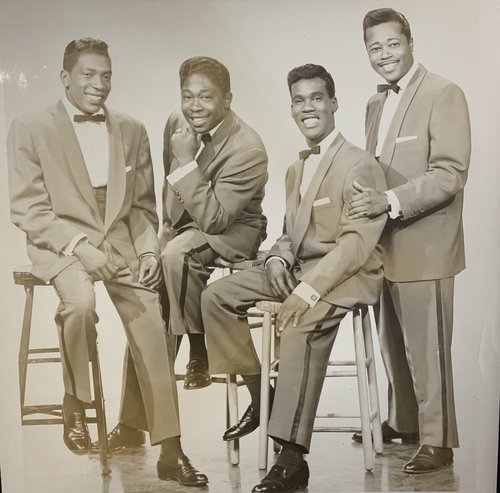 (Left to right) Ray Pollard, Sheppard "Shep" Grant, Robert Yarborough, Frank Joyner as The Wanderers. African Americans Musicians Photograph Collection.
In 1957, the group changed their name once more, this time to The Wanderers, and began releasing singles with Onyx Records.1 They tried to expand their range of material, even recording a pop single called "Thinking of You." In the New York area, this song received good reviews and identified Ray Pollard as one of the elite singers among 50s vocal groups. After MGM acquired Onyx Records, The Wanderers released "For Your Love" in an attempt to merge the group's vocal talent and past hits. The concept yielded the greatest success of the group and was reviewed by Billboard favorably. The song charted nationally later in the same year at number 93, but achieved much greater success in New York.
"There is No Greater Love" landed #88 in Pop during the summer of 1962, and it was the Wanderer's last and highest charting record.  The group continued to perform until bass Shep Grant died in 1970. Pollard continued singing and landed a role in the Broadway play, "Purlie, " in 1971.
Within the collection of photographs itself, there is no identifying information on the group's portrait other than their name printed at the bottom. The photographer's name, Maurice Seymour, provided little contextual information as to when, why, or at whose request, the photographs were taken. However, the photos do provide valuable information on how Black musicians were being presented to a commercial audience. The men are rigidly posed and have their hair slicked back in a pompadour popularized by Elvis Presley and Johnny Cash during this time period. It's evident in this staging that studio producers looked for Black artists to have a look deemed "marginal" yet at the same time be attractive to the white buying public of the 1950s and 60s.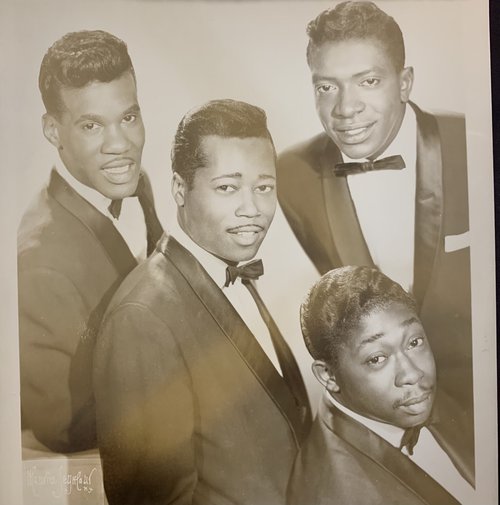 The Wanderers posing and looking upwards for a group photo. African Americans Musicians Photograph Collection.
Ruby and the Romantics
The Wanderers weren't the only group to receive this treatment— Ruby and the Romantics were also faced with a new commercialized version of themselves. Black artists had little control over their commercialized "look" and "sound" in an age where record companies had extensive control over the music industry.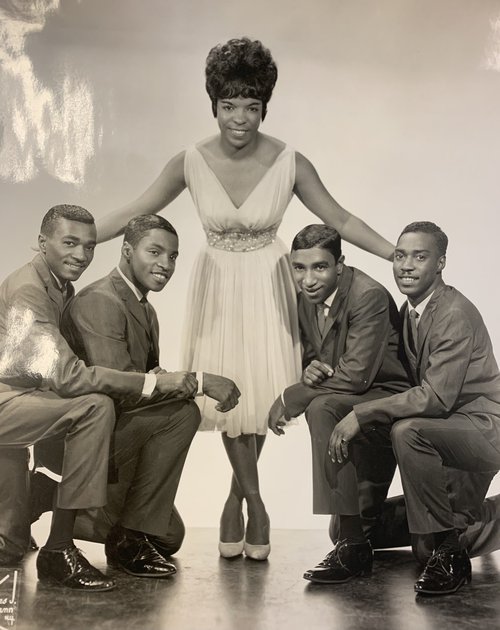 Ruby and the Romantics (Left to right) George Lee, Leroy Fann, Ruby Nash, Ronald Mosely, Ed Roberts. African Americans Musicians Photograph Collection.
Ruby and the Romantics exemplified the Black pop sound of the early 1960s. The group began as an all-male quartet from Akron, Ohio in 1961 that included Ed Roberts (first tenor), George Lee (second tenor), Ronald Mosley (baritone), and Leroy Fann (bass). Initially, they labeled themselves The Supremes. At the same time as The Supremes quartet was forming, Ruby Nash and her sister Betty, along with two of their friends, were appearing at talent shows in their hometown of Akron, Ohio. Supremes member Leroy Fann discovered Ruby at one such talent show after an unsuccessful trip to New York City to land a label. He was sure that her voice and talent paired with his own group would lead them to great things.
Thanks to musical arranger Leroy Kirkland, the group was able to schedule an audition at Kapp Records in front of A&R director Alan Stanton. Stanton decided to sign the group under the condition that they immediately change their name (possibly because he had heard of another budding female vocal group with the same name). Within a few days, The Supremes were rebranded by the record company and became Ruby and the Romantics.
In no time, The Romantics' first single "Our Day Will Come" charted on the Billboard Hot 100, and six weeks later, topped the chart as the country's number one song. It was also listed in R&B at number one and was an international hit in Australia at number 11 and in England at number 38. In 1964, the album earned a Grammy Award nomination for Best Rock and Roll Recording. Ruby and the Romantics' song, "Hey There Lonely Boy",  was a beautiful ballad that helped to develop the cleaner pop brand that would later be known as MOR (middle of the road). The music brand "MOR" is targeted to listeners between the ages of 25 and 55. Middle of the road music is primarily based on marketing demographics rather than musical elements, so it can embrace a wider range of genres. "Hey there Lonely Boy" fits into this category, and its exposure to a wider audience helped the single to reach number 27 on Billboard's national charts.
Today, recordings of Ruby and the Romantics are considered prime examples of Black pop music from the early 60s. Their music is the subject of many musical covers that have also reached acclaim.  The Marvelettes made "Young and in Love" a number 23 Pop and number 9 R&B hit in 1967. "Hey There Lonely Girl" by Eddie Holman reached number 2 Pop and number 4 R&B in 1969.
In 2007, Ruby and the Romantics were inducted into the Vocal Group Hall of Fame, and also honored by their hometown of Akron, Ohio, for their accomplishments and international impact in 2013.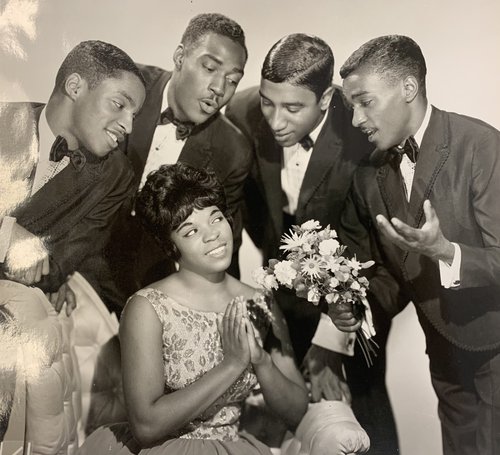 Ruby and the Romantics exemplified the Black pop sound of the early 1960s. (Top row) Leroy Fann, Ed Roberts, Ronald Mosely, and George Lee. (Bottom row) Ruby Nash. African Americans Musicians Photograph Collection.
The portraits of Ruby and the Romantics were taken on behalf of Kapp Records. The group's personal managers, Lloyd and Mannie Greenfield, are also mentioned at the bottom of their photographs. Similarly to the portraits for The Wanderers, these images have very little contextual information needed to create a more complete portrait of the singing group. It was for this reason, upon seeing this binder full of photographs, that I wanted to focus on the history of the people and the music they created, rather than their posed images for the recording company as they appear in the album. This being said, while the collection could, and should, have more context, there is much to learn about consumerism and the commercialization of Black artists in the postwar era. This full binder of musicians is representative of mass-produced music in an era when white audiences were being increasingly exposed to genres like jazz, soul, and funk and when the power of Black artists as producers and consumers was increasing.
Euro-centric narratives and systemic racism have undervalued marginalized creators that deserve to have their stories told. Collection, preservation, and access are deeply involved in how primary source material is used in memory-making processes. The archival field helps shape historical narratives and contributes to the ways we use the past to construct the present. It remains to be asked: What practices should be in place for music librarians to counteract epistemicide and encourage diversity among collections? In addition to promoting already present materials, I believe librarians should help users contextualize them as well. This should be done by reviewing collection development policies, digitization policies, and hiring practices and also by making sure to describe collections fully, keeping in mind that information for Black artists has historically been more inaccessible. By doing this, we can make sure the narratives we promote are inclusive and culturally competent. There is power in deciding which narratives get told and which do not— we should be striving to provide equitable access to as many as possible.
---
1  It is not known why The Wanderers hopped between record companies so often. However, it is interesting to note that Savoy Records was an American record company; Decca Records was a British label, but was established in the US by Lewis, American Decca's first president Jack Kapp and later American Decca president Milton Rackmil; Kapp Records was an independent record label started in 1954 by David Kapp, brother of Jack Kapp (who had set up American Decca Records in 1934); and Onyx Records was just a small, independent American record label based in Manhattan.
---
The African American Musicians Photograph Collection (African American Musicians Photograph Collection, Special Collections Research Center, Syracuse University Libraries) is part of the Special Collections Research Center's manuscript collections.
---
References
Warner, Jay. American Singing Groups: A History from 1940s to Today. Hal Leonard Corp, Milwaukee, 2006.
Westover, Jonas. "Adult contemporary." Grove Music Online.  February 11, 2013. Oxford University Press. Date of access 9 Apr. 2021, <https://www.oxfordmusiconline.com/grovemusic/view/10.1093/gmo/9781561592630.001.0001/omo-9781561592630-e-1002234111>