September 2020 Wrap Up: Banned Books Week
Banned Books Week recommendations.
by Grace Wagner, Reading Room Access Services Supervisor
As September draws to a close, we are celebrating Banned Books Week, which runs this year from 9/27 to 10/3. In honor of the celebration, we have a few staff and student selections to share with you:
The Jungle by Upton Sinclair
By Brett Barrie, Assistant Catalog Librarian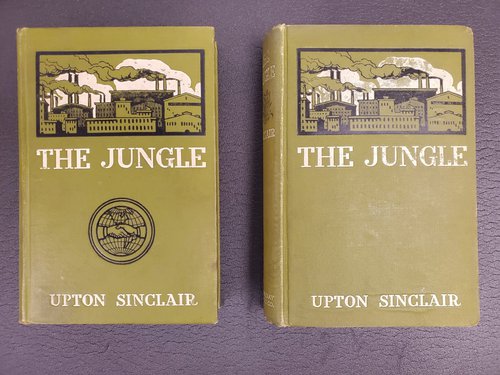 Two books with nearly identical green binding. Both front covers depict factories on the upper half in black and white, "The Jungle" in white letters in the middle, and "Upton Sinclair" in white letters at the bottom. The copy on the left has the Socialist Party's seal embossed in black between the title and author's name.
Upton Sinclair originally published The Jungle in serial form throughout 1905 in the socialist newspaper Appeal to Reason following his undercover investigation of the meat industry. He sought to publish the serialization in book form; however, five publishers turned him down due to both the graphic, depressing content, and Sinclair's socialist beliefs. Regardless, Sinclair solicited funding from individual subscribers and edited the serialization into book form. However, before the book was manufactured, Doubleday, Page & Company joined in his venture. In 1906 the socialist-sponsored plates were used to print 25,000 copies of the Doubleday edition, as well as a run of 5000 copies with the imprint The Jungle Publishing Co. Sinclair referred to the latter as the "Sustainer's Edition" (even though it doesn't appear in the text of the book). This edition bears the embossed Socialist Party's symbol, whereas the Doubleday Page edition does not.
The book was first banned in Yugoslavia in 1929, was burned by Nazis in 1933 (while ultimately being well received by Roosevelt and Churchill), and banned again in South Korea in 1985 all due to Sinclair's socialist views. Ironically, the book was also banned in East Germany in 1956 as inimical to communism.
1984 by George Orwell
By Nora Ramsay, Reference Assistant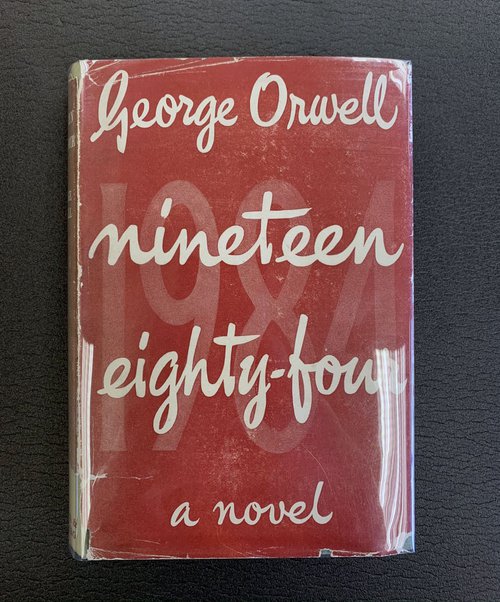 First printing of the First British Edition. The book has its original light green cloth and is protected by its red dust jacket.
The book, 1984, is a thrilling classic novel by George Orwell about a dystopian society where citizens know, "Big brother is watching you." The book follows Winston Smith, as he secretly denounces the all-powerful government, Big Brother, and decides to live a daring life of scandals and secrets. This is a captivating tale of propaganda, surveillance, authoritarian politics, and perversions of truth. In 1950, the book was banned and burned in the USSR under Stalin's leadership for its anti-communist views. It was only allowed back into the country after it was edited in 1990. The book was also banned in 1981 at a school in Jackson County, Florida for being pro-communist and for its "explicit sexual content." After reading this book for an assignment in my high school English class, its symbolism and themes have stuck with me ever since. It is especially interesting to me to revisit the book years later to see a first edition copy!
Newly Processed Collections
Special Collections
American Indian Movement (AIM) Collection, Native American civil rights; Alan Griffiths Soap Box Collection, plastics artifacts; Bebe Miles Manuscript, gardening author; Ed Arno Cartoons, New Yorker cartoonist; McIntosh & Seymour Board of Directors Records, CNY railroads; Morton Family Papers, CNY; Farm Security Administration Photographs; Impact Visuals Photograph Collection, social justice/protests; Robert Morse Painting; Porter Family Papers, Civil War era CNY; Wendall B. Barnes Papers, American attorney; Woestina Dutch Reformed Church (Rotterdam, NY) Records, CNY)
University Archives
William C. Carpenter Papers, SU alumni; Isabel Dardet Slides, SU alumni; Muriel Helfenbein Photographs, SU alumni; Howard G. DeVoe Papers, SU alumni; Anne Laurentine Treacy Papers, SU alumni; Helen Colette Yudin Ticket Book, SU alumni; Syracuse University Cyanotype Textile Collection, University Records
SCRC in the News
Call for Submissions
A reminder that the Syracuse University Archives is seeking to record and preserve the personal responses of Syracuse University students, faculty, and staff during the COVID-19 pandemic.
September Blog Roundup
Adjusting the Lens by Isabel McCullough, Reference Assistant
The Push for Accessibility by Syracuse University's Alpha Phi Omega Chapter by Ari Spatola, University Archives Graduate Assistant
Selling the Soapbox by Courtney Asztalos, Plastics and Historical Artifacts Curator, and Grace Wagner, Reading Room Access Services Supervisor
The image featured in the header of this post is from our Stephen Crane Collection (Stephen Crane Collection, Special Collections Research Center, Syracuse University Libraries), part of the Special Collections Research Center's manuscript collections.