The Digital Underground: Patrick Williams
An interview with Patrick Williams in September 2020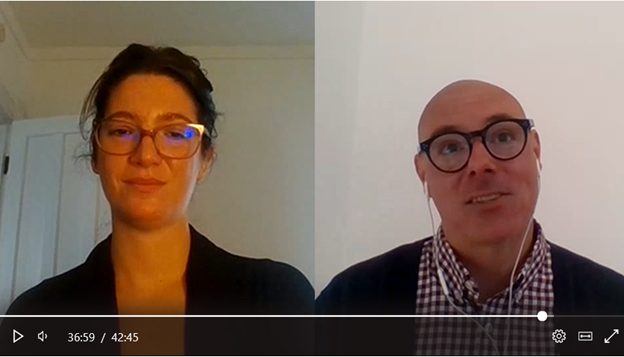 by Brittany Bertazon, Graduate Assistant for Digital Library Program
A Discussion with Digital Library Program Core Team Member, Patrick Williams, on Open Scholarship, Collaboration, and the Future of Digital Humanities at SU; Interview conducted in September 2020.
Brittany: How did you come to assume your current role and where does it intersect with the Digital Library Program (DLP)?
Patrick: I joined the libraries about 11 years ago as a subject specialist librarian in the humanities departments and over the course of the last decade I have been involved in digital humanities both on campus and off. As our Digital Library Program developed, as well as other services, my role shifted into becoming the Lead Librarian for Digital and Open Scholarship. I still work with humanities departments, but I work beyond those departments in some of the digital scholarship modes and on publishing projects—the kind of work that is important to the Digital Library Program.
I see myself as a public facing side of the Digital Library Program, collaborating with folks in different departments, working on teams and committees with them. My favorite part of that work is being part of the core team of the Digital Library Program and working with the folks that are setting that vision. It is nice to have my perspective represented at the table and to hear from everyone else too.
The DLP Core Team includes members from a variety of Libraries' departments, including Research and Scholarship, Library and Information Technology Services, and the Special Collections Research Center.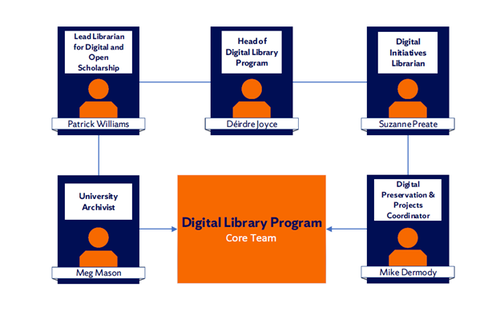 The DLP Core Team includes members from a variety of Libraries' departments, including Research and Scholarship, Library and Information Technology Services, and the Special Collections Research Center.
Brittany: How long have you been a core team member of the DLP?
Patrick: The Digital Library Program (DLP) originated from a white paper.
When we originally started to develop the document for the DLP in 2016, I was assigned, along with members in special collections, to a section related to digital scholarship. We wrote that document as a library; there were representatives from all different departments.
I was a part of one of the focus teams that originally came up with some of the material that made its way into the final draft that we are still adapting today. Once the report was completed and accepted in its form, the DLP core team was founded. I was added to that team primarily because of the public side of my work and to provide connections to research and scholarship that is happening on campus. Also, to represent the outreach work that we are intending to accomplish with the DLP, ensuring the user needs and research being undertaken on this campus are reflected.
After we moved through that work, Déirdre Joyce [Head of the Digital Library Program] has been able to articulate this theoretical, conceptual model of digital stewardship and digital scholarship as two sides to the same coin.
"Digital stewardship is engaged in the preservation and presentation of materials, and digital scholarship is engaged in use and outreach. It has been really helpful on the core team to have those conversations where we are thinking about the complete lifecycle of materials. [At other institutions] the public side of things might not be a part of the conversation until later on in the process."
Brittany: To what extent does collaboration occur among the DLP's core team?
Patrick: The Digital Library Program is a collaborative endeavor. There is a lot of problem solving that we are doing together, working through issues by incorporating everybody's expertise.
That means sometimes that we propose something, and we realize in ten minutes of talking that there is a better option. It could be that we are missing something or there are better choices we could be making. We are able to think through potential issues because we have a collaborative process. It is really nice to have multiple voices in that process as we are writing documentation. It speeds things up and means we are all paying attention to something at the same time rather than waiting until someone comes up with an issue or an opportunity that we did not foresee. The fact that we are having these conversations, both on a macro and micro level, as a team means the whole endeavor is collaborative.
The emphasis that Déirdre has put on cross-awareness within the Digital Library Program has been super helpful and keeps everyone plugged in. The fact that we connect over the different projects means that the group is paying attention in a way that is really productive.
Brittany: How does your individual workflow facilitate digital scholarship at SU?
Patrick: When I have something on campus that is a potential digital project, I have those conversations with patrons, faculty, and students. Before we get to the point of filling out a project request form or forming a narrative of the project, we think about what research questions we need to be asking and what ways we need to set expectations of what is possible with the people who are requesting. Most of my workflow performed independently is gathering information around those issues and then bringing it to the group to be discussed. It becomes a team effort from that point.
I am [also] in a position where I end up seeing and hearing from folks that might have digital projects in mind that are not necessarily originating from the library, which are things that we might want to look at, plan for, or reach out to people about.
Brittany: What kind of equipment or technology do you utilize most frequently?
Patrick: Email is the most indispensable tool for me. It is where we are able to flesh things out. In terms of projects and conversations, that is where my work takes place.
When we look beyond that at some of the digital scholarship work that we are doing, our workshops take place [using] resources that we are members of or subscribe to, like the HathiTrust Digital Library. Sometimes they take us into realms that involve external programming environments, tools, or external resources.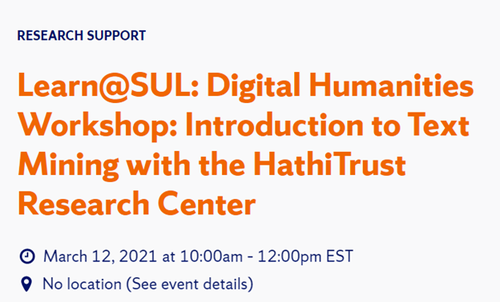 Since the time of this interview, digital humanities workshops have transitioned online. Patrick Williams (Humanities Librarian and Lead Librarian for Digital and Open Scholarship) and Zhiwei Wang (Masters Student in Data Science and Digital Humanities Graduate Student Employee) presented an Introduction to Text Mining with the HathiTrust Research Center on March 12, 2021. If you were not able to attend, there will be similar workshops offered in future.
Brittany: Do you have any student workers?
Patrick: I do! Zhiwei Wang is the Digital Humanities Graduate Student Employee. He has been indispensable in his technological abilities. Zhiwei is a master's student in Data Science with a background in humanities computing issues and linguistics.
He is a really curious person and has helped us test drive our ideas to look at data sets with new eyes, introducing a sense of play and exploration into some of what we do which has been eye-opening for us. One thing that he is really excited about is when we have a dataset no one else has, locally important information, that he gets to look at. He thinks of interesting ways to present or dissect it. His presence has been transformative. He assists in our workshops, builds online materials, and has a knack for explaining complicated data science analysis processes to people that are new to it.
Brittany: What are your thoughts on the future of digital humanities on campus?
Patrick: We are seeing some mergers with different disciplines, as well as a more broad and interdisciplinary set of digital scholarship processes, services, skills, and products that are blurring those lines between the disciplines. This is really great because it encourages interdisciplinarity and it allows folks to share lessons across disciplines.
At Syracuse University, there is a real eagerness to engage in digital humanities work. A number of faculty on campus are working in that field and [that] attracts new faculty. A lot of [faculty] have some digital humanities skills and interests. There is a digital humanities integrated learning major, so undergraduates are getting involved on a personal and academic curricular level. I am excited to see where those students take their work and the rest of their careers.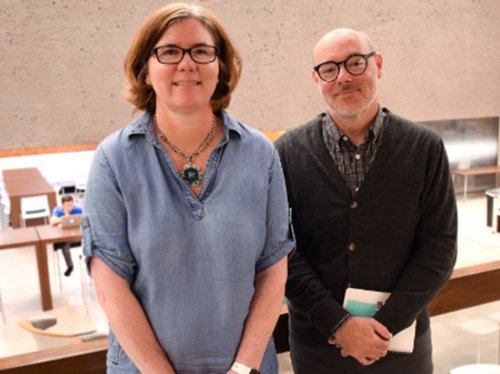 Déirdre Joyce, Head of the Digital Library Program, and Patrick Williams, Humanities Librarian and Lead Librarian for Digital and Open Scholarship, pose together in Bird Library.
Lately, Déirdre Joyce and I have been a part of Institute of Museum and Library Services Grant for the New York Data Carpentry Library Consortium (NYDCLC). It means that we are well connected with our counterparts at other public libraries, school libraries, and university libraries. Specifically, University of Rochester, Colgate University, and Cornell University are also involved. The pandemic has slowed [us] a bit in our ability to put on events, but we have 15 librarians from these institutions that are trained on providing data carpentries training and [we're] looking towards the spring for hosting events.
Note: Carpentry workshops are an excellent way for library and information professionals to improve a variety of digital and technological skills. At this time, most workshops are hosted virtually and free to students. Library Carpentry helps build software and data skills, creating more "effective and reproducible data and software practices." Data Carpentry's "focus is on the introductory computational skills needed for data management and analysis in all domains of research."
"Academic research libraries have a long history of developing innovative services that promote scholarship and enable further collaboration," said Scott Warren, Associate Dean for Research and Scholarship, at Syracuse University Libraries. "Patrick and Déirdre's work with other librarians across the state will improve the student and faculty experience for all our institutions."
This year we have a plan to have a reading group across the multiple campuses [around] the book Data Feminism, authored by Lauren Klein and Catherine D'Ignazio. There are so many of these projects that some of us have been working on for multiple years. A lot of the work you must do in advance is in the background, behind the scenes, and to be having these conversations outside of this campus and across multiple campuses.
The groundbreaking 2020 work, Data Feminism, promotes "a new way of thinking about data science and data ethics that is informed by the ideas of intersectional feminism."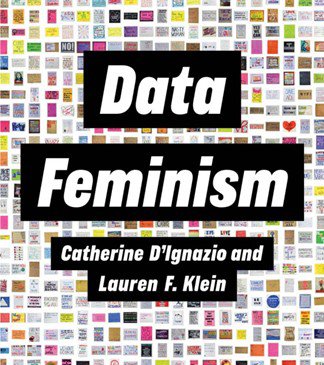 The groundbreaking 2020 work, Data Feminism, promotes "a new way of thinking about data science and data ethics that is informed by the ideas of intersectional feminism."
NOTE: Data Feminism is currently being taught in the Digital Humanities graduate course at SU and the focal point of events between multiple campuses. So far this spring, three of the four cross-institutional, virtual reading discussions, sponsored by New York Data Carpentry Library Consortium (NYDCLC) and the Central New York Humanities Corridor, have already taken place.
Brittany: What is one thing no one ever knows that you do in your current role?
Patrick: I feel really fortunate to be in a position that has a certain amount of visibility. People know what I am up to and I am drawing on work from so many other parts of the library.
The thing that takes place most independent from my colleagues is the library instruction work I do, a lot of which involves teaching digital skills and digital humanities applications in classrooms that are not my own. For instance, I am going to a Spanish class or a drama class to use mapping technology, or I am doing text analysis with an African American studies class.
Brittany:  Has the DLP changed since you have been a part of it?
Patrick: We started on the DLP planning before Déirdre. She is a perfect person to be leading this because of her really great experience and ability to connect with folks all over the libraries. I see her influence to help us clarify what we are doing and build structure. As we moved towards projects and established the core team, her leadership and vision help guide the way we think and talk about the DLP. It is definitely evolving.
We are getting smarter about the approaches that are available. It has been great to not feel like [the work] was set in stone, and it could [be] adapted to the needs.
Déirdre and Suzanne Preate [Digital Initiatives Librarian] are really involved in the Digital Library Federation. Mike Dermody [Digital Preservation and Projects Coordinator] and Meg Mason [University Archivist] are involved in their respective [associations], and I am a part of [other associations]. To have all those ideas coming in from different professional communities has shaped [our work] as well. It is outstanding how much transparency we have into other organizations and how they approach these things.
Brittany: Any goals or changes you like to see in the future of the DLP?
Patrick: I think visibility is a big goal. I want the DLP to reach as many people as possible. We have both an internal campus audience and an external audience. I am really interested in getting the internal campus audience engaged in these projects.
"We have incredible collections and anything we do that draws attention to those collections is the goal. Sometimes I think it takes something being online or accessible for people to realize what kind of value it is and to use it digitally, as well as come into the libraries to ask questions that cannot be answered through digital means."
I am excited about any attention [of] the rest of the world; I love the idea of the institution recognizing the libraries as a place for the production of knowledge as well as the access and organization of it. People will be really excited about the kind of work that is happening [and] being able to broaden the reach of [our] work [is] our goal.