Push for Accessibility by SU's Alpha Phi Omega Chapter
Processing the Alpha Phi Omega Chapter Collection and push for accessibility.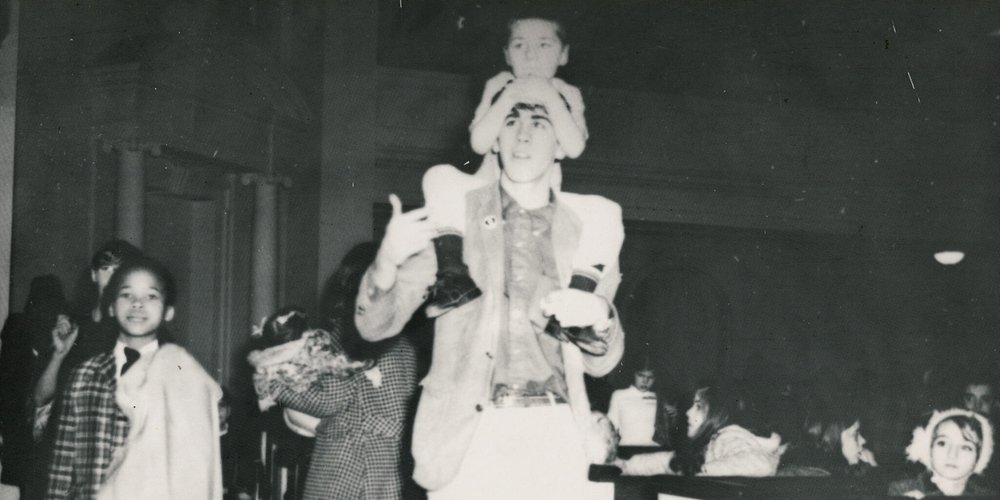 by Ari Spatola, University Archives Graduate Assistant
Throughout this past year of working for the University Archives at the Special Collections Research Center, I've been tasked with processing quite a few Greek life organization collections. In general, I'm always excited to process new collections because any experience is helping me transition from "baby" archivist to archivist, and I've been able to find fascinating content in every collection I've processed. This past spring, however, when I was assigned the Alpha Phi Omega Collection to process, admittedly, I breathed an initial small sigh of disappointment at the thought of processing yet another Greek letter society collection. While each collection houses its secret joys, I've personally never been a huge fan of Greek letter organizations. I never understood why masses of students eagerly flocked to pledge these groups made up of, at least to me, seemingly random Greek letters each semester. "What are people seeing in these groups that I'm not?", I asked myself as I began examining the Alpha Phi Omega Collection's inventory. Very quickly, I found the answer.
Processing the Alpha Phi Omega Phi Chapter Collection has eased my reservations about Greek life organizations greatly, and, in fact, made me realize and appreciate the good a group of organized and dedicated individuals can create under the structure of Greek letter societies.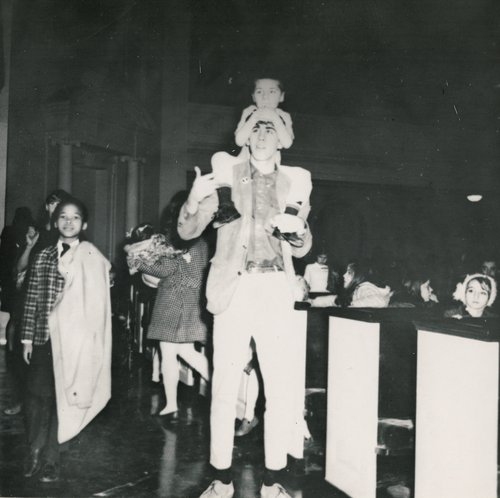 Alpha Phi Omega members playing with children at an event in Hendricks Chapel, circa 1950s.
The Phi Chapter of Alpha Phi Omega was founded at Syracuse University in 1931 by a group of just 15 members from the School of Forestry in association with the Boy Scouts of America. As a small service fraternity, the Phi Chapter participated in community service and fundraising activities in the greater Syracuse community. What made this chapter shine brighter than other service fraternities and softened my view of Greek letter organizations, however, was their dedication to accessibility and disability advocacy. This began in 1967 when members of the Phi Chapter were helping a fellow chapter brother navigate campus in his wheelchair. They quickly realized how inaccessible the Syracuse University campus was for wheelchair users and other individuals with mobility issues and sought to confront these issues. This marked the beginning of their efforts towards their project, The Elimination of Architectural Barriers, where, on a campus-wide level, the chapter critically analyzed the shortcomings of SU's physical campus environment. They published a handbook detailing accessible and non-accessible pathways and entrances as well as tips for navigating campus for those with mobility issues.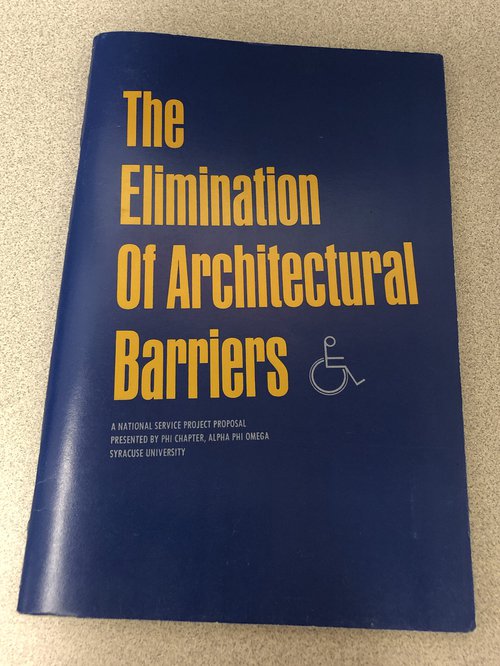 Cover of Elimination of Architectural Barriers: A national Service Project Proposal Presented by the Phi Chapter, Alpha Phi Omega, Syracuse University, circa 1970.
Soon after, the chapter realized that improving accessibility on college campuses was a crucial issue across the country and began a national support campaign for their project. The Phi Chapter's work in campus disability advocacy was noticed by and published in Alpha Phi Omega's national publication. Around the same time, the Phi Chapter's most crucial publication, The Elimination of Architectural Barriers Handbook, was created and distributed. The Phi Chapter's appeal for national support was fulfilled when the leaders of the 1970 Alpha Phi Omega National Convention named The Elimination of Architectural Barriers a national service project, the first proposed by a single chapter. The chapter was awarded the Arno Nowotny National Service Award three years later.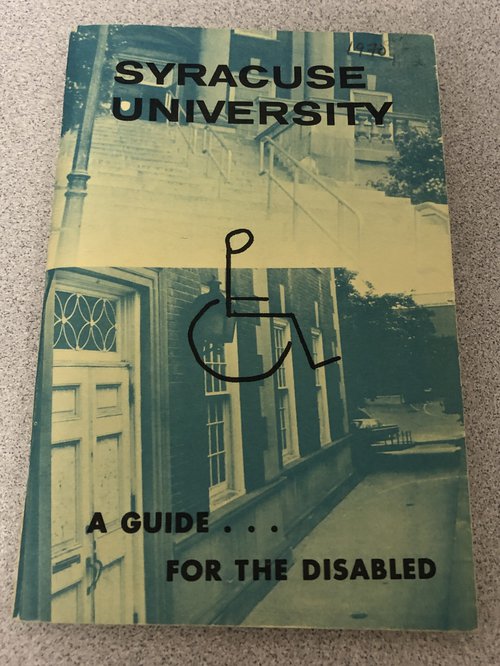 Cover of the first edition of Syracuse University: A Guide for the Disabled, published by the Phi Chapter of Alpha Phi Omega with an introduction by Chancellor John E. Corbally, Jr.,1970.
Following their great accomplishments in national campus-wide accessibility, the Phi Chapter remained dedicated to disability advocacy and service. Most notably, the chapter began hosting annual Christmas parties for disabled children in 1967. Currently, the Phi Chapter is continuing to give back to their community and uphold the values they set for themselves 80 years ago. While I initially overlooked the value of Greek letter organizations, processing the papers of the Alpha Phi Omega Phi Chapter allowed me to recognize the important work and service these groups can provide their community when all parties are united in doing good.
The Alpha Phi Omega Phi Chapter Collection (Alpha Phi Omega Phi Chapter Collection, University Archives, Special Collections Research Center, Syracuse University Libraries) is part of our University Archives collections.