Two Years in the Archives
Perspectives from the student employee Public Services Assistant Team in the Archives.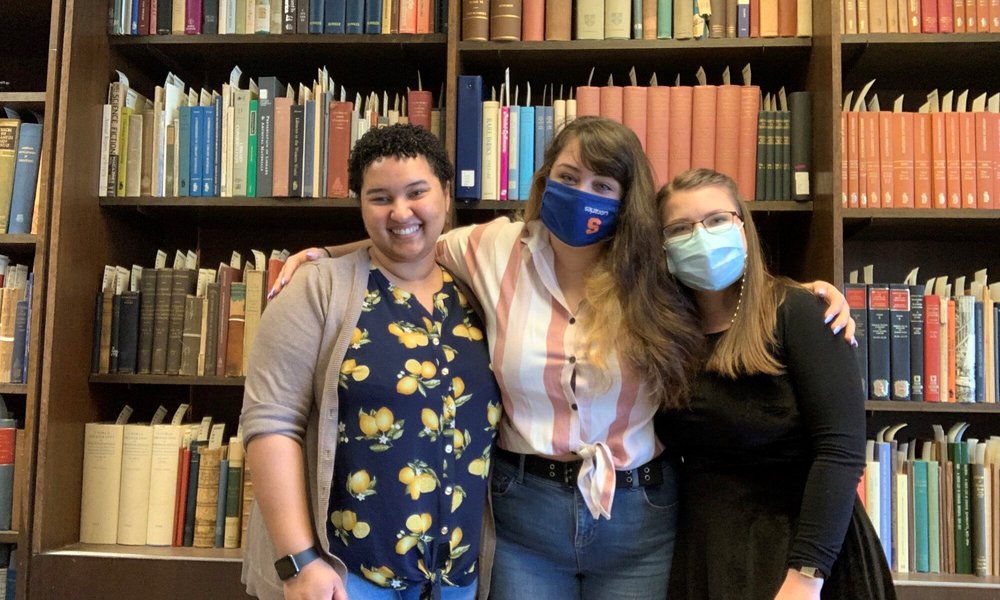 by Tiffany Miller, Aisha Pierre, and Nora Ramsey, the Public Services Assistant Team
Tiffany
Working at the Special Collections Research Center for the past two years as one of the Public Services Assistants was one of the most incredible work experiences I have ever had. The staff is incredibly kind, helpful, and everyone has a wonderful sense of humor, which made for an always enjoyable work environment. One special memory from working at SCRC was when I performed research for my Art History master's thesis in the Rico Lebrun Collection, which was a transformative experience. Without being able to access the collection, my research would not have been the same.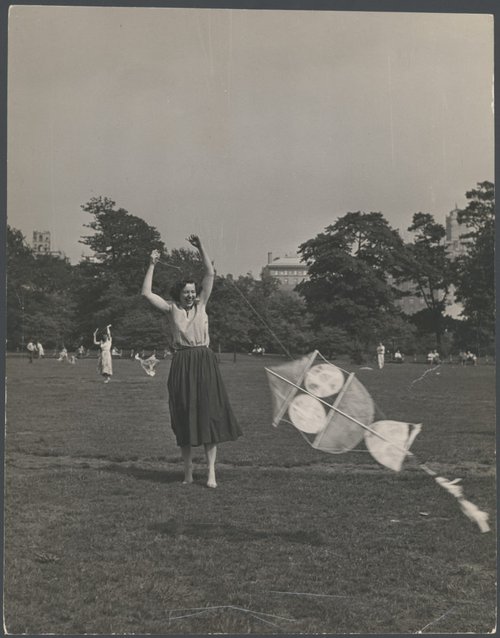 A carefree Grace Hartigan flying a kite in the 1950s. Grace Hartigan Papers.
SCRC allowed me to grow as an emerging professional, and always fostered learning and a sense of community. I became close with the two other Public Services Assistants who were also graduate students, Aisha Pierre and Nora Ramsey. Along with researching for patrons, we would share ideas, our struggles as graduate students, our after-graduation plans, and bond over our love of collections, research, and object handling. We also talked about our favorite collections, and some of my favorites are the collection of Medieval manuscripts as well as the Grace Hartigan Papers. As an Art History student, I was immediately drawn to the intricately detailed manuscripts, and I have a fond memory of handling some Books of Hours when we allowed researchers into the reading room prior to the pandemic. I researched the Grace Hartigan Papers for a previous blog post as well as for multiple patrons, and it always made me happy seeing the photographs in the collection of Grace and other artists on vacation or walking the streets of New York City in the 1950s. Thank you so much to Special Collections for the wonderful memories over the past two years!
Nora
I worked at SCRC as I was completing my Library and Information Science master's degree. It was a great way for me to incorporate my studies into real and practical experience that I would have had a difficult time receiving elsewhere. However, I didn't expect how much this place would grow on me, and guide me as I completed my degree. One of the most memorable aspects of my experience were the connections I made with my co-workers. Aisha, Tiffany, and I all grew alongside each other and helped each other not only at work, but as friends. When the pandemic began, we were all pushed into the unknown together where we adapted and relied on each other even though we couldn't interact in person. I'm so grateful to end my time here by calling them both my friends.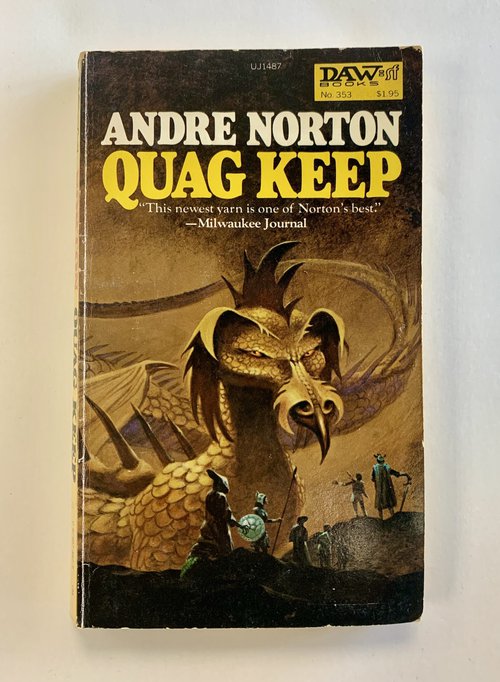 Quag Keep by Andre Norton. Rare books.
Aside from these relationships, I was always excited to come into work. I was able to interact with rare materials every day, and be able to interact with history in ways I never have. If I had to pick only one, the most influential collection I worked with during my time at the SCRC is the Andre (Alice Mary) Norton Papers. This collection highlights the life and work of the American science fiction novelist as the first woman to be a Science Fiction Writers of America (SFWA) Grand Master and to be inducted in the Science Fiction and Fantasy Hall of Fame. Alice Norton, after playing a game of Dungeons and Dragons with its creator Gary Gygax, was inspired to write the very first D&D novel, Quag Keep (1979). My interest in the game, as well as researching reference questions, allowed me to delve deeper into her collection. I even found artwork that soon became my favorite piece by sci-fi artist Virgil Finlay, whose work I am soon getting tattooed, within the collection.
These past two years working at the SCRC have gone by extremely fast. I am so grateful for the experience and can't wait to take my next steps with my MSLIS with what I've learned here. Thanks so much to everyone on the 6th floor who made it so welcoming!
Aisha
As a staff, we laugh a lot! It has become a sound I look forward to most in my day. As summer arrives, classes end, and students return home, it has gotten a little quieter on campus, but not on the 6th floor of Bird Library. Collectively, we fill the entire floor with laughter! As you can see, we Reference Assistants have grown into a pretty close group of friends. This was our final goodbye, as two of us walked the stage and the other embarked for a summer internship. The past year at SCRC has been strange, but these girls have been a huge support system that I am so thankful to have had as partners.   
One of Hawley's colorful sketches I discovered in the archive. Carl T. Hawley Papers.
The thing I love most about answering reference questions is when a collection catches me by surprise. Sometimes, it might be a beautifully written love letter, or the time I discovered a loose fork in the bottom of a collection box! But the surprise that stuck with me the most occurred as I was reviewing the Carl T. Hawley Papers. Hawley (1884-1945) graduated from Syracuse University with a Bachelors of Arts degree; he later became a fine arts instructor at SU. In the archive we have a series of sketches that Hawley created for a book. As I reviewed the sketches I thought they resembled one of the characters from my favorite movie, Porco Rosso. While most people were raised watching Disney films, my sister and I were raised watching Studio Ghibli and Hayao Miyazaki. My favorite Miyazaki's film is Porco Rosso, released in Japan in 1992, and later released in the USA in 1994. Gina is the love interest of the film and it is this character that I see in Hawley's sketches. I highly recommend seeing this film, because reading the synopsis does not do the film justice. It is set in 1930s Italy, where a veteran World War I pilot is somehow cursed to look like a pig during the war. Porco Rosso is filled with beautifully hand painted scenes, a romantic Italian soundtrack, and fight scenes with sea pirates. This movie has something for everyone!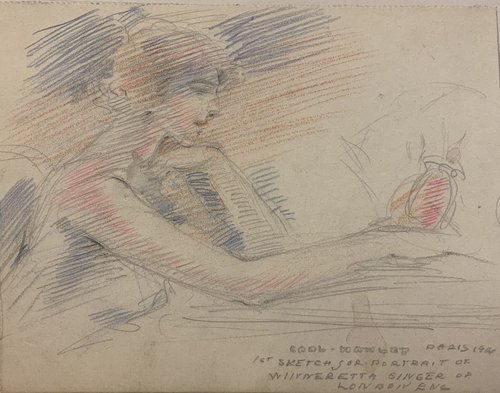 One of Hawley's colorful sketches I discovered in the archive. Carl T. Hawley Papers.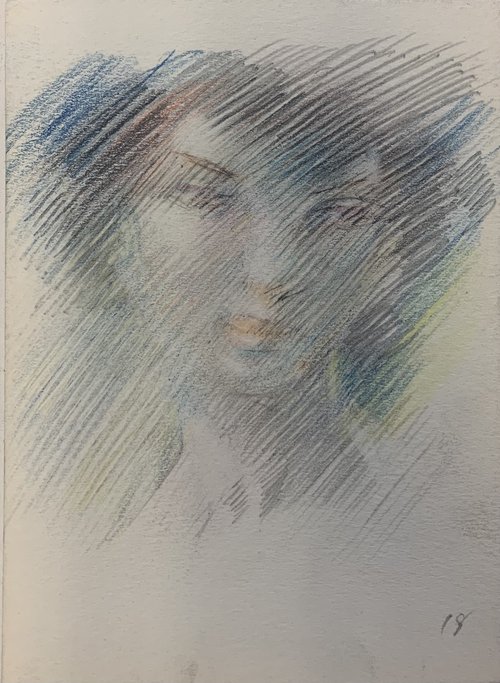 One of Hawley's colorful sketches I discovered in the archive. Carl T. Hawley Papers.
These past two years of exploring the stacks at Special Collections have gone by in a flash. Before I leave SU I wanted to say thank you to the SCRC staff for all the laughter, and support they have given us. I am so grateful to each and every one of you! 
Goodbye for now,
Aisha, Nora, and Tiffany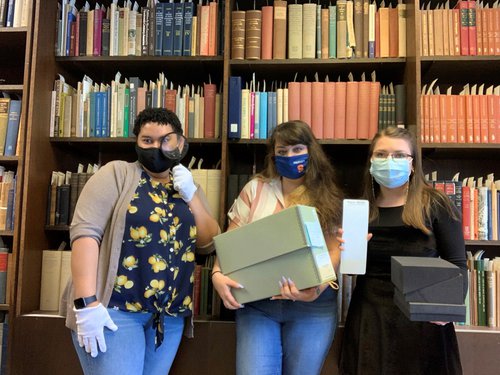 L-R: Aisha, Nora, and Tiffany in the archives.