Unknown: Cassette Tapes and the E. Thomas Billard Papers
The Archives Preservation Countdown coverage continues on Sound Beat this week. Check out their episode on the E. Thomas Billard cassette tapes.

---
The notion that incredible discoveries, hidden gems, and items thought to be lost to the ages are suddenly discovered in archival repositories is a rather romantic ideal that doesn't frequently play out in the day-to-day operations of a special collections repository.
Audio is one area, however, due in part to the many different and sometimes obsolete mediums that exist, that lends itself to making unknown discoveries, as occurred in the digitization of the E. Thomas Billard cassette tapes. Billard was a Syracuse University MBA graduate and Vietnam War veteran who traveled abroad and exchanged "letters home" to his family in Central New York by recording and re-recording over the same cassette tapes.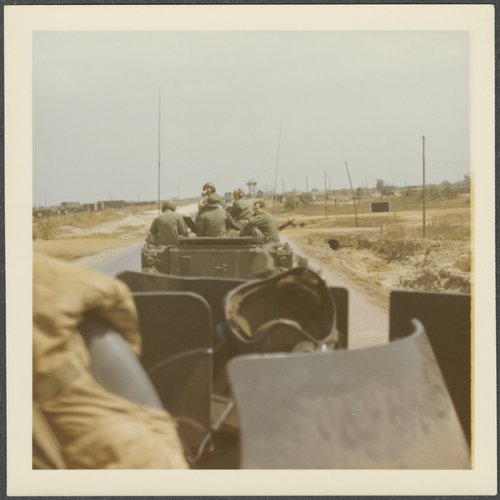 Polaroid photograph of servicemen riding in a military vehicle. E. Thomas Billard Papers.
The recordings of Billard's tapes can be found on SCRC Online. In a clip of Billard's trip to Australia, you can hear the ambient noise of a train moving in the background of Billard's voiceover.
---
And read on as SCRC's Audio Preservation Engineer, Jim Meade, discusses some of the major audio formats and equipment at the Belfer Audio Lab, and how digitizing and preserving these records can lead to unexpected discoveries and recovery of lost or damaged content.
Cassette

The consumer-grade cassette deck used to digitize the Billard tapes.
The Billard tapes were digitized using this cassette deck among others. This cassette deck is a consumer-grade machine because professional decks have not been manufactured in decades. We use this model because it features an azimuth screw that allows for adjustment of the playback head alignment. Not all cassette decks have this. It was this feature that allowed us to retrieve recordings from the Billard tapes previously thought to have been erased. The Billard family reused cassette tapes, recording over audio letters to send replies between the USA and Vietnam. Because the erase heads on their tape recorders did not align exactly, we could retrieve the "lost" audio. The sound quality is poor, but intelligible.
Relevant SCRC collections: John and Susan Edwards Harvith Interview Collection, Shannon Davis Family Papers, Morton J. Savada Papers, Setnor School of Music Records.
Open reel tape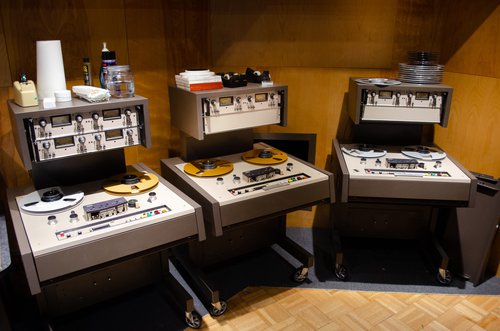 Three MCI open reel machines acquired in the early 1980s.
These MCI open reel machines play back a number of different tape configurations contained in the collections. These machines were acquired from MCI in the early 1980's when the Belfer building was first opened. Actually, our preservation studio is still called the MCI room! These machines are now obsolete, the company having ceased manufacturing in the early 1980s. Parts can be difficult to come by after 40 years, making maintenance of these machines increasingly difficult.
Relevant SCRC collection: Gregg Smith Singers Recordings.
Cylinders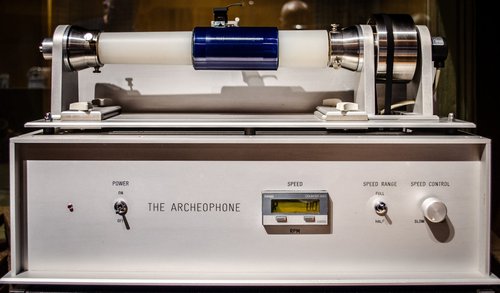 The Archeophone designed by French audio engineer Henri Chamoux to play back early cylinder recordings.
The Archeophone, created in 1998 by French audio engineer Henri Chamoux, is a modern machine specifically designed to play back the many different sizes and types of early cylinder recordings, dating from the late 19th century to the early 20th century. Cylinders produced during these years ranged from tiny cylinders inserted into talking dolls, to quite large concert cylinders and everything in between. Without this machine, we would need to keep and maintain an array of players to reproduce all the different cylinder types produced and sold between the late 1880s and 1929. This modern device also allows playback with a lightweight, modern tonearm, far better for maintaining the condition of fragile cylinder records than the original players. Henri produced around 40 of these machines, two of which Belfer acquired in the 1990s. The rest are in audio archives across the world, as well as with some wealthier collectors.
Relevant SCRC collection: Belfer Cylinders Collection.
Wire recording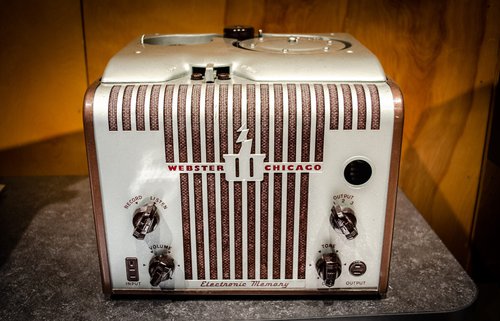 The Webster Chicago machine that was used to digitize 13 wire reels containing the voice of Hollywood legend Gloria Swanson.
Steel wire is one of the more unusual formats in our collections. Originally invented in 1898, it essentially works like tape, but sound waves are stored as magnetic fluctuations on steel about the thickness of light fishing line. The format was not commercially viable until the late 1930s and was used mainly for dictation purposes. This Webster Chicago machine was completely reconditioned at Belfer. It was used to digitize 13 wire reels containing the voice of Hollywood legend Gloria Swanson dictating her memoir. Due to a lack of a functioning period wire machine, the recordings had lain unheard in the George Eastman Museum in Rochester for years until a collaboration with Belfer resulted in digitization of the wire reels.
Relevant SCRC collections: Erica Anderson Collection, Belfer Wire Recordings Collection.
Assorted vintage analog equipment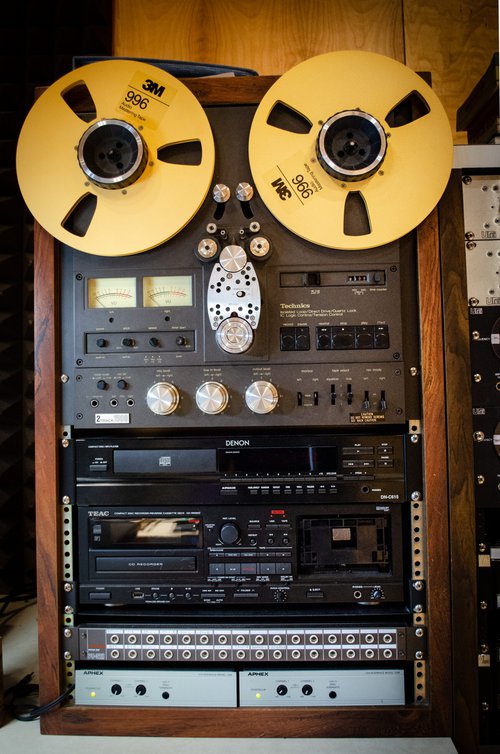 Assorted vintage analog equipment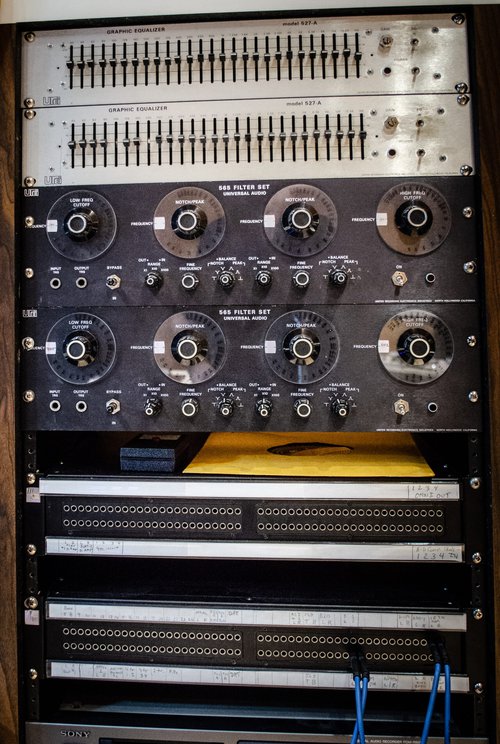 Assorted vintage analog equipment
These equipment racks contain obsolete tape players and specialized EQ, or "tone shaping," units. Some of these EQ devices are increasingly popular in modern recording studios due to their analog tonal characteristics, and command increasingly high prices in the vintage equipment market.
Discs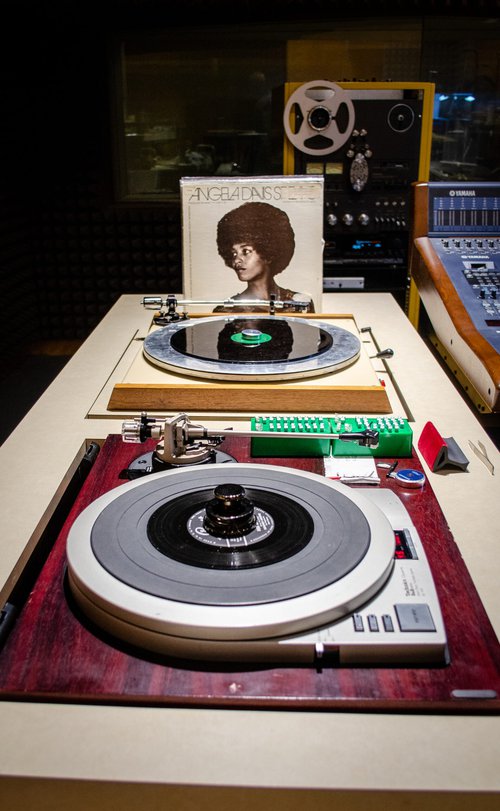 Two of Belfer's phono record turntables.
Above are two of Belfer's phono record turntables. The nearest is a Technics SP 1015 from the 1980s, and one of the few high-end players that will play 78rpm discs, of which we have 370,000 in our collections. In the background are vinyl LPs awaiting digitization.
Relevant SCRC collections:
Lacquer discs: Margaret Bourke-White Papers, WSYR Collection, Franz Waxman Papers.
Vinyl: Bell Brothers Collection of Latin American and Caribbean Recordings, Belfer Commercial Phonograph Disc Collection.
Shellac 78s: Belfer Commercial Phonograph Disc Collection.
---
The image and recording featured in this post are from ourE. Thomas Billard Papers (E. Thomas Billard Papers, Special Collections Research Center, Syracuse University Libraries), part of the Special Collections Research Center's manuscript collections.