Women's History Month 2022
featuring a variety of source materials to celebrate the contributions women have made throughout history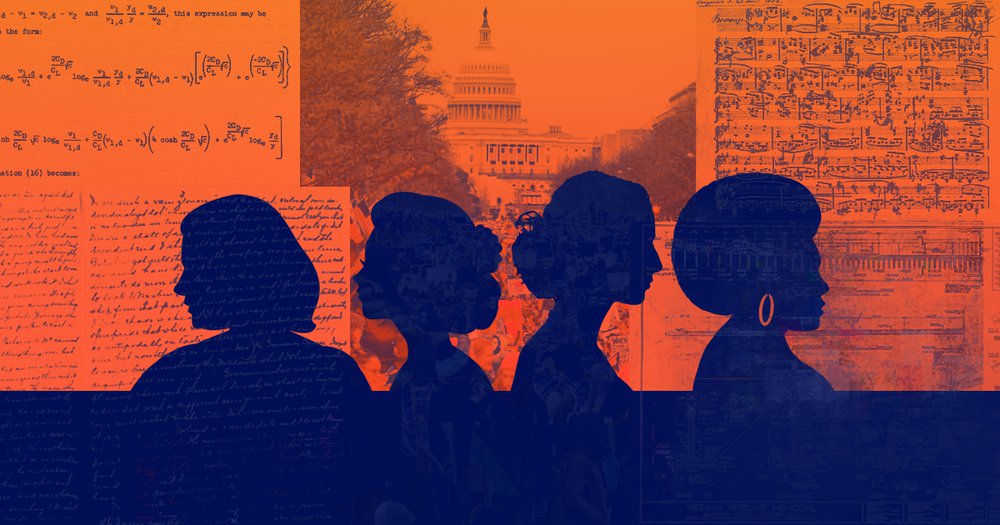 by McKenzie Rybka (M.M. candidate in vocal performance, College of Visual and Performing Arts). McKenzie works in the Libraries' Department of Research and Scholarship with our collections team.
Women's History Month is an annual celebration of contributions women have made throughout history in the United States. The observance of Women's History Month originates from a weeklong celebration organized by school districts in Sonoma, California in 1978. As the celebration became widespread, the National Women's History Project campaigned for the national recognition of women. This proved to be successful: to correspond with International Women's Day, the week of March 8th was declared Women's History Week by President Jimmy Carter in 1980. Seven years later, congress passed an additional law, designating March as "Women's History Month."
Syracuse University Libraries is featuring a variety of source materials to celebrate the contributions women have made throughout history. We have curated materials from our collections on display in Bird Library's Learning Commons, including biographies, memoirs, novels, musical scores, and much more! An online curation of materials is available through the Women's History Month Research Guide.
Collections Highlights:
Featured Database: Contemporary Women's Issues
Includes primary source materials pertaining to women's issues from 1992 to the present.
Covers a variety of disciplines, including sociology, psychology, health, education, therapy, gerontology and human rights.
In their publication "Mental Health and Illness", author Maxine Harris argues that the cultural norms of what constitutes acceptable "feminine" behavior when treating and diagnosing mental illness is not a suitable healing method. To support her claim, she analyzes and demonstrates a history of clinical interventions throughout the nineteenth and twentieth centuries.
Explore other library collections on our Women's and Gender Studies Research Guide.
Featured Book: Educated: a Memoir by Tara Westover (2018)
This memoir debuted as the number one bestseller in The New York Times, as well as being a finalist for several national awards. The New York Times also ranked the book as one of the top ten best books of 2018! Since then, the book has been recognized nationally, translated into over forty languages.
Born in 1986, Tara Westover is a renowned American memoirist, essayist, and historian. She was chosen by the American news magazine Time as one of the one hundred most influential people of 2019.
"Born to survivalists in the mountains of Idaho, Tara Westover was seventeen the first time she set foot in a classroom. Her family was so isolated from mainstream society that there was no one to ensure the children received an education, and no one to intervene when one of Tara's older brothers became violent. When another brother got himself into college, Tara decided to try a new kind of life. Her quest for knowledge transformed her, taking her over oceans and across continents, to Harvard and to Cambridge University. Only then would she wonder if she'd traveled too far, if there was still a way home."
Featured Activist: Clarina I. H. Nichols
Nichols, Clarina Irene Howard. Woman's Rights Tracts, No. 6. Syracuse, NY: Master's Print, 1853.
Clarina Irene Howard Nichols (1810-1885) was a journalist, lobbyist, and public speaker on women's suffrage. During her lifetime, she embraced various reform movements throughout the nineteenth century, including temperance, abolition, anti-slavery, and the feminist movement. Despite her contributions towards these movements, she has been largely overlooked since the beginning of the twentieth century.
Clarina formed bonds with other women's rights activists of the time, including Susan B. Anthony, Elizabeth Cady Stanton, and Matilda Joslyn Gage. In fact, these three women often edited her writings.
Search for pamphlets and other writings by Clarina in the primary source archive database Women and Social Movements.
Featured Database: Independent Voices
Contains an array of primary source documents ranging from 1960s-1980s, including magazines, newspapers, and periodicals.
Emphasizes small literary presses pertaining to minorities, feminism, and the LGBTQ+ community.
From the collection: 13th Moon is a feminist literary magazine founded in 1973 under the Writing Organization for Women at the City University of New York. To strengthen the representation of women in literature, the magazine published the best writings pertaining to both political and social issues. Featured authors include Audre Lorde, Rochelle Owens, Adrienne Rich, and many others. Due to its popularity, 13th Moon severed its connections to the university after its second publication, becoming one of the most prominent and influential journals of the decade.
Featured Play: Les Blanc ("The Whites"):
Lorraine Vivian Hansberry (1930 - 1965) was the first African American playwright to have their work featured on Broadway. Debuting in 1970, Les Blanc is considered Hansberry's most influential work, as it depicts the effects of 19th and 20th century colonialism in Africa. Her ex-husband Robert Nemiroff compiled and finished the play after her death, as she considered it her most important work and did not live to see it finished. Because of the strong themes regarding racism and mature content, the play is rated for ages 14+.
Although this play is not her most well-known work, it is an underrated masterpiece that illuminates the hope and tragedy behind revolution.
Watch a performance of this work in the Libraries' database Drama Online
Featured Book Title: Pretty in Ink:
Did you know? Although the comic profession was dominated by men throughout the 20th century, there were far more women working in the profession, now flourishing in the 21st century!
Pretty in Ink is a graphic novel that highlights female cartoon artists from 1896-2013.
Mainstreams classic artists like Ramona Fradon and Lynda Barry, as well as the latest generation of female cartoonists, including Lilli Carre, Megan Kelso, and many others.
Visit our Women's History Month Research Guide to see a list of other graphic novels in our catalog.
Featured Database: Women Writers Online