Shake It Up! Novelty Salt and Pepper Shakers
Page featured image content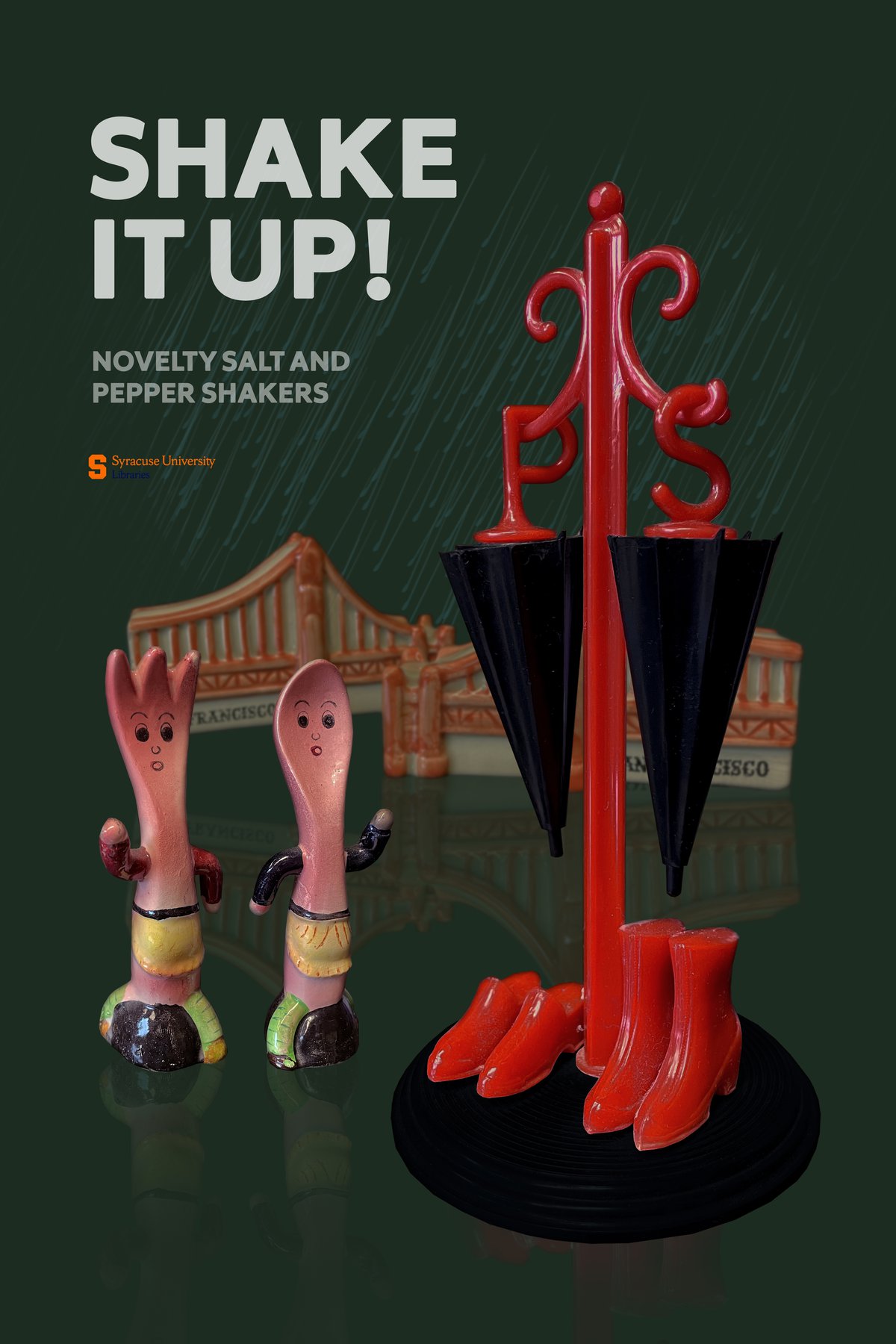 Page main body content
"Salt is good, but if salt has lost its taste, how shall its saltiness be restored?" - Luke 14:34
Civilizations may rise and fall, but culinary essentials salt and pepper have adorned the table of man unwaveringly since antiquity. Traditional means of serving these condiments relied on spooning or grinding; with the addition of caking agents in the 1920s dispensing salt via shaker became practical with ground pepper its perfect sidekick. The novelty shaker's popularity as mealtime dispenser was cemented during the rise of automobile tourism in the mid-twentieth century. Compact and inexpensive, they became a favorite artifact to commemorate travels taken.
Most shakers are made of ceramic or plastic, although materials as varied as wood, glass, and metal are not uncommon. They are typically scaled to fit easily in hand, but – as examples in this display illustrate – they can vary wildly in size and form. Designs range from utilitarian to nearly unusable.
Several shakers of proletarian design are exhibited for contrast, but the display's main focus is on the novelty shaker. These come in three major types: Figural shakers represent characters such as Santa Claus and anthropomorphic spoons, representational shakers mimic in miniature everyday objects such as refrigerators and coatracks, and souvenir shakers strive to capture the spirit of locales as diverse as Cleveland and Calcutta. Regardless of theme, kitsch is one of the core attributes of the novelty shaker. Whimsy peppered with a sense of playful irreverence.
The objects in this display are on gracious loan from Winn Wasson, Social Science Librarian at Bird Library.