She Whispers in Bottles
Page featured image content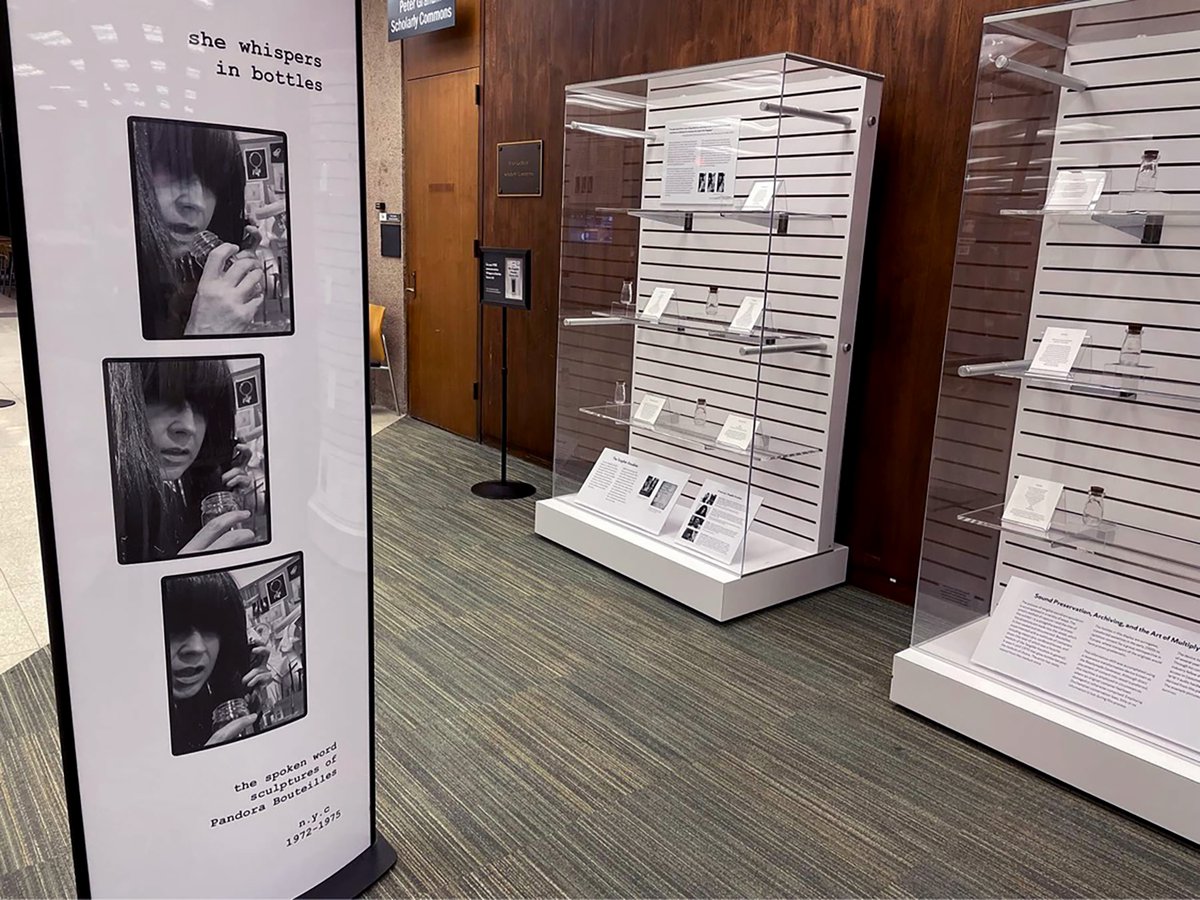 Page main body content
The spoken word sculptures of Pandora Bouteilles
N.Y.C. 1972-1975
"I've often found that to say a thing aloud is to risk being the fool. So much better to encase sentiments as sediments; let someone else unpack that baggage." – Pandora Bouteilles, from the introduction to 'Thirty-Seven Poems about Four Walls' (1973)
Pandora Cynthia Bouteilles (b.1936 Stockbridge, Wisconsin) is perhaps best known as a member of Tangible Vocalists, a seminal collective of intermedia artists that rose to prominence in late 1960's New York City. Her work is punctuated by a frank realism, serving as a window into both the artist's personal life and the vibrant scene in which she worked and lived. Contemporary artist Robert Rauschenberg once likened Bouteilles to "an angry goat caught in a tire, she might not always be the most pleasant thing to listen to… but you'll always know where she is." This assessment is not wholly without merit.
Her influences are a complex mixture of recollection, coupled with an innate gift of heightened observational awareness. In a 1974 article in Artform she shared that "when I was a young girl I would disappear into the woods for days on end, often returning with my thoughts etched into lengths of bark. I was fairly well known around our small village for my habit of carrying exactly $1.77 worth of loose change in my shoes. It slowed me down quite a bit, but after a traumatic event where I was unable to board a bus for lack of correct fare, I vowed never to be caught unprepared again." Her oft-used iconography of shoes and the number seven have been attributed to these childhood experiences.
The 11 poems in this exhibit were created during her time in New York City between 1972-1975. Typical of her output during this period, these encapsulated memories demonstrate the artist's lyrical mastery. Deeply personal, she explores the use of text as sculpture, the structure of the written word informing message, and back again in a form of catalystic feedback. Spoken, these packets of thought resonate outwards, becoming etched in spaces within glass, forever captured for contemplation. These largely self-referential expressions transcend time, facets of the psyche-made-transparent as vital today as when first uttered nearly a half century ago.
On display for April Fools Day, 2022.