Faculty Commons Room 548
Page featured image content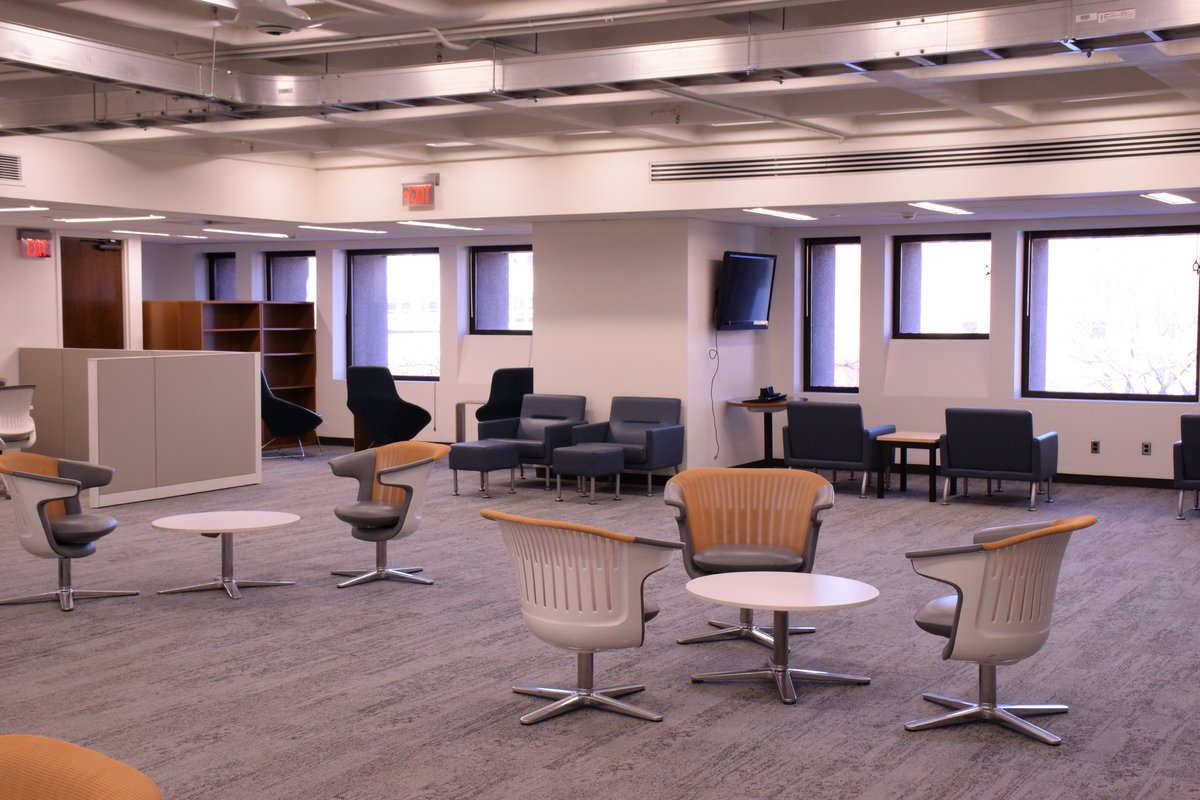 Page main body content
In 2017 the Libraries distributed a survey to faculty for input on needs. Faculty comments indicated that it would be valuable to have a centrally located meeting space that was welcoming to all and encouraged cross-disciplinary collaboration. The survey was followed in 2018 by several focus groups where faculty created models using elements they wanted in a "Faculty Commons," such as soft seating, meeting rooms and work areas.
The Faculty Commons, Room 548 in Bird Library, opened for faculty use on Monday, January 24, 2022. It is set up with temporary furniture for the spring semester. Currently, faculty must bring their own equipment and supplies to work. However, the space will be fully outfitted with permanent furniture and technology equipment, such as workstations, printers, and video-conferencing equipment, in the summer of 2022.
All Syracuse University designated faculty (including adjunct and emeriti) will have access to the space. It is not available for use by SUNY-ESF faculty, graduate students, PhD candidates, or teaching assistants.
Accessing Faculty Commons
The Faculty Commons Room 548 is accessible by swiping your RFID enabled Syracuse University ID card. The RFID ID cards feature a picture of the Stadium and Hendricks Chapel. If you have an old ID card, you will need to update to a new RFID-enabled ID card via the online ID Card Services Issue/ Replacement Form. You will not be charged to replace an old or damaged card if you indicate such and turn the old card in. Card access is controlled by ID Services, not the Libraries.
The 5,000 square foot space is available for gathering, meeting, and working independently or with colleagues across campus. There are individual workspaces, small gathering spaces, some soft seating, and meeting rooms.
Reserving a Room
Faculty can reserve one of three private meeting/conference rooms through a self-service room reservation system. Please be considerate of your fellow faculty members. Unlike other library meeting rooms, there is no key for use of the Faculty Commons meeting rooms. They will be unlocked. If there is high demand for meeting rooms, please limit your reservation to one three-hour slot per day. Please be courteous and vacate the room at the end of your reservation time, and please leave the room as you found it. For other Libraries meeting rooms, use the Libraries' Reserve a Room.