Aidan Mickleburgh '23 G'23 Wins 2023 ACC InVenture Prize Competition Qualifier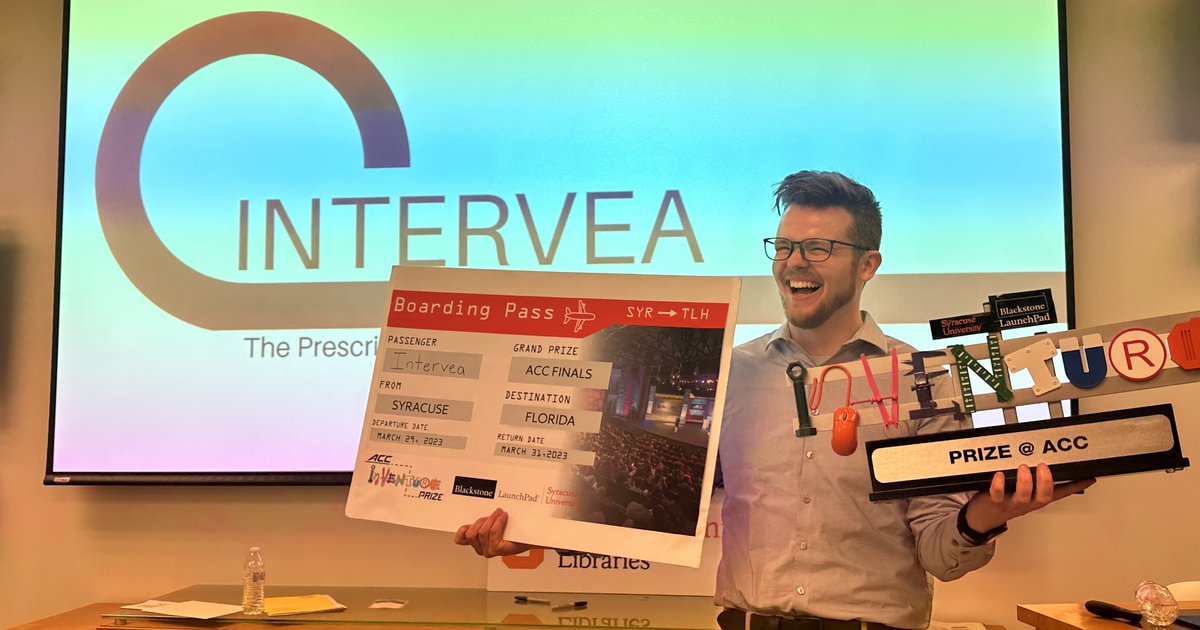 Aidan Mickleburgh '23 G'23 (College of Engineering and Computer Science and Martin J. Whitman School of Management), founder of Intervea, was the first place winner of Syracuse University Libraries' Blackstone LaunchPad (LaunchPad) 2023 Atlantic Coast Conference (ACC) InVenture Prize competition campus qualifier. The competition was held at Bird Library on Friday, February 10, 2023. Cherry Kim '24 (College of Engineering and Computer Science), founder of Conformabelt, was the runner up. Aidan will represent Syracuse University in the national competition at Florida State University, while Cherry will serve as back up in the event Aidan cannot participate.
The ACC InVenture Prize is a televised student start-up pitch competition open to teams from the 15 colleges and universities in the Atlantic Coast Conference (ACC) Academic Consortium. The ACC InVenture finals feature a $30,000 prize package and is open to undergraduate students or students who have received their undergraduate degree within the past year and who are the original creators, inventors or owners of the intellectual property underlying their invention.
"I didn't think this was how today would go, but I couldn't be happier. I get to represent Syracuse University at the ACC InVenture prize amongst the best student innovators on the East Coast. I am thrilled at the opportunity to share my vision of improved continuity in healthcare with Intervia," said Aidan. "As always, I stand on the shoulders of my supporters: everyone at the LaunchPad who has helped me refine my vision and keep pushing when it gets tough, my long-time mentor Linda Dickerson Hartsock, and my good friend (and last year's ACC rep) Noah Mechnig-Giordano for his bullish optimism." Aidan's business idea, Intervea, is a prescription compliance platform and health-tech company building a solution to hospital readmissions caused by prescription non-compliance. Non-compliance costs over $57B and affects 700,000 lives annually. To tackle this problem, Intervea deploys artificial intelligence models to engage directly with patients and organizes the filling and delivery of their prescriptions to support them after a hospital discharge, facilitating better health outcomes.
About the Blackstone LaunchPad at Syracuse University Libraries:
The Blackstone LaunchPad at Syracuse University Libraries is the University's innovation hub, connecting the entire campus resource-rich ecosystem with a global network that provides support for aspiring entrepreneurs, inventors and creators. The program serves faculty, staff, students and alumni across disciplines who are interested in innovation, invention, entrepreneurship, venture creation, careers, entrepreneurial skills, diversity, equity, inclusion and taking ideas from concept to commercialization. The program supports a key pillar of Syracuse University's Academic Strategic Plan to create an innovation ecosystem across the institution that prepares participants to be trailblazers in an entrepreneurial world.