Author Event: A Conversation with Georgia Webber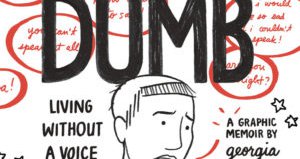 As part of Disability Awareness Month, we are pleased to welcome Georgia Webber to Syracuse University to talk about her recently published book, "Dumb: A Graphical Memoir." In this autobiographical work, Georgia chronicles her severe vocal injury that led her to spend months in absolute silence. Her work chronicles the adaptions and strategies she had to develop to handle the chaos she lived in a world that expects people to be voiced. Today, she carefully curates when and how much speaks and uses her art and advocacy to help people understand the intricate intertwinings of identity and voice, be it sounded or otherwise.
This presentation is a joint effort sponsored by the Syracuse University Libraries, the Syracuse University College of Visual and Performing Arts, and the Disability Cultural Center to promote greater intellectual and creative diversity and inclusion at Syracuse University. After an introduction from Dr. James Rolling (VPA Director of Diversity, Equity, and Inclusion), Kate Deibel (Inclusion & Accessibility Librarian) will converse with Georgia about her experiences, her art, and the advocacy she has found in her experience. A question and answer session will follow.
Please join us on Tuesday, October 9 from 5-6pm in the Shemin Auditorium in the Shaffer Art building. Communication Access Realtime Translation (CART) and American Sign Language (ASL)  interpretation will be provided.