Bird Library Celebrates 50th Anniversary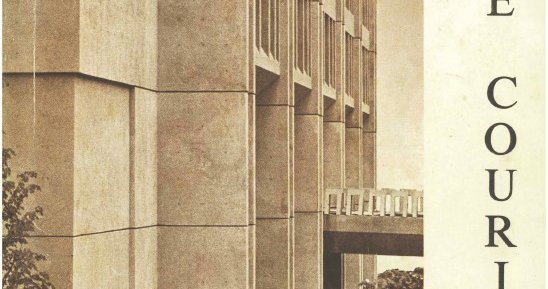 Ernest Stevenson Bird Library (Bird Library) will celebrate its 50th anniversary in September 2022, having opened its doors to the public in September 1972. The momentous occasion is being commemorated with an anniversary celebration on Wednesday, September 14, 2022 from 3 to 5 p.m. on the first floor of Bird Library.
Anniversary Celebration to include:
Original model of Bird Library, created by architect Russell King '52, King and King Associates
University Archives exhibit display featuring architectural drawings, photos and other materials from the design, build and opening of Bird Library
Learning Commons display featuring popular cultural items from 1972
At 4 p.m. Professor Rick Burton '80, David B. Falk Endowed Professor of Sport Management, and Scott Pitoniak '77, authors of Forever Orange: The Story of Syracuse University will share campus history and highlights from 1972
Remarks from David Seaman, current University Librarian and Dean of the Libraries, Interim Dean of the School of Information Studies
Photo opportunity with 'green screen' background of Bird Library photographs
Trivia history from 1972 and Bird Library displayed on the digital screens
Commemorative buttons and sticker giveaway
Anniversary cake and refreshments
Background Information:
Designed by Syracuse architectural firm King and King Associates, Bird Library boasts seven floors, more than 212,000 square feet and cost $13.8 million to build. Funding for the building came from Ernest Stevenson Bird, class of 1916, George Arents, Hon. '33, the Federal government under Titles I and II, the University and many other donors.
Chancellor William Pearson Tolley was in office in 1969 when the groundbreaking for the building took place and presented the dedication address at the building's formal dedication on April 6, 1973. Chancellor Melvin Arnold Eggers was in office when the building was opened in 1972.
As part of the move over 1 million volumes and millions more other items, including manuscripts, pamphlets and microform, were moved from the collections at Carnegie Library, the library annex and branch libraries. The following year stress tests were conducted to ensure the building structure could withstand the weight of the books.
Library users increased from 1,500 to 7,000 in the first two months after Bird Library opened. Today, Bird Library is the busiest academic building on campus, with more than one million visits annually (pre-Covid).
In addition to the general collections and resources, Bird Library is home to several other campus-wide resources including Syracuse Abroad, Center for Learning and Student Success, Blackstone LaunchPad, Office of Undergraduate Research and Creative Engagement, Digital Scholarship Space, Faculty Commons, Center for Teaching and Learning Excellence, Women in Science and Engineering and the Special Collections Research Center.
In his dedication remarks, Chancellor Emeritus Tolley reflected, "The significance of this building is the increased opportunity it provides for learning. It is a new opportunity for the city and the county, for business and industry, for old and young, for everyone in the community as well as university students and members of the faculty. It is a community resource of the highest importance. It adds a new dimension to the cultural life of our city. It opens doors of opportunity to learn that we have not had before. . . . This is a learning center designed for people to use. . . This is a building that makes real the spirit of learning. Here one comes to understand the University's threefold aim to conserve, transmit and advance knowledge and learning."