Bird Library to host "A Peace of My Mind" multimedia art exhibit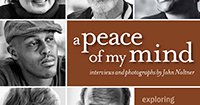 Bird Library is hosting part of a multi-location arts project titled "A Peace of My Mind," founded in 2009 by award-winning photographer John Noltner. The project is built around the concept of "what does peace mean to you?" and features portraits and personal stories of ordinary people that reveal extraordinary insights into how we can work toward common good and a more just world.
The exhibit opens at noon on Tuesday, September 4 in three locations: the Noble Room at Hendricks Chapel, the Life Sciences Atrium, and the Learning Commons on the first floor of Bird Library.
There is an opportunity to meet the artist on Thursday, September 6 at 7:30 p.m. in the Hendricks Chapel Noble Room. The exhibits close Sunday, September 9.