Blackstone LaunchPad welcomes 2020 graduating seniors to Founders Circle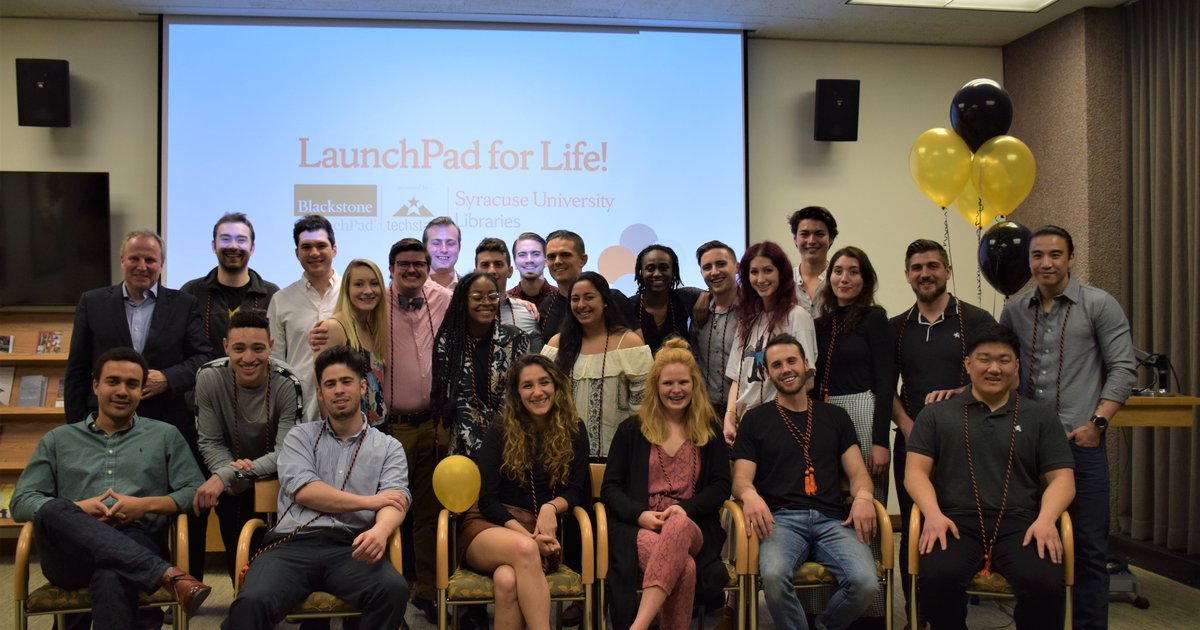 Syracuse University Libraries' Blackstone LaunchPad powered by Techstars welcomed 33 new Founders Circle graduating Syracuse University students at a dinner and induction ceremony held on May 3 at Bird Library. The group launched 18 ventures.
The Founders Circle includes graduating seniors and recent alumni who have contributed significantly to building the Blackstone LaunchPad since its opening in April 2016.  Founders Circle members serve as role models for future student entrepreneurs and exemplify a passion for innovation and entrepreneurship.
The Founders Circle Class of 2019 and their ventures include:
Art Inspires You: Geena Matuson (Newhouse G'19)
Blackstone Global Fellow: Bridget McDonough (Engineering & Computer Science '19)
Bowtie Blvd: Jake deHahn (VPA '19)
Broad Brothers Productions: Kaelan and Aja Selbach-Broad (VPA '19)
CLLCTVE: Kelsey Davis (Newhouse '19), Ryan Williams
Creator's Institute: Randy Ginsburg (Whitman '19)
Fibre Free: Charles Keppler (Engineering & Computer Science '18 and G'19)
410 Pictures: Daniel Simoni (VPA '19), Peter Hartsock (VPA '19), Justina Hnatowicz (Newhouse '19)
Gamercraft: Jose Garcia (Whitman '19)
Globalists: Saniya More (Newhouse '19), Divya Murthy (Newhouse '19)
HALO: Jaclyn Higre (Engineering & Computer Science '19)
Indulo: Attila Melegh (Engineering & Computer Science '19)
In-Spire: Kayla Simon (Engineering & Computer Science '19), Elizabeth Tarangelo (Engineering & Computer Science '19)
Justin Case: David Fox (iSchool '19)
MCM: Marcus Cook (Whitman '19)
Prioritage: Angelica O'Hare (Engineering & Computer Science '19), Samantha Santoni (Engineering & Computer Science '19), Brooke Walden (Engineering & Computer Science '19), McKenna Murthy (Newhouse '19)
Promptous: Josh Jackson (iSchool G'19), Chris Chomicki (iSchool '19), Phil McKnight
RAVLE: Kevin Rieck (University College '19), Tay Lotte (University College '19)
SWIP: Daniel McMurray (Maxwell '19)
TEDx Syracuse: Chris Sekerak (iSchool '19)
Ambrosia LSZ: Zeus Rocancourt (Whitman '19)
The group was inducted by Quentin Rosso (Whitman '18), chair of the Founders Circle, several alumni who started the Founders Circle in 2018, and Dean of Libraries David Seaman.   Rosso is director of Innovation and Transformational Initiatives, North America, for Credit Agricole CIB, the world's largest cooperative financial institution, and he was named Student Entrepreneur of the Year in 2018 by the Whitman School of Management.  He founded four ventures as a Syracuse University student and also created the Blackstone LaunchPad Global Fellows program.
"Syracuse University has every right to be proud of these innovative, industrious, and successful young women and men as they go out into the world," said Dean David Seaman.  "The library has provided them a space in which to work, staff expertise, and a rigorous set of programming to help develop their ideas, and they have created a community of innovation that continues to grow.  We look forward to having them come back to campus as young alumni and staying in touch with us – and each other – through the Founders Circle."
"Being inducted into the Founders Circle gives Promptous access to a wide support network of entrepreneurs across different industries," said the organization's founder and recent inductee, Josh Jackson.  "Likewise, the LaunchPad does a fantastic job accelerating startups through mentorship and incubation space, both of which enable student-run ventures to build a strong team, acquire financing, and connect with strategic partners and customers."  Jackson will be working on his start-up full-time after graduation and has built a diverse team to launch his innovative self-funding dental benefits solution for employers.
"Through my nearly three years at the LaunchPad, I've had the opportunity to grow into anything I want to be," said David Fox, founder of Justin Case and a Blackstone LaunchPad Global Media Fellow.  "I walked into the LaunchPad to learn more about entrepreneurship, but I've come out learning more about myself.  I could not have imagined the impact the LaunchPad would have on my life, and it's my favorite memory of my undergraduate career.  The LaunchPad made me a better entrepreneur, landed me opportunities, and got me into Law School.  I am beyond grateful for all of the people I've met through this experience, and all the places I will go because of what I've accomplished here."  Fox will start classes in fall 2019 at Syracuse University's College of Law, where he plans to specialize in innovation law.
"Working here, I grew as a person, student and entrepreneur," added Kayla Simon, co-founder of In-Spire, LaunchPad Global Media Fellow, and LaunchPad Watson Scholar.  "Creating In-Spire has not only been a highlight, but it led me to the Blackstone LaunchPad, which became one of the best parts of my college experience.  I became empowered here and confident and made friends I'll have forever."  Simon's experiences are helping her launch a career with innovation leader Virgin Orbit.
About the Blackstone LaunchPad powered by Techstars at Syracuse University Libraries:
The Blackstone LaunchPad in Bird Library is Syracuse University's innovation hub, connecting the entire University's resource-rich ecosystem with a global network that provides support for aspiring entrepreneurs, inventors and creators. The program serves faculty, staff, students, and alumni across disciplines who are interested in venture creation and taking ideas for products, services or technologies from concept to commercialization. The program prepares participants to be trailblazers in an entrepreneurial world.