Breuer materials featured in Queens Museum exhibition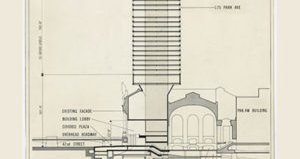 A selection of drawings from the Marcel Breuer Papers at Syracuse University's Special Collections Research Center are featured in the current exhibition at the Queens Museum in Flushing Meadow.
The exhibition is sponsored by Syracuse Architecture and the Syracuse University Libraries. Co-curated by Greg Goldin and Sam Lubel, "Never Built New York" features a selection of architectural projects proposed for New York that were never completed.
For more details, see news.syr.edu/2017/09/never-built-new-york-queens-museum-exhibition-with-su-school-of-architecture-connection-explores-alternative-nyc-never-seen/.