Classic Catalog changes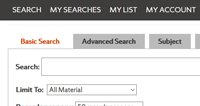 On Tuesday morning, August 14, the URL address for the Classic Catalog changed to catalog.syr.edu. Even though old addresses will still be accepted, users should change links they have saved or bookmarked from "https://summit.syr.edu" to "https://catalog.syr.edu.
If you need assistance accessing the Classic Catalog, or updating bookmarks using the new URL, please contact Library IT Services at lisd@syr.edu.