Darle Balfoort and John Olson Receive 2022 Libraries Distinguished Service Award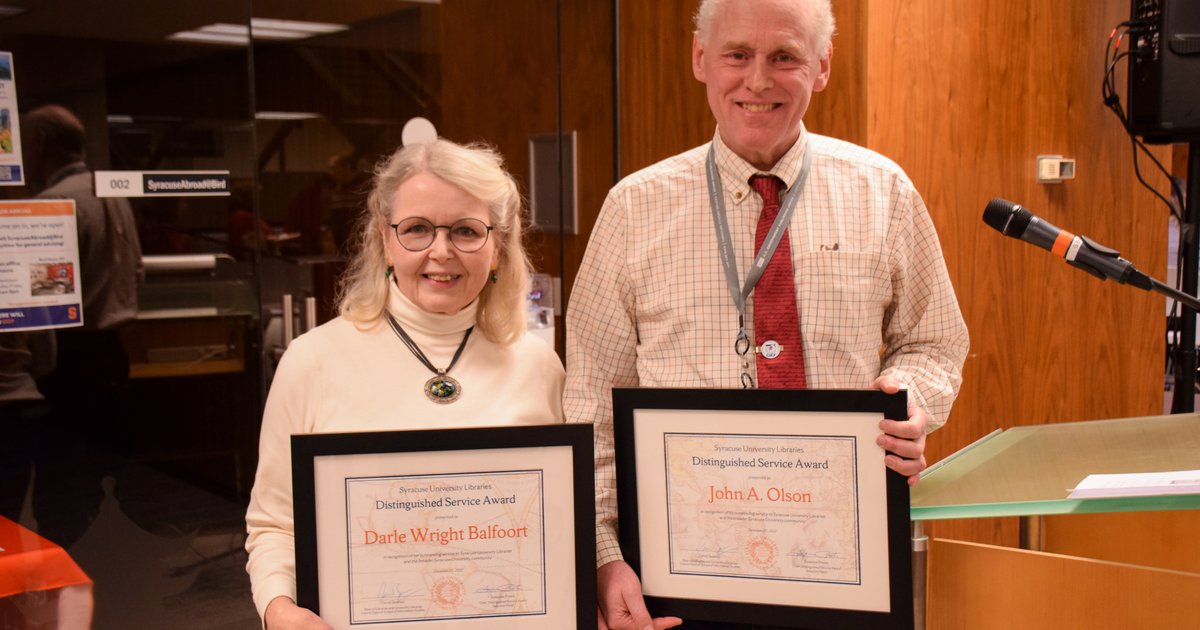 Syracuse University Libraries Assembly selection panel has chosen Darle Balfoort, Library Technician for Access and Resource Sharing, and John Olson, Government and Geo-Information Librarian, as co-recipients of this year's Distinguished Service Award. Balfoort and Olson contributed both individually and through complementary work with maps and government information. The award was presented at the Libraries' holiday and recognition event on December 21, 2022. The award is a 30+ year tradition recognizing Libraries staff who have made a significant contribution to both the Libraries and the broader Syracuse University community. A cross-departmental panel of Libraries staff judged nomination entries and selected the recipients based on outstanding service to Libraries' users, excellence in professional skills and significant contributions to the Libraries' community. The Distinguished Service Award, which is open to all Libraries employees, allows peer recognition based on nominations, a recommendation from the person's supervisor and recommendations from at least two members of the University community.
Darle Balfoort was chosen because of her subject knowledge of the Libraries' maps and government information area and willingness to share through training. She has contributed to numerous research guides, manuals and tutorials over the years. She is also a tenacious researcher with the ability to find obscure information in her effort to support faculty, students, patrons and staff.
John Olson was selected because of his extensive knowledge of Geographic Information Systems (GIS) and government document services. In addition to these research services which he developed; he also grew the Libraries participation in the Government Document Preservation Steward program. Olson is generous with his wealth of professional knowledge, teaching biannual GIS information sessions and working to ensure that the information is engaging and digestible for all audiences.