Display your work in the Biblio Gallery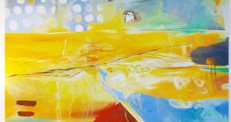 The Biblio Gallery on the fourth floor of Bird Library offers students a unique venue for exhibiting their creative work to a wider audience.
All two-dimensional, ready-to-hang works of art ranging from architectural drawings, paintings, music scores, photography, poetry, engineering formulas, and more are welcome.
Individual and group/class proposals are reviewed and accepted on a continuous basis and must be submitted through the Biblio Gallery Submission Form.
For more information about exhibiting in the Biblio Gallery, contact Ann Skiold at saskiold@syr.edu or see the Biblio Gallery website.