Dr. Sebastian Modrow Appointed Curator of Rare Books and Manuscripts for SCRC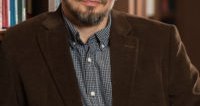 The Special Collections Research Center (SCRC) is pleased to announce the appointment of Dr. Sebastian Modrow as Curator of Rare Books and Manuscripts. In this role he will have responsibilities including the assessment and development of collections of rare books, printed materials, and manuscript material, and will have a focus on teaching and interpreting the collections through outreach activities such as exhibitions and publications.
Dr. Modrow holds a Ph.D. in Ancient History from the University of Rostock, Germany and completed his Master's in Library and Information Science and a Certificate in Cultural Heritage Preservation here at Syracuse University. He first joined the Libraries in 2015 and coordinated the completion of the Marcel Breuer Digital Archive project. In his most recent role as SCRC's Assistant Archivist he was charged with various aspects of archival work from processing manuscript collections to managing digitization projects. With his expertise in Classics and History, he has been increasingly in demand in SCRC's growing instruction program.
Dr. Modrow has published most recently in the International Information and Library Review and the Archival History News. He is a member of the Mid-Atlantic Archives and Records Conference (MARAC), the Association of Ancient Historians (AAH) and the Society of American Archivists (SAA) where he has been elected to the steering committee of SAA's Archival History Section for the year 2018-2019.
We are very pleased that Dr. Modrow will be able to continue to grow and contribute to the department in his new position.