Forever Orange: The Story of Syracuse University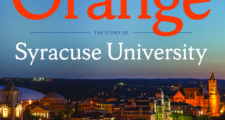 To coincide with the celebration of Syracuse University's sesquicentennial in 2020, Syracuse University Press is publishing Forever Orange: The Story of Syracuse University. This monumental, 10" x 12" book, lavishly illustrated with 300 photographs, provides a unique look at the diverse people, places, and events that have helped SU become an internationally renowned research university and will be available in the fall of 2019. The foreword is written by astronaut, U.S. Air Force colonel, and SU alumna Eileen Collins and the afterword by Pro Football Hall of Famer and SU alumnus Floyd Little.
Forever Orange illuminates Syracuse University's chronological history, with special focus on how Syracuse led the way in numerous important matters—gender, race, military veterans, and science, going far beyond the parameters of a traditional institutional history. Through narrative and hundreds of photos, Forever Orange presents SU's glorious 150-year history in a lively, distinctive, informative manner, appealing to alumni and university friends, young and old.
Authors Scott Pitoniak, a nationally honored columnist and best-selling author, and Rick Burton, a coauthor of numerous books, and David B. Falk Endowed Professor of Sport Management at Syracuse University, have utilized exhaustive research, scores of interviews, and their own SU experiences to craft a book that explores what it has meant to be Orange since the school's founding as a small liberal arts college in 1870.
For more information, visit https://press.syr.edu/supressbooks/2385/forever-orange/.