Goudy@Syracuse opening reception on October 5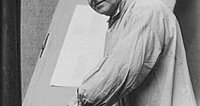 An opening reception for the exhibition Goudy@Syracuse: A Legacy by Design will be held on Thursday, October 5 from 4:30–6 p.m. on the 6th floor of Bird Library, in conjunction with Orange Central.
Curated by Andrew J. Saluti, with William T. La Moy, it tells the story of the preeminent American designer and typographer Frederic W. Goudy and his long connection to Syracuse University.
Through a selection of rare books, printed ephemera, and other archival materials, as well as original sketches and markups for the 2016 Sherman typeface adopted for the University's visual identity, this exhibition explores the impact and importance of the famed type designer and celebrates the strong historical ties and entwined legacy of Goudy and Syracuse University.
The exhibition will be on display in Bird Library's 6th floor gallery through May 13, 2018.