Graduate Research Roundtable #3: Career Resources & Funding Opportunities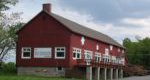 Join ECS-GSO, SU Libraries, and Graduate Career Services for the third and final event in the Research Roundtable series on Thursday, April 5, 2018 from 6–7:30 p.m. in 331 Link Hall.
SU librarians and associate director of Graduate Student Services, Dan Olson-Bang, will discuss a variety of career resources, including industry and company profiles, funding tools, and more to help you launch your career. Free food and one free drink ticket provided!
Registration is limited to 30 participants, register today.