Guitar Recital in Bird Library on Tuesday, October 23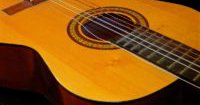 Music in Bird Library? That's right!
Join us as we welcome student guitarists performing solo and ensemble works in Bird Library's Peter Graham Scholarly Commons on Tuesday, October 23 from 1:00 p.m. -2 p.m. Stop by for a few minutes or stay for the whole concert.
Performers are students of Professor Kenneth Meyer at the Setnor School of Music.
For questions, contact the SU Libraries Arts Programming Team at rsfoxvon@syr.edu