iSchool, Arts & Sciences and Libraries Collaborate on "Art of Romanticism" Course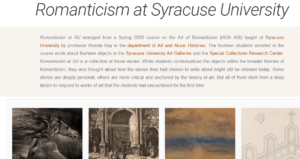 As part of Professor Romita Ray's "Art of Romanticism" course this past spring 2019 semester, Ray, her students, School of Information Studies (iSchool) Professor Daniel Acuna, and Elizabeth Novoa, President of Unika Analytics, designed a website titled Romanticism at Syracuse University. The site features four items from Syracuse University Libraries' Special Collections and pieces from the SUArt Galleries.
As part of the coursework, Ray and her students regularly met in the Lemke Seminar Room on the 6th Floor of Bird Library to study objects in the Libraries' Special Collections, and the Libraries supported both high resolution scanning and permissions assistance for the website.  They also met with Acuna and Novoa over the course of the semester to discuss the website and its evolution. The site features fourteen opinion/editorial length essays written by students in the class, each centered on a specific object in the collection. The website incorporates zoom features to help viewers scrutinize the featured objects. It is optimized for mobile use, so it can be viewed on tablets and smart phones.
"What's equally wonderful is that a signed watercolor by JMW Turner showed up in the collections. It was transferred from the library to the SUArt Galleries a few decades ago. Students were also excited to learn about William Blake's famous Songs of Innocence and John James Audubon's acclaimed Birds of America, original hand-colored prints of which are housed in Special Collections. Studying these objects first-hand raised questions about print-making techniques, social issues of the time, the politics of art-making, and in the case of Audubon's prints, questions about ornithology and our understanding of the animal world today ," said Ray, Associate Professor of Art History and Chair of the Department of Art & Music Histories in the School of Arts & Sciences. "We have some treasures hiding in our art collections here at SU. Collaborating with Novoa and Acuna meant leveraging technology in the best possible way to make visible the stories behind these treasures. "
"This is another outstanding example of collaboration across the Syracuse University campus and community," said David Seaman, Dean of Libraries and University Librarian and Interim Dean of the iSchool. "Providing students with the opportunity to work with our Special Collections is an important service of the Libraries."