Issues in Digital Scholarship Forum lecture and panel discussion with Jill Rothstein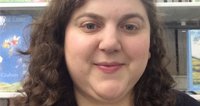 As a part of the Syracuse University Libraries' ongoing Issues in Digital Scholarship Forum series, Jill Rothstein, Chief Librarian at New York Public Library's Andrew Heiskell Braille & Talking Book Library, will be on campus in September for a lecture and panel discussion on accessibility and inclusion in today's libraries.
A public lecture entitled, "Seeing the Whole Community: Serving Patrons with Print Disabilities Ages 0–100" will take place on Thursday, September 20 from 4 to 5:30 p.m. in the Peter Graham Scholarly Commons at Bird Library (Room 114). Communication Access Realtime Translation (CART) will be provided.
A panel discussion on "Serving Patrons with Print Disabilities" will take place on Friday, September 21 from 10 to 11:30 a.m. in Bird Library, Room 004. The panel will be moderated by Kate Deibel (Syracuse University Libraries), and participants will include Jill Rothstein (New York Public Library), Nicole Westerdahl (Syracuse University Libraries Special Collections Research Center), and John A. Mangicaro, (Syracuse University MakerSpace).
Jill Rothstein has been chief librarian of the Andrew Heiskell Braille and Talking Book Library for three years, co-led the committee for serving children with special needs, and co-led inclusion and advocacy training for New York Public Library. She has presented at the National Library Service conference, Metro Libraries conference, and Harvard's World Heritage Strategy Forum. Prior to this role, she sang and did silly dances for toddlers as a children's librarian and then did not sing as much as a neighborhood branch manager.
The Issues in Digital Scholarship Forum seeks to explore how scholars in different fields engage digital technologies as the subject matter of their research, in their research methods, their collaborative work, and the systems through which their research is disseminated and preserved. It also explores the ways in which the libraries, the university, and our technology infrastructure can support these modes of scholarship and sustain their future.
The events are sponsored by the Syracuse University Libraries, the Library and Information Science (LIS) Program at the Syracuse University iSchool, Syracuse University Humanities Center, and the Disability Cultural Center.
For more information, or if you need an accommodation in order to fully participate in this event, please contact Patrick Williams at jpwill03@syr.edu.
Click the link below to view Jill's presentation slides.
https://docs.google.com/presentation/d/1lTtp-LPXoR1H7gV1CBI1vBDAZXH1_oyhYeQ-0qUw_Nw/edit?usp=sharing