Jennifer Collins Appointed Budget Director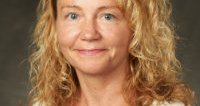 Jennifer Collins was recently appointed Budget Director at Syracuse University Libraries. As Budget Director, Jennifer will be responsible for the implementation, management and reporting of the Libraries' approximately $25.5 million budget.
Prior to joining the Libraries, Jennifer was Budget Analyst at Syracuse University's Office of Budget and Planning. Before joining the University in 2016, she was Chief Financial Officer, Vice President and Treasurer at Coyne International Enterprises. Jennifer has her Master's in Business Administration from LeMoyne College.