Libraries, College of Law Host Conversation with James Kreindler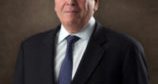 As part of Syracuse University's Remembrance Week and Pan Am 103 30th Anniversary commemorative activities, Syracuse University Libraries and the College of Law will host "A Conversation with James Kreindler" on Tuesday, October 30 at 4:00 p.m. in the Melanie Gray Ceremonial Courtroom in Dineen Hall.
The event is free and open to the public. Communication Access Realtime Translation will be available. A reception will follow.
Kreindler was the architect of the $2.7 billion settlement against the Libyan government on behalf of the families of the victims of Pan Am Flight 103, which exploded in the skies over Lockerbie, Scotland, on Dec. 21, 1988.
Kreindler is a partner at Kreindler & Kreindler LLP. The firm was founded in 1952 by his father, the late Lee S. Kreindler, and his grandfather, the late Harry E. Kreindler. Lee was a graduate of Harvard Law School and was widely regarded as a founder of disaster law.
Jim Kreindler began his career as an assistant district attorney in the Kings County (Brooklyn) District Attorney's Office. He joined Kreindler & Kreindler in 1983 and became a partner in 1987. He played a major role in the litigation against Pan Am as a member of the plaintiffs' trial team.
He is a magna cum laude graduate of Dartmouth College and earned his juris doctorate from Columbia University, where he was a Harlan Fiske Scholar.
Questions regarding the event can be directed to Kristen Duggleby, director of alumni relations in the College of Law, at klduggle@law.syr.edu or 315.443.9532 and Ron Thiele, assistant dean for advancement at SU Libraries, at rlthiele@syr.edu or 315-560-9419.