Libraries to Adopt Quartex, an Adam Matthew Digital Platform, for its Digital Collections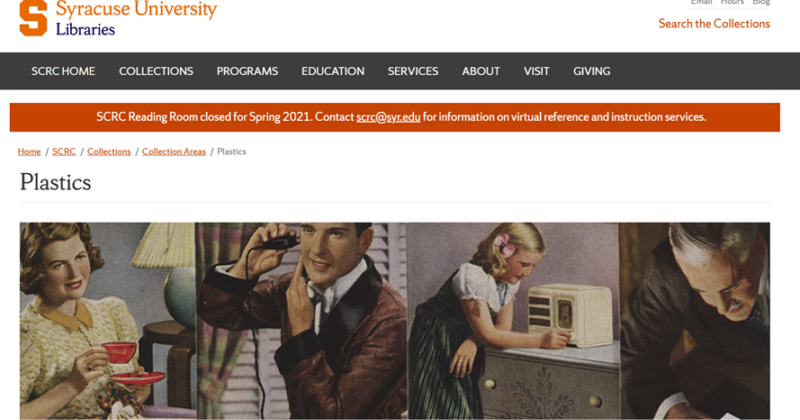 Syracuse University Libraries recently selected Quartex as its new platform for in-house digital collections. Quartex, designed by Adam Matthew Digital, is a flexible and responsive hosted digital asset management platform with extensive front-end capabilities that enables organizations to showcase, share and celebrate their archival materials with a global community of users. Déirdre Joyce, head of the Libraries' Digital Library Program, led a comprehensive review of digital collection platforms before the Libraries chose Quartex. With Quartex, the Libraries will provide a more user-friendly system for students and scholars to use their' unique digital materials. The first collections published will likely include materials from the Special Collections Research Center's (SCRC) Plastics Collection Area, Glass Plate Negatives from the University Archives, and selections from various holdings related to Central New York social reformer and abolitionist, Gerrit Smith. Users may expect to see digital collections on the new platform by fall 2021, with a projected completion date by 2023.
Syracuse University Libraries has an established relationship with Adam Matthew Digital and, along with utilizing the Quartex digital collections platform, acquired most Adam Matthew published primary resource collections in 2020, adding a significant amount of interdisciplinary content for the Syracuse community.
"Adoption of this new platform will make it easier for Syracuse students and faculty to use our important collections in their courses and research," said Déirdre Joyce. "In addition, we are working with the Quartex team to take advantage of innovative enhancements to their product, including greater platform accessibility, integration with third-party media players, expanding capabilities in the creation and use of transcript files for handwritten and audio-visual assets, and other practices that will enhance our digital stewardship work."
The Libraries needed a system with an intuitive user interface, powerful tools to build and publish collection sites, and a platform that could host their diverse and complex multi-format digital objects. Using Quartex, their Digital Collections will become more discoverable and searchable thanks to improved metadata, Handwritten Text Recognition technology, and full-text searching of audio-video transcription files. The Handwritten Text Recognition functionality improves searchability of content using algorithms and artificial intelligence, marking a significant upgrade in user experience. Finally, Quartex will offer additional, multiple entry points into the world-class special collections and archival content held by SCRC – along with other locally-curated digital materials – that enhance teaching and learning.