Libraries to host fifth annual Human Library event on April 11, 2018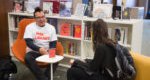 The Syracuse University Libraries will host its fifth annual Human Library event on Wednesday, April 11, from noon to 5 p.m. in Bird Library, in partnership with the Blackstone LaunchPad at Syracuse University, the Center for Learning and Student Success (CLASS), Hendricks Chapel, the Office of Learning Communities, the Library and Information Science Student Association (LISSA) at the School of Information Studies, the Office of Multicultural Affairs, the Office of Veteran and Military Affairs, Renee Crown University Honors Program, and the Slutzker Center for International Services.
During this event, "human books" representing a wide range of cultural backgrounds and life experiences will share their stories in conversation with individual "readers." The event is intended to create a positive space for dialogues on challenging topics, to break down stereotypes and to celebrate diversity within our community.
Human books—SU faculty, staff, and students from a variety of campus departments and programs as well as others from the local community—will engage in one-on-one or small group conversations for 20 minutes at a time. Human books will share their experiences on a wide variety of topics, including immigration, homelessness, asexuality and queer identity, mental illness, life in law enforcement, reconciling faith and reason, and social justice.
The event is open to the campus community and no preregistration is required. However, participants can reserve a book in advance for a specific time, if desired, by completing the form. (If you have difficulties using this form or wish to sign up via email, please contact askasowi@syr.edu or tanantac@syr.edu.)
SU's Human Library event is one of several similar events taking place during National Library Week (April 8-14), supported by the Central NY Library Resources Council. The first Human Library program was held in 2000 in Copenhagen, Denmark (see https://www.humanlibrary.org). Since then, similar events have been organized in libraries, schools and other institutions around the world.
For more information, see https://researchguides.library.syr.edu/humanlibrary.